This time of year, my landscape maintenance company is busy as anything, pruning and helping all the gardens recover from months of wild blooming abandon.
While a lot of what we're doing right now is pruning to keep things at the right size in relation to their surroundings (we don't want the plants leaning boorishly on their neighbors all winter long), we're also starting to cut back a few plants that are finishing their blooms or going into dormancy.
While this isn't an exhaustive list by any means, here are a few of the most important tasks we're doing right now:
Planting winter veggies:
Now's the time to set out starts of broccoli, cabbage, kale, Swiss chard, lettuce, Brussels sprouts, cauliflower and other winter veggies.
If you aren't sure what grows well for winter, Peaceful Valley has a great online calculator which gives suggestions for planting what when. Their suggestions are based around planting seeds, so if you're using starts from the nursery you can plant a bit later.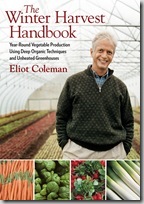 Or, you can pick up this book, which is a spiral-bound week-by-week guide to what to plant when based on your anticipated frost dates. This was recommended to me recently by a garden magazine editor as one of the best new edible books of the year, and I have to agree – my copy's already muddy from use (that's how you know it's good, right?).
Another great book for winter veggie gardening is The Winter Harvest Handbook by Eliot Coleman. All the people I know with envy-inducing crops in winter swear by this book.
Planting spring bulbs:
Yep, it's that time again. Daffodils, crocus, hyacinth and grape hyacinth, Calochortus, Tulips (I'm partial to the lily-flowered ones), and more.
Feeling impatient? You can force bulbs, or you can hurry up and plant my very favorite bulb ever, fall crocus. The glowing cornflower-purple ones make me so happy.
If you have gophers but want to have bulbs in the ground, you can sink those flexible Smart Pots into the ground. While it's possible the gophers will be smart enough to climb out of the ground and over the top of them to eat your delicious bulbs, the company has never heard of a gopher chewing through the pot, since it's made of a synthetic polymer material that isn't fun to eat.
If the rain always knocks your tulips over, try planting them under eaves so they'll have a chance to shine for you.
Planting shrubs, trees, and hardy perennials: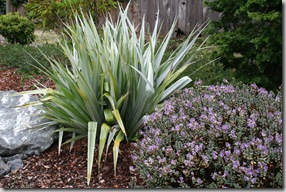 Yep, the nurseries are clearing out old stock and giving some great prices, just as the best time of the year to plant arrives.
Fall planting is the best, even in gardens that use drip irrigation, because the dampness of the winter allows the plants to grow strong roots before trying to grow lots of foliage or bloom for you.
And while drip irrigation is great for keeping plants alive, the fact that the tubing usually only soaks a small area around the plant means that it's better for keeping established plants happy than for getting new plants going. The rain gets good coverage every time (well, except under the eaves).
Here are some great things to plant this time of year:
Winter interest ornamental grasses
Unusual rhododendron varieties
Aaaaaand… pruning. Lots and lots of fall pruning:
This is what most of our time is taken up by. Deadheading, shaping, small-ifying and making presentable all those sprawling beauties that have so lavishly decorated our summer gardens.
Here are tutorials, some with video, on what to prune now:
Mexican bush sage/ Salvia leucantha
Summer-pruning exuberant Miscanthus
And, here's a list of frost-tender beauties that I take care NOT to prune right now!
Phew! Well, I'm tuckered just thinking about all of that.
In between all of that good gardening activity, be sure to take the time to enjoy the bounty of peaches, and kick back with a drink in the last days of summer.
And in case you're looking to cut a few corners in your garden maintenance, here is some food for thought on which fall garden tasks you might safely skip.
What are you guys tackling now that fall is near? Let me know in the comments below.