I know it may seem counter-intuitive to get moving in the garden just as the weather starts becoming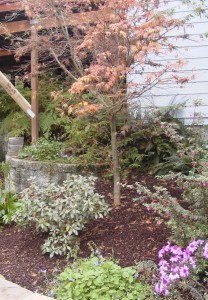 dreary, but for the northwest, this is an ideal time to get new shrubs and trees established in the garden. You can skip the watering for the most part, and no need to worry about transplant shock – between the cool weather, moist ground, and slowed-down growth rates at this time of year, plants take off brilliantly.
But the biggest reason to plant now is that the plants will have all winter to concentrate on their below-ground growth, building up steam so that in spring, they are ready to burst into an exuberant show. Plus, the nurseries often have some great deals at this time of year, since it does take a special kind of person to pull on one's wellies and splash through the plants in icky weather.
Now, if you are the type of person who likes fast results, you may balk at planting something new and waiting till spring and beyond to enjoy its beauty. Hey, no problem, my patience-challenged friends! – there are a number of gorgeous plants that will bloom for you in the winter or put on a fantastic foliage or stem display right now!
In the coming weeks I'll explore some of the things you can plant now and enjoy throughout the winter here in the Pacific Northwest:
Winter-Blooming Annuals to Help Your Garden Shine
Five Often-Overlooked Shrubs for Gorgeous Winter Color
Rhododendrons – Little-Known Favorites for Winter

Small Plants to Enhance Your Winter Garden
Cheerful Grasses Add Color and Movement to Your Winter Garden
Showy Trees for Winter Interest in the Pacific Northwest