Recently I had a client who wanted some plants tucked behind her waterfall. The waterfall had been built right up against her fence, so there was no real planting area – you can't just pile up soil against a fence, of course. Enter the Smart Pots.
Because the spaces were so cramped and oddly-shaped, there was no way to fit normal containers back there. But I remembered seeing some weird, flexible new pots at the nursery on my last trip, so I decided to pick up a few and see if I could make them work in this tough spot.
Smart Pots are made of a flexible polypropylene (read: non-degrading) fabric, which allowed me to tuck them in between the waterfall and the fence and scrunch them into whatever shape was needed. It still allowed plenty of root area for the plants, but I was able to fit the pot invisibly between the rocks.
Here are the Smart Pots before using: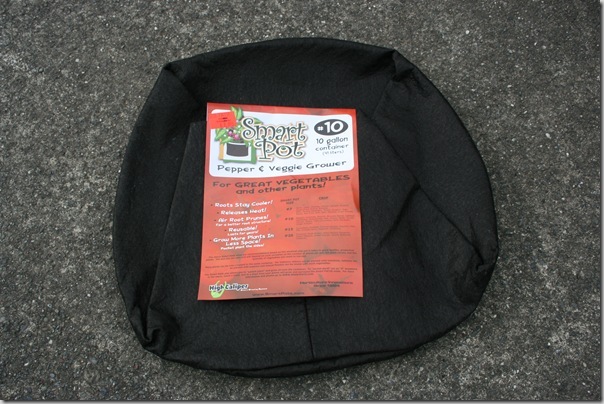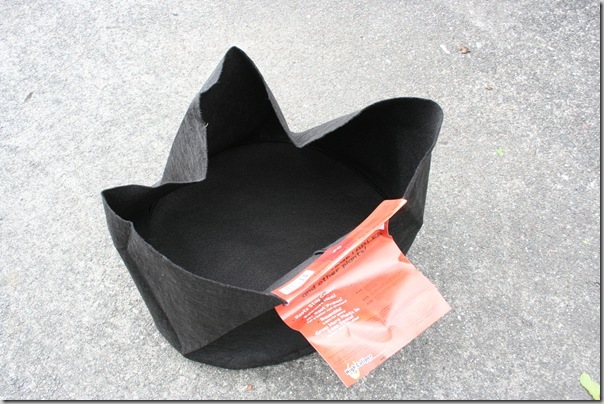 And the waterfall that abruptly ended at the fence, with a sad little ostrich fern trying to grow from the soil a few feet down: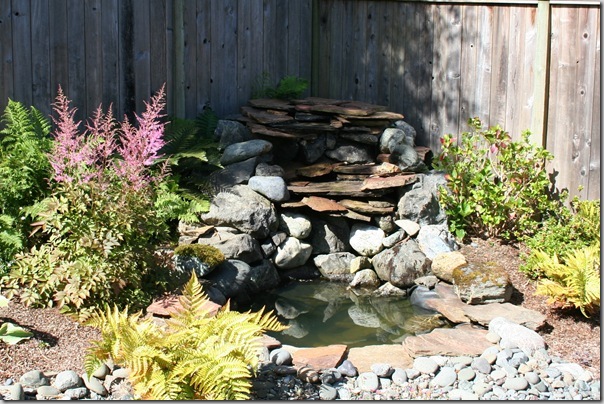 First, I scrunched the Smart Pots into the right places, putting rocks under or to the sides of them to hide the pots. I figured, rightly, that the foliage would hide the pots once they were planted.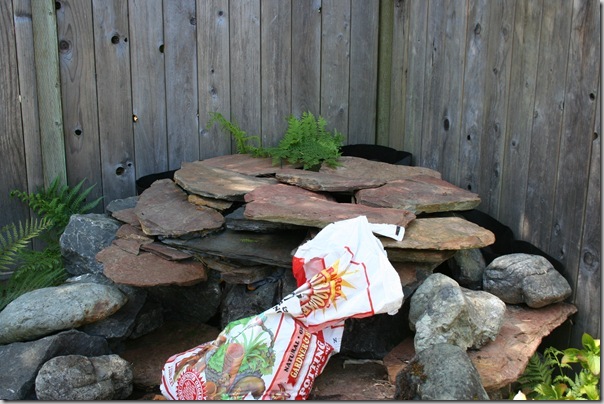 I chose holly ferns and autumn ferns, since holly ferns have a strong evergreen, architectural shape, and autumn ferns have all that fun orangey new growth in spring.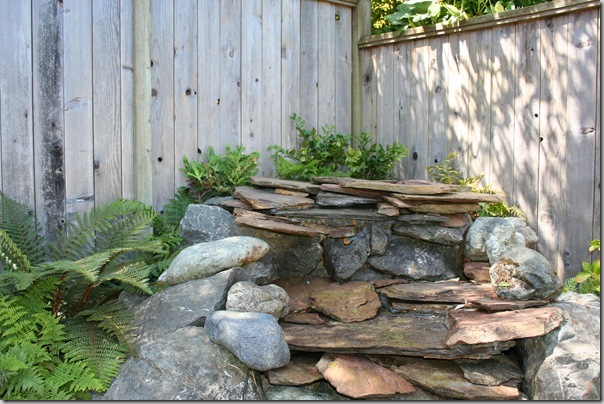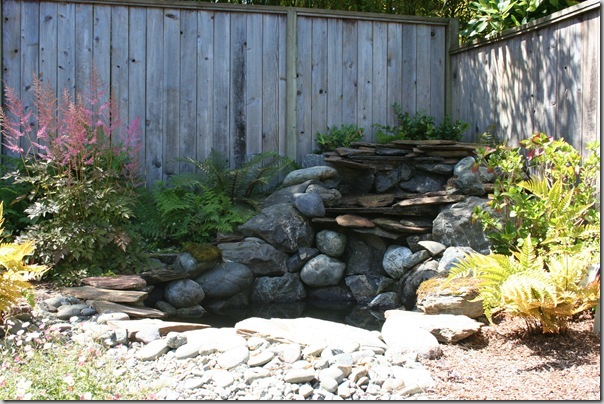 These pics were taken right after planting, so they're still rather small, but I think as the ferns fill in this will look so much more lively and fresh than just having bare fence.
Other benefits:
What I didn't know when planting is that Smart Pots have a lot of benefits beyond their flexibility. Apparently, plants growing in Smart Pots need less maintenance than plants growing in hard-sided pots. Plants in hard-sided pots need regular transplanting and root-pruning so they don't become pot-bound, with circling roots that choke the plant.
But because Smart Pots are well-aerated – remember, they're a fabric – the plant roots reach the sides of the container and are "air-pruned", which means they simply stop growing once they reach the sides of the pot. So you could conceivably leave plants in a Smart Pot longer than in a traditional pot, because plants will naturally stay at the right size. Plants really benefit from highly oxygenated soil, too, so I could see them being particularly healthy in a pot like this.
(Fern Richardson from Life on the Balcony actually did her own side-by-side test of a Smart Pot and a regular pot – see the results here.)
Creative uses:
You know what else is cool – apparently, Smart Pots are gopher-resistant!  I guess they don't like to eat through the sturdy polypropylene felt. So I'd be curious to experiment with using Smart Pots as in-the-ground protection for bulbs or other plants that gophers love to nosh on.
The nice thing is that as your bulbs multiply, you can lift up the Smart Pots and easily transplant out some of the bulbs. Usually when I try to divide bulbs, there are a few "dammits" involved as my shovel cuts one of my prized bulbs in half.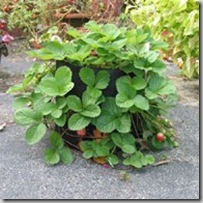 You can cut holes in the sides and use them as a strawberry pot, or use them inside of a ceramic pot to get the benefits of air-pruning and less transplanting, while having the look of a more permanent ceramic pot.
(Kerry Michaels from About.com grows her potatoes in them – see the video here. Fern also has a step-by-step guide to growing potatoes in Smart Pots.)
The giveaway!
After I wrote this post, I asked Smart Pots if they were interested in giving a few away to you guys, and they were kind enough to offer no fewer than FOUR SETS of mixed Smart Pots! Each winner will get a 3-, a 5-, and a 7-gallon Smart Pot, so you can try them out in a variety of ways.
If you want to win, just leave a comment, and I'll pull four winners using random.org next Thursday. Good luck!
EDIT: Congratulations to Sharon, Alison, Justin, and Roberta who have each won a set of three Smart Pots! Thanks so much to Smart Pots for providing such a generous giveaway. And thank you to ContestGirl for helping me promote!