If you've read a gardening magazine in the last ten years, you know how hot ornamental grasses are. We rely on them for a bold foliage accent, but so many go dormant in winter, just when we most want their striking foliage display. The solution?
Check out these five favorite grasses that DON'T go dormant in winter: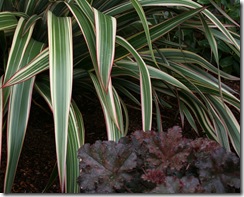 Tricolor Flax – Phormium 'Tricolor' is a cream-variegated flax with a difference – the new growth sports a vivid burgundy lining! It sets off purple foliage or magenta blossoms perfectly – here I've paired it with 'Crimson Curls' Heuchera. Tricolor Flax gets to 4' tall by 5' wide, and can take sun or shade as long as it gets a little direct light.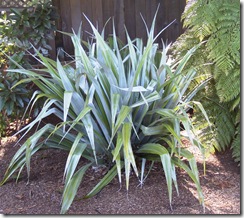 Astelia chathamica 'Silver Spear' – This 4' silvery beauty glimmers in the sun, and its stiff habit makes it a bold standout in the garden. I love to pair it with deep purples or cream-variegated foliage. It does great in sun or part shade – just trim off any funky-looking foliage once a year to keep it looking fresh.
Mexican Feather Grass –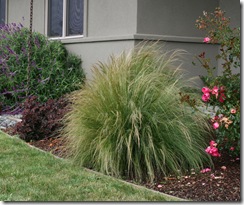 Movement brings the garden alive in winter,  and this flowing blonde grass moves gently with the breeze. It looks great massed, and brings a beachy feel to the garden with its bleached straw-colored seedheads.  Nassella tenuissima does need to be cut to the ground once a year, but I've had great luck doing it at the end of the summer – it comes back just in time to perk up the winter garden. Give it full sun and 2-3' of room.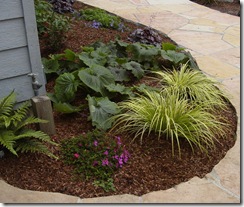 Golden Sweet Flag – Acorus gramineus 'Ogon' is a small evergreen stunner that I just can't get enough of! It prefers full to part shade, but will take sun on the coast. I've paired it with 'Rozanne' Geranium's tumbling blue flowers to great effect, but it also goes great with Purple Heuchera/ Coral Bells, ferns, Hydrangeas, heathers – just about anything.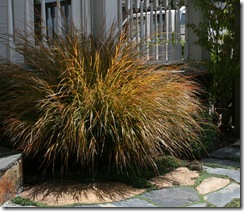 New Zealand Wind Grass – Stipa arundinacea is another that moves beautifully with the wind. This orangey-bronze sun-lover gets to 3-4' and pairs well with ornamental sages, lavenders, hot pink Spireas, and purple Princess Flowers.
Now that you've seen some of the possibilities for adding color and movement to your winter garden, what are you waiting for? Take this page to your local nursery and find some stars for your winter garden!