If you've been following my Fall Planting Series, you'll know why fall is such a great time of year to plant! This is also the perfect time to see where your garden is lacking in winter interest, and to add some year-round stars to perk things up.
Rhododendrons are one of my favorite plants now, but there was a time when I found them boring and overused. Here in Northern Cali, you can't turn around without seeing some sickly yellowed planting of Rhodies in a parking lot, and I judged all of them by those poor specimens.
Luckily, we have a Rhododendron specialty nursery here (yes, they do mail order!), and after one visit to them, I was hooked. The gorgeous dark greens and the snowy white new growth of the Yaku hybrids, the lightning bolts down the center of the variegated varieties, and the sheer variety in foliage, growth habit, and texture blew me away – these plants were nothing like the sorry ones in the Kmart parking lot. Some hardly even looked like Rhodies!
We usually think of Rhodies for spring interest since that's when most of them bloom, but the gorgeous foliage on so many makes them winter standouts, too. And if you are blossom-centric, there are even a couple that will bloom for you in winter!
Here are a few of my favorite Rhododendrons for winter interest: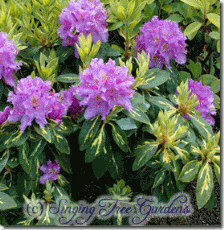 'Goldflimmer' or 'President Roosevelt' – Two variegated beauties with very different flowers. I am a purple fanatic, so 'Goldflimmer', with its warm purple flowers, is my favorite of the two. It gets to 4-5', takes full sun to part shade on the coast, and is great for brightening up any corner of the garden with its golden splashes of variegation. If you love foliage color, try pairing it in the same bed as Acorus 'Ogon'  (Variegated Sweet Flag Grass) and Pieris 'Little Heath' (Dwarf Variegated Lily of the Valley Shrub).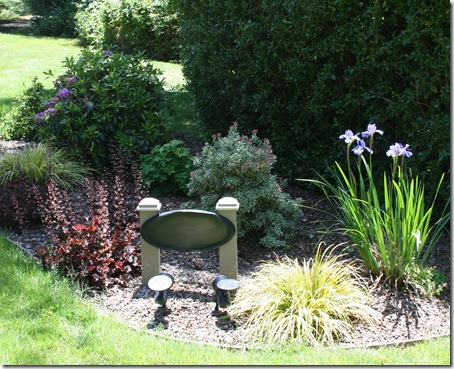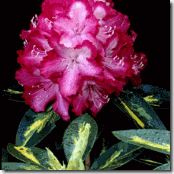 'President Roosevelt' has even more striking foliage than 'Goldflimmer', with red stems and vivid golden markings. It gets to 5-6' and blooms a bright magenta-red with white centers. I find its habit is a bit more leggy than that of 'Goldflimmer' though, so I'd position it in the foreground and have a full, deep green plant as the backdrop.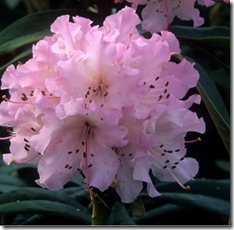 'Christmas Cheer' – True to its name, this 5-6' shrub blooms right around  Christmas time! It has big shell-pink bloom trusses on attractive, deep green foliage. This is one I noticed in late summer, thinking what a pretty backdrop of foliage it would provide. When I saw it mid-bloom in January – pink then fading to white – I was charmed! I love that deep green foliage with a sturdy variegated plant like Osmanthus 'Variegatus' – Variegated False Holly.
'Seta' is another very early bloomer – it usually coincides with the plum blossoms in early February!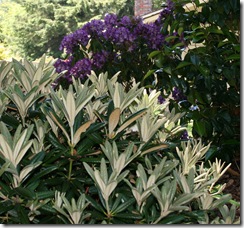 Yaku Hybrids – The best thing about the Yaku hybrid Rhododendrons is not their flowers, though they are varied and beautiful. It's not even their habit, which is a low, tight mound of deep green which goes great with all kinds of shrubs and perennials. It's the new growth, which comes out a bright white color and looks like a fresh layer of snow has fallen on them.
My favorite Yaks? 'Yaku Angel', 'Silver Skies', 'Hoppy', and 'Senator Jackson'.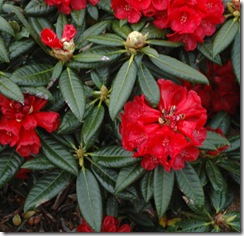 'Rubicon' and 'Noyo Chief' – the glossy, quilted deep green foliage on these red-blooming Rhodies makes a great companion to any kind of foliage display. 'Rubicon' is a compactly-growing shrub to 4-5' and blooms in April or May. It instantly brings a dignified beauty to any garden bed. They look great with colored-foliage conifers.
'Noyo Chief' has a loose, open habit and gets to 6-7'. It makes a stunning show in woodland gardens where a bit of size is required. That glossy, mirrored foliage looks great against Redwood or Cypress trees. Use it with lush, light green tree ferns or our native Giant Chain Fern for a foliage contrast.
I hope these guys give you a happy introduction to the world of Rhodies and get you past the horrible ones that are so overplanted here in the Pacific Northwest. Check out the Singing Tree Gardens Website for more info on care, and to get inspired with the sheer number of varieties available!