I first heard about the heather plant when I was 10, reading an old-fashioned British book about a group of children who escaped their abusive guardians and made a home together on a secret island. They built a willow house out of live willow stems, so their home grew lush and protected, and they used heather to make their beds soft and cushy.
(Can I step onto my children's lit soapbox for a second, and say that any American parents who haven't yet read Enid Blyton with their kids should rush right out and do so
? She seems to understand how children feel and what they want in a book better than any other author I've read.)
So anyway, even before I knew anything about plants, I had a vision of what heathers were like – growing in gorgeous flowering expanses, and with a soft, pleasing texture. I was glad when I got into horticulture school and saw my first photo of a large heather garden – it was exactly what I'd imagined all those years ago in my book!
Heathers have become a favorite of mine now, because they're low-maintenance, deer-resistant, most are winter-hardy, they'll take wind and seacoast wind with no problem, they look great in containers, can tolerate low-water conditions in the ground once mature, and if you plan things right, you can have blooms year-round on evergreen plants with great foliage. All you need is decent drainage and some sunshine to do well with them.
I want to give you a rundown of some of the most common types of heath and heather and how they differ. They're such fantastic plants, and I run into a lot of confusion when talking with would-be heather enthusiasts about which kind does what.
First – is it heath or heather?
When people refer to heathers, they're usually talking about one of three types of plant – Calluna (Scotch Heather), Daboecia (Irish Heath), and Erica (Heath and Winter Heath). But most people just refer to all three kinds of plant as heathers, because to do otherwise takes unnecessary studying and is kind of geeky (pause for some innocent-sounding whistling).
Still, the three kinds of heather have very different uses and attributes, so even if you call them all heathers, you'll want to have some idea of which type you're after. It'd be rather disappointing to plant a heather for winter flowers and find you'd gotten confused and planted a summer-bloomer!
So how are the three kinds different? Which ones do I want?
Erica/ Heath (has summer and winter-blooming types):

Erica has the finest texture of all the heathers, and generally feels soft and fluffy. If you want winter flowers, check into some varieties of Erica darleyensis or Erica carnea , which can take you from November through May if you select your varieties carefully for continuous bloom.
There are also some Bright! Pink! Fluffy! summer-blooming heathers that are like the Britney Spears of the heather world (well, before the drug addiction and all of that. Hmpht. Moving on!). The other summer-blooming heathers have a slightly stiffer habit and a gentle feeling of dignity to them, while these are just cheerful, soft, and did I mention the flowers are Bright! Pink! And magenta!! Look into Erica cinerea if you find the summer-blooming Callunas too stiff for your taste, or just want that exuberant splash of color.
Daboecia/ Irish Heath (big flowers, blooms spring through fall, tolerant of part shade):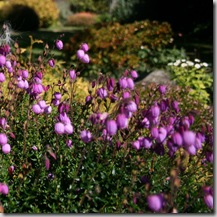 Daboecia (pronounced duh-bee-shuh) are the easiest to slip into any type of garden design. Their foliage is a rich green color, they have a neat habit that walks the line between stiff and fluffy, and the flowers come in colors of lavender, magenta, and white that harmonize well with other plants' colors.
Plus, they're happy in part shade AND full sun, so they work perfectly in those areas where you are transitioning from shade-lovers to sun-lovers.
The deep green of the foliage and the large bell-shaped flowers (well, large for a heather!) look great in woodland settings, near water features, in a flower garden where you need some evergreen structure or longer-lasting flowers – I've even seen them looking beautifully at home in a Japanese-style garden – sheared every year to take on a neat shape. They bloom spring through late fall so can carry the garden through some dull, no-flower patches.
Calluna/ Scotch Heather (late summer to fall bloomer, some varieties have fancypants new growth or vibrant winter foliage color):

Callunas are the big guns of the heather world, and there is the most variety here for playing with foliage color and plant shape. There are flat 2" tall groundcovers, teensy little bun-shaped ones for rock gardens or troughs, wild spreading ones with tangling, tumbling stems, and neat, upright-growing spreaders.
Then the foliage colors – flaming red new growth in spring, creamy-white new growth in spring, gold or silver and every shade of green, and vivid red or cinnamon-bronze in winter…
There is plenty of room to screw up your foliage combinations with all the varieties available, but if you take the time to set different combinations of heather next to one another and see how it all looks – there's the most potential for creating stunning and unusual combinations, too.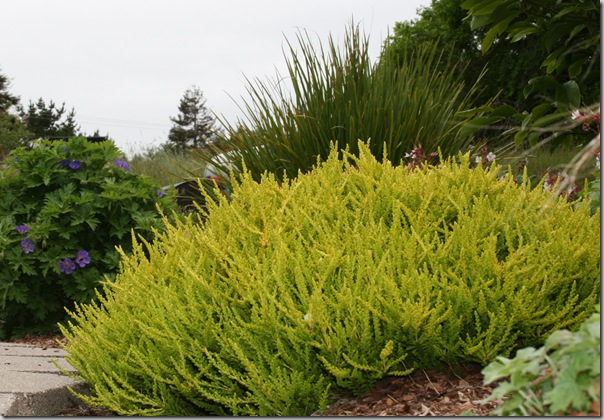 These guys bloom in that dead period at the end of summer and early fall when so many of your summer perennials have paused in their flowering. If you're planting for blooms, I'd tend to avoid the red and bronze ones as they've been bred more for foliage, and besides, pale pink blooms on red foliage is kind of not hot. If I'm in a bad mood, that color combo really offends me and I'll sometimes just cut the flowers off.
My favorites are the green ones with white/cream new growth in spring and white flowers in fall (talk about a multi-season plant! Look for 'Spring Cream', 'Japanese White', or 'Ruby Slinger'), the silvery-grey ones that make such a striking companion for the darker greens of other heathers ('Velvet Fascination'), and the insane flaming ones with gold foliage that go red-tipped in winter.
If you want to learn more about heathers and how to garden with them, check out these resources:
Gardening with Hardy Heathers by Small and Wulff (a fantastic book with everything you need to know to design, propagate, and generally get geeky with the heather world)
The International Heather Society's online heather encyclopedia
Video on how to prune heaths and heathers
Fall-blooming heathers for autumn color
Small plants for winter color (some winter-interest heather suggestions)
Photo credit: both photos of Erica plants courtesy of Singing Tree Gardens Nursery