We've talked about why a thick layer of mulch, composty soil, and good watering habits are important if you want to garden more organically; it's all about giving your plants a foundation of good health so that pest problems will be few and far between.
Today we'll talk specifically about mulch: what it is, what type to use, how to apply it, and why mulching is the single most important thing you can do to improve the health of your plants and reduce maintenance time: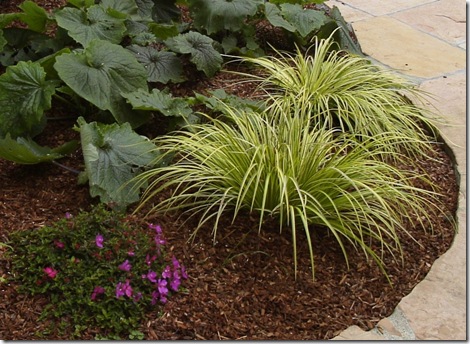 Mulching is when you add a layer of wood chips, chipped bark, shredded leaves, or other material to the top of your soil without mixing it in, so that it will hold down weeds, hold moisture in the soil, and contribute positively to your soil over time.
Why mulching is so over-the-top awesome for your garden:
A 3" thick layer of mulch will reduce the weeds that come up by 75% or more overnight – it is the single best organic weed control out there. Clients who don't have mulch are shocked at the difference after we put down a good layer of wood mulch – it smothers the weed seeds that try to sprout from the soil below.
It helps your soil hold onto moisture so that you needn't water so often.
It also keeps your soil from getting so compacted when you step on it to maintain your garden, and keeps hard rains and hot sun from forming a crust on your soil's surface.
It keeps plants' roots cool in summer and warm in winter.
It helps support the beneficial micro-organisms and worm populations that keep your soil aerated and help change the existing nutrients in your soil into a form your plants can use.
It can help keep some soil-borne bacterial diseases from harming delicate, over-bred plants like many roses.
In some cases, mulch can help with erosion control.
For all these reasons, if you want a low-maintenance garden with happy, healthy plants, mulching is the number-one thing you can do to have an immediate, dramatic impact on the time you spend weeding, and the overall happiness of your plants.
Use mulch after you amend the soil, though, because otherwise you may hesitate to disturb your pretty layer of mulch by moving it aside to add compost underneath.
What to use as mulch?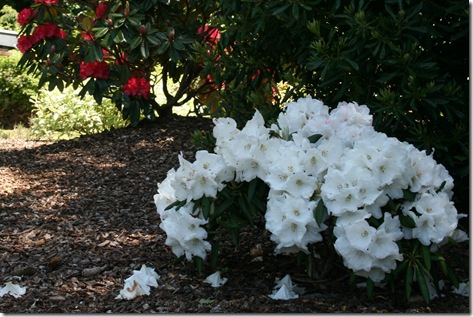 Wood chips, either an actual wood chip or a bark chip, help the most in keeping weed seeds from sprouting, and chips are easy to rake and keep neat. Smaller chips look prettiest and work best to reduce weeds and hold moisture in your soil, but the smaller chips do break down faster and need you to reapply every 2-3 years.
Bark chips usually comes in mini/ micro size, small, medium, and large. I use micro in most home gardens; small in gardens with really strong seacoast winds or rambunctious pets.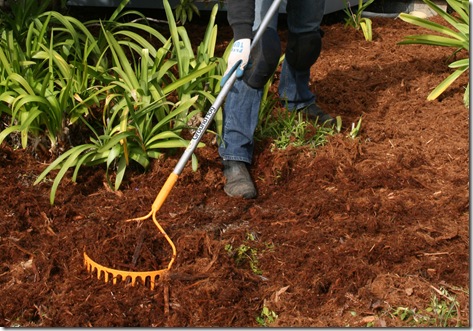 Shredded bark mulches are one of the few things that stay put on slopes. They are hard to weed in, unpleasant to apply, impossible to rake, and make your pants and gloves all splintery, but if you have a steep slope, it's probably your best option – everything else will slide down the hill at the first rain.
Shredded Eucalyptus bark can slow weed growth because of Eucalyptus's natural growth-inhibiting qualities, but it could also slow growth of your desirable plants, so only use Euc. in places where you aren't growing much.
Some people use straw on their veggie beds, but it isn't terrifically attractive and it tends to blow about, so I'd only use it where you won't be looking at it. Straw is fantastic for softening a hard soil, though, so if you want to put a layer of straw down over the winter and then mix it into the bed in spring, that could be a good option. It's also one of the cheapest mulches at about six bucks a bale. Rice straw is supposed to be weed-free.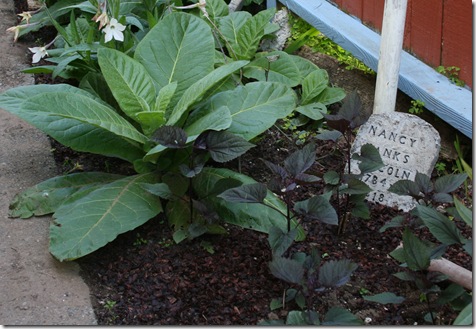 Cocoa hulls are from the cocoa bean and make an attractive mulch in the sunshine, and oh-my-gosh they smell divinely of chocolate, at least for the first few months. Two problems, though – they are poisonous to dogs who may munch them (I wouldn't use it around cats or chickens either), and they mold in the shade. Pricy, too. EDIT Nov 09: We've got a scientific viewpoint on just how poisonous cocoa mulch is to dogs, and a tip that some brands may be pet-safe now. Read more here.
Fallen pine needles can make a great free mulch. I've found many perennials don't appreciate the impenetrable coverage pine needles provide, but most shrubs and trees are fine with it. It will acidify your soil somewhat over time, so use it around blueberries and huckleberries, Rhododendrons, Azaleas, Pieris, and ferns, which are all acid-loving plants.
Shredded leaves can make a simple mulch, but the fluffy texture can harbor snails and slugs, so if I have leaves in the fall, I tend to just compost them and mix them into the soil once they've broken down.
Grass clippings and sawdust are other candidates for the compost pile, not for mulching. When they are in the process of breaking down, they use up nitrogen in the soil in their decomposition process (and lots of it), which means that your plants are temporarily going without the nutrient they need to put out green growth.
Using a layer of compost as mulch doesn't reduce weeds, since any new weeds that blow in will find it a hospitable place to set new roots.
Some people "mulch" with rocks, gravel, or rubber mulch, but since they don't enrich the soil and indeed should not be allowed to mix into the soil (you need to use these with landscape fabric underneath to keep them from getting mixed in), using inorganic materials to mulch is akin to using landscape fabric – not a great long-term solution for growing plants.
Many people have reported success with using newspapers (the non-glossy kind) or cardboard underneath their mulch for added weed control. The paper and cardboard break down slowly and provide an actual barrier to the weeds coming from below, while still allowing moisture to penetrate.
I have one adventurous client who tried this, and she ended up with newspaper bits scattered over her lawn and mixed into her pretty mulch after raccoons discovered that worms liked to hang out just under the newspaper. She later got a hungry mole tunneling under the paper, which made for more paper mache around the garden.
Take my advice and only try this in ornamental beds if you're pretty laid-back about how your garden looks, or have no wildlife around who might like to tunnel under your paper for bugs. This is an awesome technique for vegetable beds during a dormant season, though. Cover it with a nice layer of straw, and mix the whole thing into the soil months later when you're ready to plant.
How to mulch:
It's simple – just smooth out your soil, and make sure the level of your soil at the edge of the planting bed is 3-4" below the level of your landscape edging/ bender board, concrete path, or whatever else your planting bed is next to. You want to make sure that when you put 3" of mulch on top of your soil, it doesn't slide right off your bed into your pathways or lawn at the first sniff of rain.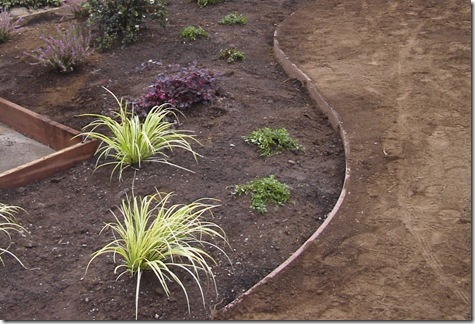 Then spread a 3" layer of mulch on your beds, spreading it thinner near the bases of your plants than everywhere else. A 1" layer of mulch against a tree trunk or shrub's base is OK, but try to keep the mulch from completely covering the base of woody plants, particularly trees, as it can cause your plants to rot.
I use an iron bow rake or the ergonomically-designed Groundhog Rake to spread my mulch.
Once you've spread the mulch, water it in well to help it settle and keep it from sapping moisture from the soil – mulch often starts out rather dry, but once you've given it that initial drink, it will help conserve your soil's moisture.
Tomorrow, we'll talk about the final key to a healthy garden: how to water properly. Sounds simple, but it's a big barrier to success for a lot of people, so we'll go over the basics of how, how often, and what tools can help.
What's worked for you? What kinds of mulch do you prefer in your garden? Let me know by leaving a comment below.
[print_link]