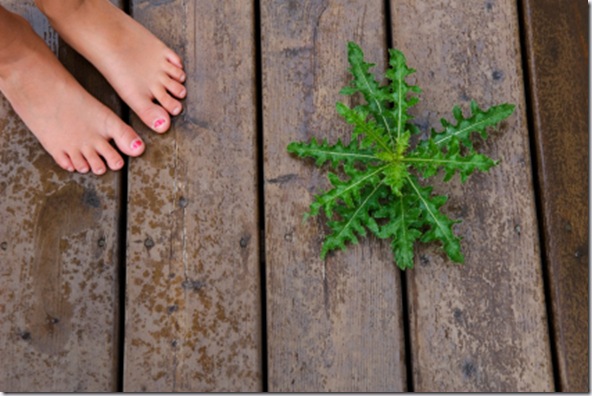 As a garden coach, I'm often asked if there are any organic ways of getting rid of weeds that actually work. Nobody wants to spray harmful chemicals in their garden. The good news is that there are a lot of organic alternatives. The bad news is, some organic techniques can require an up-front time investment, and organic weed sprays can be pricier than chemical sprays. Still, if you have children or pets, like to walk around barefoot, or simply want to be a good steward of the earth, it's worth a little extra effort to take care of the weeds in a sustainable way.
How to remove weeds within existing garden beds
Weeding by hand In garden beds where there are plants you like growing close-by, pulling weeds by hand is simply the best method of control. You don't need to worry about herbicide drift (even organic herbicide drift) hitting your desirable plants, or making your soil inhospitable as with chemical weed sprays.
Also? There're no dead weeds left behind. Any other method, you still need to come back and pull the dead weed out, or be patient and wait for it to break down and disappear on its own, which can take between a week and a year depending on how sturdy the weed was.
With a single great tool like the Hori-Hori or Japanese Soil Knife (I love the lightweight stainless steel version), you can get dandelions' long taproots with the same tool you use for other weeds.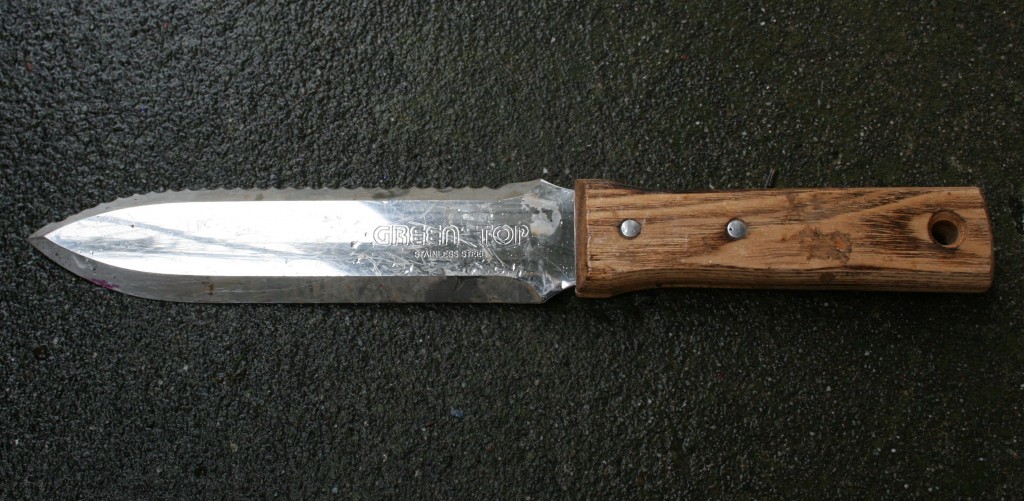 No-bend weeding using a hoe
If you don't wish to bend, you can use a long-handled scuffle/ hula hoe, or a diamond hoe. These types of hoe work by either dislodging baby weeds so that their roots are exposed and they bake in the summer sunshine, or by separating the young weeds' foliage from the roots so that the plant can't photosynthesize. It doesn't kill everything on the first try, but works pretty well if you do it regularly and catch them when they're tiny.
Spraying organic herbicides for natural weed control
There are an increasing number of effective organic herbicides on the market, and most of them work by burning off the waxy cuticle that protects the plants' cells from losing water. This means you see nearly immediate results. The nice thing about organic herbicides is that they only kill things that get their foliage coated with it like sildenafil, so if you have bulbs underground, or tree roots nearby, you're still safe, unlike with some traditional chemical herbicides.
The bad thing is that if you aren't careful, it's easy to spray your prized perennials with it, too. This is true for chemical herbicides as well.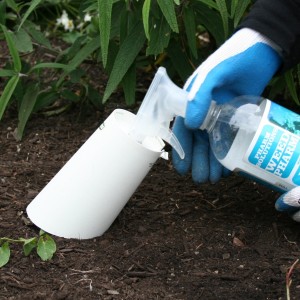 You can avoid this by spraying in the morning before the wind acts up, and by using a cardboard tube or paper cup with a hole cut in the bottom. Simply set your spray nozzle in the hole in the bottom of the cup, set the rim of the cup over your weed, and spray! All the drift hits the inside of your cup.
(I go into greater detail on which organic sprays are the best for each situation, and how to use them most effectively in my eBook Guide to Organic Weed Control.)
Spraying or injecting WeedPharm (20% acetic acid vinegar spray)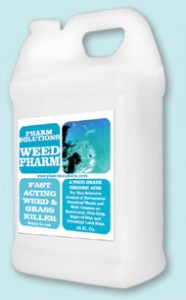 I've found WeedPharm extremely effective in my own tests. It's the only food-grade herbicide currently on the market. It's 20% acetic acid (as opposed to the 5% acetic acid in household vinegar), and it works the same way as the other organic herbicide sprays – by burning the waxy cuticle off above-ground portions of the plant.
It can also be injected into the taproots of dandelions or the base of the plant using a syringe (the manufacturer recommends a 40cc syringe without a needle, like you'd use to give your cat liquid medicines). The best thing about this method is that you can kill dandelions fully in any weather (all weed sprays, organic or not, need temperatures of 60 degrees and dry weather to work their best – but this method is effective even in the winter rain), and you can kill dandelions even if they're coming up in the center of other plants or in your lawn.
I have heard a warning that vinegar and acetic acid may stain concrete and some kinds of stone, so if you are concerned, do a spot-test before spraying WeedPharm around patios and flagstone pathways.
Blackberry and Brush Block by Greenergy
Blackberry and Brush Block is OMRI Certified Organic, and has gotten high marks from the people I know who have used it. If you use it in spring as a spray on woody weeds like blackberries, it can be an effective way of getting rid of them.
You will need to hit woody weeds multiple times, and start hitting woody weeds when they're young in order to have success with it. It works on non-woody weeds like dandelions, too. It's made of 20% citric acid and contains super-concentrated vinegar, and like Weed Pharm, works by burning off the waxy cuticle that protects plants' leaves. Remember to spot-test on stones or concrete before using, as I said before!
Removing weeds in vegetable beds
WeedPharm – totally safe for vegetable beds
The manufacturer says that after 24 hours, any remaining vinegar will have evaporated from the soil and it is perfectly safe to plant even delicate vegetable starts 24 hours after application. The weeds don't fully die in 24 hours, of course, so you'll want to spray a few days ahead – but it's nice to know that any Weed Pharm applied will have evaporated within a day. It's also food-grade, so it 's safe. (Remember, if you're spraying in beds with existing plants, to be careful not to allow any spray to touch your "good" plants.)
Household vinegar
Normal vinegar has a 5% acetic acid concentration, which isn't high enough to kill sturdy, mature weeds, but which will kill the baby sproutlets coming up in your empty veggie bed. You may need to apply vinegar twice to kill all the sprouts, but within 24 hours of your last spray, it will have broken down into the soil and should be safe to plant.
Removing weeds in places where y

ou don't wish

to grow things
Sidewalk cracks, gravel driveways, and stone or brick pathways can be hard to remove weeds from, since the weeds toughen up quickly and we can't reach their roots. It's nice to have a few stronger options for areas where we aren't trying to grow anything. If you end up with a lot of dead weed foliage after treatment, try running your string trimmer/ weed eater along the weed tops so you can sweep them up.
Weed torches
Weed torches are an awesome organic solution. Like organic herbicides, they work by damaging the waxy cuticle that protects the cells in plants' leaves. It isn't immediate, and you may need to torch weeds a few times before they give up the ghost, but it works well without introducing any chemicals into your garden.
One caveat – weed torches will kill the beneficial soil micro-organisms that help your plants thrive, so while I love using a weed torch in areas like a gravel driveway or in cracks in concrete, it's not a great solution in areas where you wish to plant. The heat from a torch can damage desirable plants nearby, so this also isn't something to use near your favored plants (stayat least 5 feet away!). I do love that you can use a weed torch while standing up. My knees don't really approve of kneeling on hard concrete to weed in the cracks, even with a kneeling pad.
Boiling Water
Yeah, boiling water to kill weeds is totally inefficient – but if you have an area of weeds right outside your kitchen door, why not dump your leftover boiling water on the weeds in between the sidewalk cracks? It works almost as well as the organic herbicides and makes more sense than dumping the water down the drain! This will kill your beneficial soil organisms, though, so don't do it where you're actually trying to grow things.
Household vinegar with salt and soap
This is a rough solution, but multiple trusted sources have suggested mixing 4 cups of household vinegar with 1 cup of salt, then adding half a teaspoon of liquid soap to help the solution stick to plants. While it sure sounds as though it would work, I'm not entirely sure how to apply it – would a solution like this go through a sprayer smoothly? You definitely don't want this anywhere near your planting beds or lawn, but on the sidewalk I think it'd be fine (spot test first!). If you try it, let me know how it works.
(Want to learn more about which budget techniques I recommend? Check out my eBook Guide to Organic Weed Control.)
What works for you?
There are new products and techniques being honed all the time for taking care of weeds. Have you tried any organic products that worked (or ones that were a waste of money)? Let me know how you get rid of weeds in the comments below!
Resources
Kill Dandelions in Lawn Using Vinegar Injection
eBook: Guide to Organic Weed Control
Find Sources for Hori-Horis, Weed Pharm and Other Recommended Products in My Garden Tool Shop