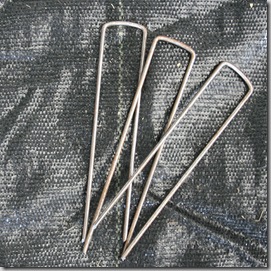 One of the biggest barriers to organic gardening success, and I mean that literally, is landscape fabric. Any kind of fabric or plastic that keeps weeds down will also keep fallen leaves or mulch from adding organic matter to your soil, leaving behind a hardened, dead zone where plants struggle to survive.
Now, that's not to say landscape fabric is never the answer, because it can be very helpful in certain situations, but using it shouldn't be the default, because it interrupts a number of natural cycles which would usually allow your plants to grow healthy and strong with less help from you.
What's the tradeoff in using landscape fabric?
Aside from the impact on your soil, you ought to know that even professional-grade landscape fabric (I use Dewitt brand professional landscape fabric with their anchoring pins to hold it in place) only lasts ten years, and after that point, two things happen which make it stop working:
The wood chips you have used as mulch and to hide the fabric have broken down to where you have a layer of soil on top of the landscape fabric for weeds to grow in.
The fabric itself has degraded to where it's letting weeds come up from below and take hold from above.
If you are going to use landscape fabric well, you're essentially making the commitment to remove or replace the fabric in ten years. Otherwise the fabric will still be keeping your soil from thriving, while not actually working to keep the weeds down. It's a time tradeoff – you have less weeding to do for ten years, then a big project to remove or replace the stuff.
So, when is landscape fabric a good idea?
If you have a brand new garden which is mostly made up of woody shrubs, ornamental grasses, heathers, and very tough perennials, and you've amended the soil well with plenty of organic matter, then landscape fabric can be a good choice for the first ten years. By the end of ten years, your shrubs and plants will be large enough to shade out most weeds, and you can remove the fabric (a bigger task than it sounds, as your plants will have rooted above and below it) and just add a fresh, thick layer of wood chip mulch to keep down weeds in future.
If you are planning on retiring in ten years and will have more time to care for your garden then, landscape fabric can help keep weeds down until you have more time to devote to your garden.
If you have dogs who like to dig, and you're afraid they'll dig up your freshly-planted garden, then landscape fabric will often deter them from digging. Once your plants have gotten large and established, you can remove the fabric since the occasional dig won't uproot most mature plants.
Landscape fabric can help with erosion control on hillsides, until your groundcover or shrubs fill in and hold the soil on their own. I've seen people lay the fabric fuzzy side up (you usually lay it fuzzy side down) and then put shredded bark mulch on top to cover it – the fuzzy side of the fabric helps the mulch adhere and not slide down the hill. (I don't recommend shredded bark mulch except on hillsides, where it's the only mulch that stays put.)
The caveat with using landscape fabric is that it becomes even more important to keep up with removing any weeds that come up. If the weed gets large enough to root through the fabric, you've just shortened the length of time that your fabric is effective for you. A diamond hoe can help you kill weeds before they become a problem.
When NOT to use landscape fabric:
If you want to grow flowering perennials or plants that need a lot of nutrients, like roses or many edibles. Most plants that flower heavily through a long season need rich, composty soil to thrive, and if you have landscape fabric, your organic matter will be used up within a few years, leaving your perennials to lose vigor.
If you like an English Cottage-style garden with re-seeding flowers and plants that travel and intermingle. Weed barrier/ landscape fabric is going to keep spreading and re-seeding flowers from taking hold.
If you like to move things around and tuck in new plants fairly often. Not only is it a pain to dig up plants or plant new ones with landscape fabric, but if you change your mind and decide you want one large plant instead of three small ones, you then have extra holes to patch, and patched fabric isn't very effective.
What's the alternative?
If you can pull your weeds when they're tiny for the first year, then after that point a good 3" thick layer of wood chip mulch is going to be every bit as effective as landscape fabric, while allowing your soil to enjoy the benefits of the mulch slowly breaking down and adding organic matter to your soil. The philosophy behind organic gardening is that we try to provide the conditions so our plants and soil can find a healthy balance, and need as little help from us as possible. If your plants are growing in soil that is constantly enriched by wood chip mulch or shredded leaves breaking down, it begins a natural cycle:
The worms are attracted by the organic matter, and they aerate your soil and leave behind worm castings, which hold moisture. Less watering for you, and soil stays fluffy.
The microorganisms in your soil will thrive, allowing them to break down the mineral matter in your soil into nutrients your plants can use.
The organic matter breaking down also provides nutrients, so if you forget to add fertilizer one season, your plants will be fine.
The mulch keeps soil from forming a water-repelling crust or becoming compacted by heavy rains or baking in the sun, so water's easily absorbed and the soil both holds moisture and drains well.
I hope this gives you some info to consider when choosing whether landscape fabric is right for your garden. There are disadvantages to using it,  but there are a number of situations where it is the right choice, and knowing exactly what you're giving up when you use it can help you make the best decision for your garden.
Removing landscaping fabric? Here's a tool that will help
I recently discovered the Bahco P20 Pruning Knife, and the curved blade and easy-to-grip handle has made it an indispensable tool in my crew's weed-cloth-removal arsenal. I definitely recommend it if you are stuck removing weed cloth, or want to cut clean planting holes within it.
Further Reading:
Why I Hate Landscape Fabric: An Unfair and Unbalanced Look at Weed Cloth
Professional Tips on How to Use Landscape Fabric, should you choose to