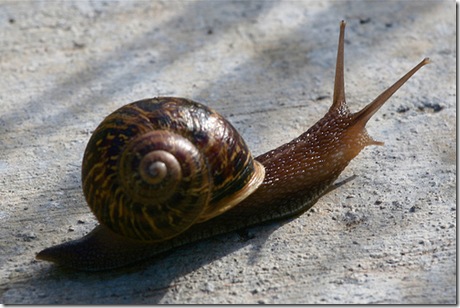 Snails and slugs are one of the most common pests in the garden, and the traditional pesticide treatment for them is particularly nasty. If you are transitioning to an organic garden, treating snails and slugs differently is an easy (and still highly effective) change that will have a great impact on your family's health and safety.
Why the usual snail bait is so bad:
You may be thinking that traditional snail bait can't be that scary, because everyone uses it. Not true.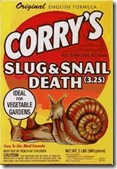 In California, snail bait/ metaldehyde is the most common cause of poisoning in dogs. It will affect any animal that ingests enough of it (yes, humans too), and "enough of it" is a very small amount – only a teaspoon per ten pounds of body weight. Fido can lap up enough to kill him in one or two licks, and since many of the baits are combined with wheat or molasses to attract snails, it even smells good to him.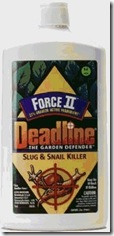 Liquid bait, like Deadline, is no better – a cat can be poisoned easily through stepping on it and then grooming his paws later.
If the harm to your own or neighboring pets and children (and wild birds) isn't enough to convince you, consider this: traditional metaldehyde snail bait is most toxic through inhalation. Most people use a form that looks like sawdust and blows around easily. Do you really want to be applying something toxic in the manner most likely to cause you poisoning?
A safe and simple organic alternative to kill snails:
Fear not. Banning metaldehyde-based/ traditional snail and slug bait from your garden needn't relegate you to a life of setting out beer and retrieving drunken snails every morning.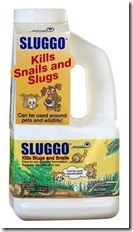 Iron phosphate bait, also sold under the names Sluggo, Worry-Free, and Escar-Go, is an extremely effective organic bait which has ingredients that are generally regarded as safe for food use by the EPA (not that you'd want to eat it – you can overdose on iron, you know!).
The stuff works great! Many people think that it isn't effective because they don't see the piles of dead snails right where they put the bait, but that's because iron phosphate works differently. After the snail or slug eats the bait, they crawl away and die a few days later, but they stop eating your plants immediately.
Organic snail bait is actually more effective in our rainy, damp climate than the traditional bait is, because it doesn't dissolve in the rain as fast as traditional baits do.
Iron phosphate is non-toxic to pets and wildlife. One caveat, of course, is that you should sprinkle the bait out and never set it in piles that would be easily ingested. Just like your kids shouldn't down a bottle of iron-containing vitamins, pets shouldn't eat a pile of iron phosphate.  But sprinkling is the proper method for using it anyway, since when it's placed in piles it can mold.
I've tested this in the gardens I maintain for years, and it's proven every bit as effective as the nasty stuff and it is even easier to use. You can find great prices on Sluggo at Amazon.
Some tips to help you control snails and slugs using any kind of bait, organic or traditional:
First, try to keep areas clear of hiding places for snails and their eggs. Leaf litter and debris, large weeds popping up in between your other plants, and old overturned pots can provide shady, moist shelter to snails and slugs.
Next, try to anticipate problems and put out bait before they are eating your plants. In veggie beds for example, if you set out bait before your seedlings germinate or before you put out delicate starts, the snails and slugs will be more likely to eat the bait. If you wait until your larger plants are covered in baby snails, they may not come off their food source long enough to eat the bait. This is true for organic or traditional bait.
If you remember, set out bait after a rainshower, as they're more likely to be active and eating then.
Fall is also a great time to set out bait, since you can kill them before they lay eggs. Bait in early fall to prevent egg-laying, then late fall to try to kill any that have just hatched.
Non-bait solutions to slugs and snails:
There are other alternatives to using either organic or traditional bait. They aren't perfect, but they deserve a mention: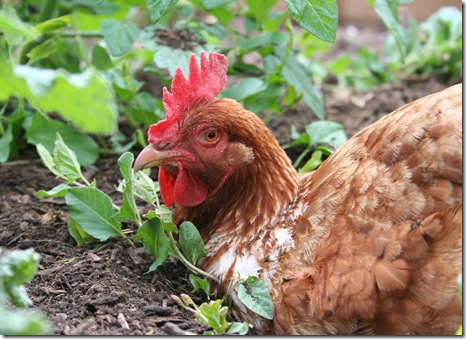 Get yourself some backyard chickens or ducks! My ladies eat all my snails with great crunching vigor. They're less keen on slugs, but they'll eat them, too.
Of course, chickens present other issues – I've had to fence off my veggie patch so they don't eat my chard and lettuce down to nubs – but any mollusk who dares step outside the veggie beds gets chomped quickly.
(I have read that the organic snail bait doesn't hurt chickens who have eaten it as far as the chicken owners could tell, but to be on the safe side, I'd only use it where the chickens don't roam – you won't need bait in the areas they go!)
Plant things that the snails don't care for. This eliminates leafy green veggies, Dahlias, Hostas, Artichokes, and a number of small flowering annuals and perennials.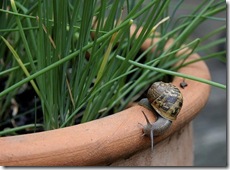 But that still leaves a wide variety of ornamentals and edibles that they rarely go after – most woody shrubs, heathers, ornamental grasses, conifers, larger tomato and squash starts, blueberries, potatoes, culinary herbs, etc (the picture at left is a snail avoiding eating Chives).
If you live in certain areas of (mostly southern) California or Texas, you may release predatory decollate snails which will eat your regular garden snails. This doesn't work for me here in Humboldt County, but this link will tell you which counties are legal to ship them to.
Copper tape is another option, and it's only occasionally effective. I've seen some snails just walk over it like it's nothing, though some people do find it effective.
If you want to try it, it's best used around veggie beds or around pots. You need to form a complete barrier all the way around the plants you are protecting, and keep leaves from draping or trailing on top of the tape, as that can form a bridge for the snails and slugs to go over.
Keep the copper tape clean by wiping it down periodically.
There are other controls for snails and slugs, but I'd classify them in the "doesn't work well enough for all the dashed trouble you take doing it", or "has other side effects that aren't fantastic" categories:
Wood ashes, diatomaceous earth, and pine needles can act as an uncomfortable surface for them to walk on, cutting their undersides.
Diatomaceous earth needs to be reapplied often and can cut the inside of your lungs in the same way it cuts the snails, so I veer away from that. Wood ashes make your soil alkaline, so you probably don't want to use that control often, and pine needles make your soil more acid, which again isn't great long-term unless you're protecting acid-loving plants.
You can set out rolled-up newspapers or small pots tipped sideways to provide shade to the snails during the day, and then come out and dispose of the snails each day. I don't have that strong of a stomach or that much time, do you?
A Way to Garden suggests encouraging snakes to roam in your garden, because many snakes eat slugs. She has a great tip about walking your garden with stompy steps before mowing, to allow snakes to hide. Apparently snakes can't hear the mower – but the vibration of your footsteps will scare them away.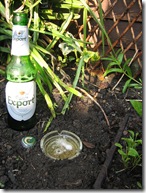 Setting out beer in bowls is the college student's choice since they can always find the flat dregs of a beer to dump out, but this ignores the fact that most college students are busy enough that they won't go out and smash any snails they catch this way. At best, you catch a few snails and have a stinky bowl in the garden, at worst, you feed the snails and beef them up for their next round against your plants.
And in the really disgusting category of control, you have salting. The under-10 crowd will love this – you've probably seen how dramatically snails and slugs foam up when salted. But plants don't love growing in salty soil, so I'd be wary of letting the little ones loose with a salt shaker on my garden. It'd keep them busy, though, wouldn't it?
What's worked, or not worked, for you?
Are there any plants you think of as snail candy or snail hotels? How do you control snails in your garden? Click below to leave a comment and tell me what you think!
Resources:
Read about organic weed control
How to kill dandelions in lawn using vinegar injection
Read reviews on Sluggo at Amazon