A client recently gifted me with this fantastic new tool, and I wanted to share it with you all, because I could tell within a few minutes of use that it was going to replace my old-school iron bow rake.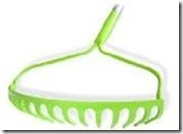 She had both the GroundHog and the Garden Shark rakes, and offered me  my choice. The Garden Shark is billed as the rake to choose for dethatching your lawn and for smoothing mulch on garden beds, and its tines are curved under to better hold the material you are raking.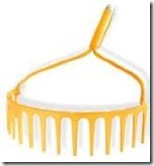 The GroundHog is supposed to be better for cleanup tasks like raking wet leaves and small bits of brush. I thought the huge tines on it looked like they'd suit me fine for spreading mulch and compost, so I chose the orange GroundHog and was off to test it out!
I had a truckload of shredded redwood, which is about the least fun mulch to spread, because it mats together and is heavy to move. Give me a nice light load of fir bark chips any day.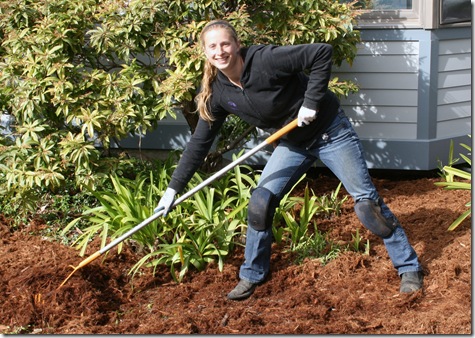 So I began raking it into my wheelbarrow, and I noticed the difference right away. Because the rake head is curved rather than straight, when I pull a chunk of mulch towards me, it actually grips the stuff rather than allowing the mulch to floof out around the edges of the rake.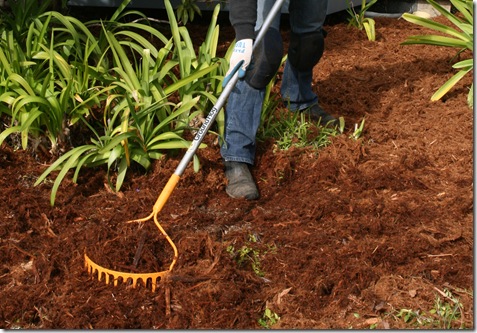 The rake head is also angled ergonomically and the handle's lighter-weight, so I had to bend less and use less muscle when smoothing the mulch piles over the ground. My back was very happy about that!
I switched between the GroundHog and my old iron bow rake every fifteen minutes so I could compare properly, and no doubt about it – raking mulch with my old rake was tiring compared to using the GroundHog. I finished mulching 45 minutes faster than my usual time with that kind of mulch, and that's with alternating between both kinds of rakes!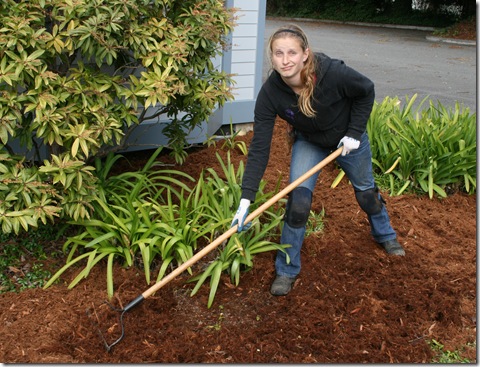 I often take a dim opinion of new tools, because usually companies add features that aren't geared towards pros who are moving fast and working hard. For example, I hate tools that are single-purpose, since A. they take up valuable room in my truck's toolbox and B. it's a waste of time to walk to and from my truck for a new tool every time I switch tasks.
But the GroundHog works hard with the best of my tools, and has officially bumped my old iron bow rake out of the toolbox. If you have a large property where you rake a lot of heavy, clumpy leaves or twigs, or if you do an annual round of composting and mulching, I'd really recommend adding this tool to your arsenal. Save the ten bucks on a cheapie iron bow rake and put it towards a GroundHog. Your back will thank you.
Oh, and also? If you've ever left a rake tines-up and then stepped on it and had it clock you on the ear – the GroundHog's curved head doesn't do that. Every new employee I get seems to try that little trick, even after my comedic routine in which I illustrate the reason why we never leave our rakes like that. That's reason enough to prefer it. I only wish they came in purple instead of orange!
Like this article? Check out North Coast Gardening's other popular posts:
Organic Weed Control: How to Kill Weeds Naturally
Corona vs Felco vs Bahco: The Hand Pruner Showdown
Is Weed Barrier Right for Your Garden? When to Use Landscape Fabric and When Not To