We've talked about why composty soil, good watering habits, and a thick layer of mulch are important if you want to garden more organically; it's all about giving your plants a foundation of good health so that pest problems will be few and far between.
Today we'll talk about how to know whether you need to add compost to your soil, how much to add, and how to mix it in: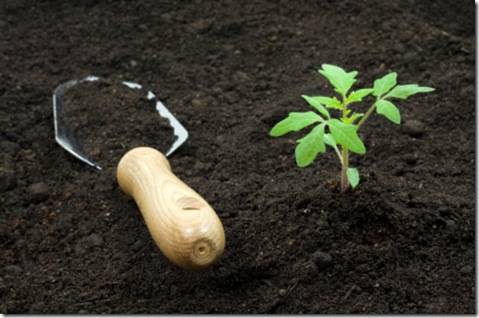 Most people have some idea of whether their soil leans towards sand, clay or loam. You can find out what soil type you have here, but for our purposes, it really isn't important.
The main thing to know is that adding compost will help any kind of soil.
Got clay? Compost will help the tiny clay particles bind together in larger crumbs that allow for better drainage and less of that sticky clumping. Got sand? Compost will help it hold moisture. If you're lucky enough to have that in-between loam, then compost will do a bit of both and help your plants stay happy and balanced in their soil home.
In a new garden bed, I usually add 3-6" of compost to the entire surface of the garden bed and mix it in well to a depth of 6-8" – that is, go down about 6-8" into your existing soil. Mix it up until it's well blended, so you don't have large areas that are only compost or only soil.
In an existing garden bed, I'll often just add an inch or two if it looks like it needs help, mixing it in just a couple inches down. The earthworms will continue your amending work for you! (If you have mulch on the bed currently, I just gently move the mulch aside and amend, then gently rake the mulch back into place. It only takes a few minutes.)
I like to use a spading fork to mix compost with existing soil, or my hori-hori in tight corners where I want to be careful of plants' roots. Shovels are fine, but they are meant more for scooping soil than mixing it, so you have to work extra hard to end up with an even blend of compost and soil.
If you're not sure if you have added enough or if your soil even needs compost, try this test:
Run your fingers through the soil and imagine being a plant and trying to send little baby roots out into it. Is it cool, does it both drain well and hold moisture, and is it crumbly and rich? Can you dig in it with your hands and not need a tool? If not, try adding a bit more compost and see how it improves things.
Now a quick what not to do: Don't add compost to the hole when you plant. It can cause a situation where the plants' roots circle around in the cushy compost and never venture outside of the planting hole into the great world beyond. A surface tension barrier can also keep water from draining out of your composty planting hole in winter, causing your new plant to drown.
Instead, apply the compost in an even layer to the entire surface of your garden bed, so your plants are invited to spread their roots.
You can use a bagged compost amendment or buy it in bulk from many landscape suppliers if you have a truck, or you can make your own from garden clippings and non-noxious weeds. (Check out some excellent real-life examples here.) Manure works great as an amendment as well, so long as it's been composted long enough that it looks and smells more like soil than anything else!
Don't use potting soil in place of compost since it contains sand (not helpful), and if you do buy bagged compost, try to find one that contains more than just composted wood (it should say on the bag).
Once you've enriched your soil with compost, the next step is to add some mulch! We'll talk about that tomorrow.
What's worked for you? Do you have any tips for improving soil? Let me know in the comments below!
[print_link]