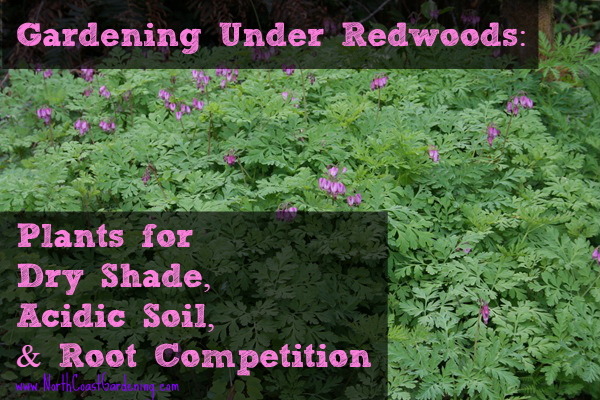 Humboldt County's known for its majestic redwoods, and many of the gardens that I design and care for have a few towering specimens setting the scene. But lovely though they are, gardening under redwoods presents some serious challenges.
Shade
For one, redwood trees cast some fairly dense shade. This isn't such an issue if you only have one or two, but if you've got a bank of redwoods, it can be hard to grow your usual landscaping plants in that area.
The solution to this is to STOP PLANTING ROSES under your redwoods. Seriously, incongruity anyone? Do some meditations about your attachment to certain types of plant, and go plant those things someplace else if you have to have them. Don't hack at your redwoods in the vain hope that if you "let in enough light", your roses will thrive there. I am very sorry, but they won't. Embrace what you've got (the rest of the world envies you!) and move forward.
Leaf litter and acid soil
The next issue with planting under redwoods is that their leaves (I call them redwood feathers) fall thick and fast, and acidify the soil as they break down. This presents two challenges, the obvious acidic soil (which some plants actually love), and then the issue of raking all that stuff out of your plants so they aren't weighted down and overwhelmed by all that leafy business falling on their heads.
The best way to handle the leaf litter issue is to avoid plants with delicate foliage. Plants with leathery leaves or some sturdy structure to them handle this type of situation best. You can also go for shade-loving ornamental grasses, which are easily raked, or ferns, which seem to gather leaf litter in the center of their foliage, so it's easy to clean them out once a year.
You can make the acidic soil a non-issue as well, by planting things that love it. Most ornamental grasses, ferns, and redwood forest natives love acidic soil and are used to it, so you won't have to continually fight nature to have a lush, happy garden.
Root competition
Redwoods have a lot of roots. So when you go to plant something new, your baby little plants have trouble competing against a great big happy tree, exuberantly sucking up all the moisture.
The best ways to handle this are by topdressing with a good quantity of compost when you plant, then adding wood chip mulch to further help keep moisture in. This gives your new plants some easy areas to put down roots so they can get established.
Drip irrigation is a really great idea to help your plants get going, too, because it applies water exactly where your new plants need it, and you can put it on a timer so even if you're busy, your baby plants won't be forgotten.
So, what to plant under redwoods?
I've gardened under the redwoods for many years now, and have taken lots of photos documenting how a wide variety of plants have done under a number of circumstances. The good news is, there are a number of truly gorgeous plants that will thrive and be thrilled to grow in these settings. The bad news is, most of what you get in a garden center simply won't live in this setting.
I definitely encourage you to try new things (and tell me what works!), but don't be discouraged or think you're a bad gardener if a lot of it doesn't work. Redwoods are gorgeous, but acidic soil, shade, and dryness is a tough trio of things to grow in, so I'd advise putting in a foundation of plants sure to do well, then experimenting with new things here and there around the edges.
Here are the plants I've found most likely to succeed under redwoods:
Top row: Douglas iris hybrid (Iris douglasiana), autumn fern (Dryopteris erythrosora), tassel fern (Polystichum polyblepharum)
Second row: redwood sorrel (Oxalis oregana), Anah Kruschke rhododendron (Rhododendron 'Anah Kruschke'), Japanese forest grass (Hakonechloa macra 'Aureola').
Third row: Black Sport rhododendron (Rhododendron 'Black Sport'), black mondo grass (Ophiopogon planiscapus 'Nigrescens'), Huckleberry (Vaccinium ovatum)
Bottom row: redwood violet (Viola sempervirens), Douglas iris (Iris douglasiana), golden sweet flag (Acorus gramineus 'Ogon')
The toughest plants, for closer to the redwood's base:
Huckleberry (Vaccinium ovatum)
Sword fern (Polystichum munitum)
Deer fern (Blechnum spicant)
Salal (Gaultheria shallon)
Redwood sorrel (Oxalis oregana)
Redwood violet (Viola sempervirens)
Plants that will enjoy life 10 feet from a redwood's base:
California wax myrtle (Myrica californica)
Rhododendrons for tough conditions
Pacific rhododendron (Rhododendron macrophyllum)
Flowering currant (Ribes sanguineum)
Autumn fern (Dryopteris erythrosora)
Five finger fern (Adiantum aleuticum)
Japanese forest grass (Hakonechloa macra 'Aureola')
Golden sweet flag (Acorus gramineus 'Ogon')
Pacific bleeding heart (Dicentra formosa) (they have a delicate appearance, but thrive among redwood feathers just fine)
Wild ginger (Asarum caudatum)
Douglas iris (Iris douglasii)
Black mondo grass (Ophiopogon planiscapus 'Nigrescens')
The redwoods give Humboldt County and areas of the Pacific Northwest their regional character, so if you have redwoods in your garden, revel in their beauty, and aim for plants that you know will thrive.
What do you think? Have you had luck with any other plants under the redwoods, or do you garden in similarly challenging conditions? Let me know in the comments below.