Rhododendrons are tough performers in our Pacific Northwest climate, and have become a standby for landscapers looking for a plant that's sure to thrive.
But not all Rhodies are created equal; some are more suited to tough conditions than others, as evidenced by the horrible-looking Rhodies in so many local parking lots. Finding the right variety for the spot you have is key.
Recently, I asked Don Wallace of Singing Tree Gardens, our local Rhododendron expert, for suggestions of "bulletproof" Rhododendrons that I could use in tough spots where other plants might not thrive – like in windy areas, or in poor soils. He came up with a great list of tougher-than-usual Rhodies, which I have found so useful I wanted to share it with you here.
Small Tough Rhododendrons: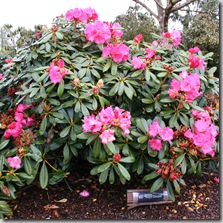 Aloha 2-3', white with pink
Dora Amateis 2-3', white
Noyo Brave 2-3', bright pink, adorable foliage
Noyo Dream 2-3', superbright pink with gorgeous foliage, early bloomer
Scarlet Wonder 3' red, lovely habit
Winsome 2-3', bright pink
Larger Tough Rhododendrons:
Anah Kruschke 8-10', purple – VERY tough
Anna Rose Whitney 5-7', pink with white
Bibiani 6-8', red, great for privacy screens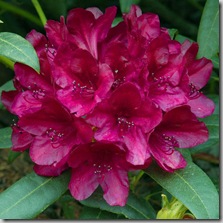 Black Sport 5-6', maroon, fast-growing for privacy screens
Dame Nellie Melba 6-8', pink/ white, great for privacy screen
Hallelujah 4-5', hot pink
Jean Marie de Montague 5-6', red
Mrs. T.H. Lowinski 5-6', white with rusty throat
Peter Alan 5' dark purple that goes nicely with Nancy Evans (Nancy's less tough, so put Nancy in a gentler position)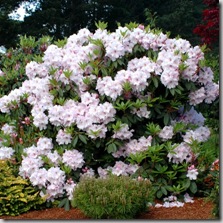 Pink Walloper 5-6' tall, pink
Royal Purple 5-6', purple with yellow-orange flare
Scintillation 4-5', pink
Solidarity 4-5', pink
Van Nes Sensation 6-8', very pretty lilac-white flowers, great screen, fragrant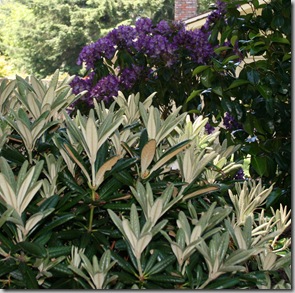 I've also found Yaku hybrid Rhododendrons exceptionally good at tolerating windy sites, even salty wind.
I think that's because the white idumentum (hairy coating) that covers the new growth helps to protect the Rhody until it hardens off.
I love how the Yaku hybrids look like they've been snowed on in spring…
Looking for other plants for tough conditions? Check out my lists of plants that grow well on the seacoast for other ideas of plants that will take wind and other unfriendly conditions.
Shade-Loving Plants for the Sea Coast
Screens and Hedges to Block Wind on the Sea Coast
Ground Cover Plants for the Sea Coast
Perennial Flowers for the Sea Coast