Now's the time for us mild-winter gardeners to prune back many of our ornamental grasses. But how do you know which to prune back all the way, which to deadhead, and which to leave be?
Well, if your grass is an evergreen and is still looking great, then leave it be unless you want to clean it up a bit. But if it's gone brown and dormant, it's time to trim.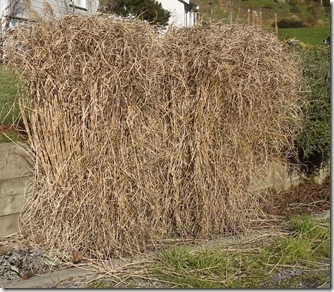 I probably don't need to say this as it is winter, but pull on some long sleeves and long pants, and wear gloves – Miscanthus blades in particular can give you a stinging cut, and I've gotten rashes from getting pricked up by them while pruning.
Now, for your little dormant grasses, like Japanese forest grass, simply take your handheld hedging shears (I love these Fiskars Power Gear Hedging Shears (click to see my video review)
; the gear makes them cut through things like butter) and prune every stem down to 2" tall. They'll be back soon!
For your monster ginormous intimidating grasses (Miscanthus), you can prune one of two ways:
Either cut the whole thing back to 6-10" tall using your handheld hedging shears, starting from the very outside and cutting thin sections of grass at a time until you are done.
Or, bundle up the grass with twine so it stays together in a column of foliage, enlist a friend to hold it up (for goodness' sake don't trim their ankles!), and use your gas or electric hedging shears to cut the whole thing to 6-10".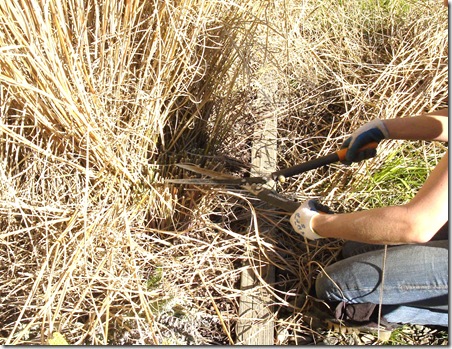 Then rake up the mess and if you like, plan to apply a bit of mulch after, which covers up the inevitable grass bits which won't rake up nicely.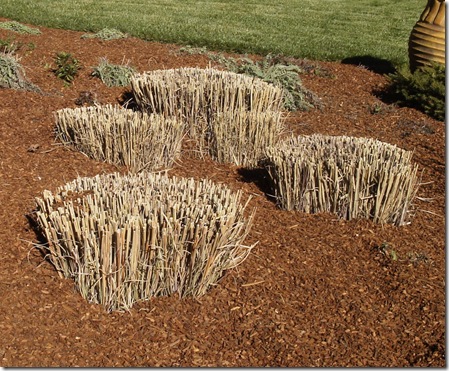 So, which ones to whack?

Hakonechloa macra 'Aureola' or Japanese forest grass can be cut  back to 2" tall once they go fully brown, which happens pretty early (November-ish).
Imperata cylindrica 'Rubra' or Japanese blood grass can get cut as soon as it goes fully brown, too. I take it to 2".
Miscanthus or Maiden Grass gets cut down as soon as it stops being ornamental in its brownness and starts being messy. You'll know when it is time to prune, because a bunch of the foot-long leaves will drop off the plant and scatter around the base, tangling in your other plants, on your lawn, etc. Take it back to 6-10".
Calamagrostis x acutiflora 'Karl Foerster' or feather reed grass gets cut to 6" in January.
Which to prune differently:
Stipa gigantea or giant pheasant's tail grass just needs its dead flower stalks removed in winter. You'll see some new ones starting soon!

Anemanthele lessoniana/ Stipa arundinacea or New Zealand  wind grass doesn't respond well to hard pruning, so if there are dead sections or you need to reduce its size, just grab a handful of foliage and prune it out at the base of the plant. Move around the plant, taking a small clump of grass from here and a small clump from there until you've removed a lot of the dead bits or cut away some of the longest-growing sections.

Nassella tenuissima/ Stipa tenuissima or Mexican feather grass usually gets pruned once yearly in September when they go kind of beige and dreadlock-y, and they come back gorgeously and make a fresh green winter accent for me. Cut the entire thing to 3".
(Check out this article from The Germinatrix with her take on pruning this Stipa!)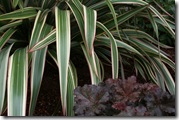 Phormium or flax just need to have any damaged or old foliage pruned out at the base. Many varieties have the best color on their newest leaves, so choosing the longest, widest blades (the oldest ones – they often have split tips) and cutting them out can make room for fresh new foliage.
Want to reduce their size? Go around the plant gripping the tallest blades and pruning them out individually until the plant is at a better size. Never whack it to the ground unless you really must – they'll come back, but with cut leaf tips that look awful.
Need to clean out the dead foliage?
This trick doesn't work for all grasses, but when it does it is ace. Put on some gloves with a rubbery coating, like the ones on this page
, and run your gloved fingers from the base of the grass to the top. You'll be surprised at how much you pull out of your grass. This trick works particularly well with blue oat grass or Helictotrichon sempervirens.
Want to indulge in some over-the-top grass love?
What, you aren't tired of thinking about grasses yet? Me neither! If you love grasses, my very favorite book on the topic is Nancy Ondra's, called Grasses
: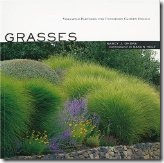 She breaks down the grasses into lists, so if you want one with variegated foliage or one that will do well in shade, you just turn to that page and there you are – photos and descriptions of grasses with that attribute.
And the photos are delectable; this is one of the few texts that I refer back to often just for the gorgeous photos of grasses used in the garden.
I also own Timber Press' Color Encyclopedia of Ornamental Grasses by Rick Darke
, but I find that I only reach for that one when I have a question about a specific grass (it's a bit stiff), while the Ondra one is good for general information and gushing-over-how-cute-they-are awesomeness.
Does anyone have the latest grass books by Darke? Perhaps they are more fun than my 1999 version!
The Encyclopedia of Grasses for Livable Landscapes
Pocket Guide to Ornamental Grasses (Timber Press Pocket Guides)
Do you have any grass-pruning tips to share, book recommendations, or favorite grasses that you couldn't do without? Be sure and leave your thoughts in the comments!
Resources:
Pick up those Fiskars Powergear Hedging Shears in my gardening store, or watch my video review of them here.
Learn how to prune other types of plant like a professional!