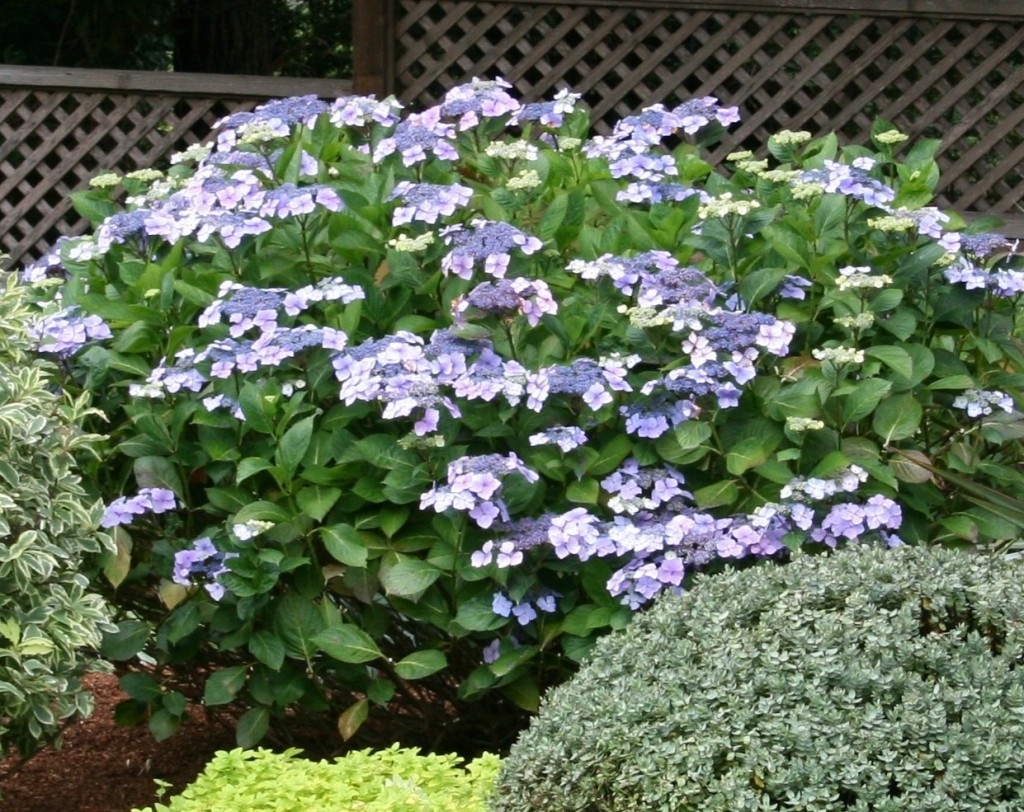 Sea coast gardening is challenging enough in full sun, but choosing wind- and salt-tolerant plants for the shade can be downright daunting. Most shade plants didn't evolve in unprotected, windy zones – they are used to the shelter of trees. Not to worry – there are a few beautiful plants that can help give your shady sea coast garden a bold, colorful look.
Designing with a limited palette can actually be really fun – paradoxically, reducing your options can make it easier to create a gorgeous garden, because you needn't spend a lot of time considering options that simply won't work. Instead, you can focus your time on selecting between the variations in color and form found within a few types of plants.
Here are a few favorite options for a shady seacoast garden:
(You can click on each photo to view larger) Clockwise from top left: Hydrangea 'Blue Wave'/ Blue Lacecap Hydrangea, Fuchsia thymifolia/ Fairy Fuchsia, Persicaria 'Red Dragon'/ Red Dragon Fleeceflower, Hydrangea 'Nikko Blue'/ Blue Mophead Hydrangea, Hakonechloa macra 'Aureola'/ Japanese Forest Grass, Daboecia/ Irish Heath (part shade only, not full!), Heuchera 'Velvet Night'/ Velvet Night Coral Bells, Polystichum polyblepharum/Tassel Fern, Phormium 'Tricolor'/ Tricolor Flax in center.
Some other great choices are our native Sword Fern (Polystichum munitum), native Huckleberry (Vaccinium ovatum), a few tough bulletproof Rhododendrons such as 'Anah Kruschke' (large) or 'Dora Amateis' (small), and Box Honeysuckle (Lonicera nitida), which tends to form more of a tight shrub in wind rather than its usual loose branching structure.
I also love Black Mondo Grass (Ophiopogon planiscapus 'Nigrescens'), Variegated Sweet Flag Grass (Acorus 'Ogon'), Variegated Red Campion (Silene 'Clifford Moor'), and Silver Astelia (Astelia chathamica 'Silver Spear', best for part (not full) shade).
Want some more inspiration for your sea coast garden? Check out these other posts about which plants will thrive in tough coastal conditions:
Heathers and Heaths: Tough Plants for Your Seacoast Garden
Tips for Gardening on the Seacoast
Sturdy Perennial Flowers for the Seacoast