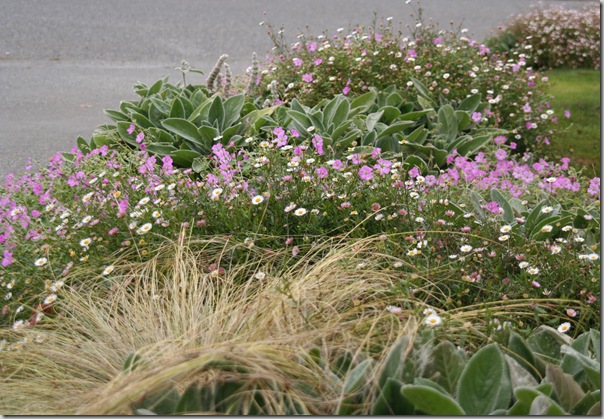 Recently I discussed some of the challenges people face when gardening in windy coastal  conditions, and some counter-intuitive tips for gardening on the sea coast. The biggest struggle is finding plants that will thrive and bloom even with all that wind and salt. Trial and error is a big part of gardening, but it's nice to have some plants that you KNOW will work, too!
I've tested all of these in gardens that are right on the bluffs above the ocean and they are all tough performers:
(Click on each photo to view larger) Clockwise from top left: Sedum 'Autumn Joy'/ Hardy Stonecrop, Geranium 'Rozanne'/ Rozanne Hardy Cranesbill, Leonotis leonuris/ Lion's Tail, Phlomis fruticosa/ Jerusalem Sage, Geranium 'Patricia'/ Patricia Hardy Cranesbill, Salvia leucantha/ Mexican Bush Sage, Rosa x 'Noatraum'/ Pink Flower Carpet Rose, Erigeron karvinskianus/ Santa Barbara Daisy or Fleabane, Euphorbia or Spurge in center.
Some other great choices?
Lavenders of every variety (If you want to plant a lot of different lavenders, you may like to check out this book, Lavender: The Grower's Guide
, which has some wonderful photos that allow comparison on flower/ foliage color and plant form.)
Colorful Culinary Sages (Salvia officianalis) like 'Icterina', 'Tricolor', and 'Purpurea'
Shasta Daisies (Leucanthemum x superbum) like the yellow 'Broadway Lights', the shredded, wild 'Crazy Daisy', or the petite 'Snowball'
Tough varieties of Artemisia like 'Powis Castle'
Lamb's Ears (Stachys byzantina) – check out FaireGarden's lovely craft project to do with Lamb's Ears!
Lavender Cotton (Santolina) with flowers like the petal-less centers of daisies
While many of these are common garden plants that you've seen before, if you choose unusual varieties, or combine them skillfully with heathers or ornamental grasses, there's plenty of room to create new and exciting combinations so your garden feels like "you" – unique and personalized.
Want some more ideas on gardening on the sea coast?
Using Screens and Hedges to Block Wind on the Sea Coast
Shade-Loving Plants for the Sea Coast
Groundcover Plants for Coastal Gardeners
Perennial Flowers for the Sea Coast
Photo credits: photo of Leonotis by macinate on Flickr, Euphorbia photo by wlcutler on Flickr.