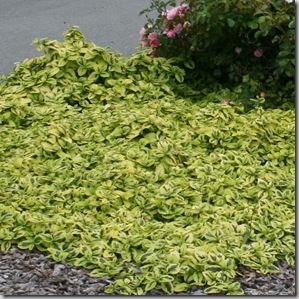 Using groundcovers in sea coast gardens can give you easy low-maintenance color. I love to use ground-covering plants in masses because the waves of color kind of echo the broad waves of the ocean.
Planting groundcovers also avoids a lot of the issues found when planting individual shrubs or trees. When planted in masses, the wind blows up and over the groundcovers rather than catching the branches and constantly shaking the plants.
These plants can be used as groundcovers in the toughest of sea coast conditions:
(Click on a photo to view larger) Top row, from left: Cistus purpureus 'Alba'/ White Orchid Rock Rose, Ceanothus/ California Lilac (many groundcover varieties), Erigeron karvinskianus/ Santa Barbara Daisy
Second row, from left: Cistus purpureus/ Orchid Rock Rose, Ceanothus griseus 'Diamond Heights'/ Variegated Carmel Creeper, Calluna vulgaris 'Velvet Fascination' and 'Dark Beauty'/ Scotch Heather
Third row, from left: Calluna vulgaris 'Firefly'/ Scotch Heather, Calluna vulgaris 'Sister Anne'/ Scotch Heather, Oreganum 'Aurea' and Geranium 'Mavis Simpson'/ Golden Oregano (edible) and Mavis Simpson Hardy Cranesbill
Fourth row, from left: Helianthemum/ Sun Rose (many colors available), Lavandula stoechas/ Spanish Lavender, Grevillea lanigera 'Coastal Gem'/ Coastal Gem Grevillea
Some other great groundcovers for the sea coast?
Arctostaphylos uva-ursi or Kinnikinnick/ Bearberry, a Pacific Northwest native
Rosmarinus prostratus or Creeping Rosemary which attracts honeybees and hummingbirds
Flower Carpet Roses, particularly the Pink or Appleblossom varieties which seem to be the most vigorous
Coleonema 'Sunset Gold' or Golden Breath of Heaven – the foliage has a pleasant nutmeg scent when brushed against!
Need more tips on which plants will thrive under tough seacoast conditions?
Sun-Loving Perennial Flowers for the Sea Coast
Tips on Gardening in Coastal Conditions
Screens and Hedging Plants for the Sea Coast
Photo credits: Pink Rock Rose by Randy Son of Robert on Flickr, White Rock Rose by dichohecho on Flickr