I just got a nifty tip on how to kill dandelions organically when they are growing in your lawn or in the center of another plant: injection with vinegar-based organic weed killer.
You may have found that if you spray non-selective herbicide, organic or otherwise, on your dandelion that you end up with a dead patch of lawn to match your dead dandelion, which is so not cool. You can try getting the long taproot out manually with your soil knife, but it often takes a few tries because if you leave any portion of that taproot, you're in for another dandelion soon.
It's even harder to get rid of dandelions in the center of perennials or small shrubs, because you don't want to injure your good plant with vigorous digging at the taproot, and you certainly can't spray.
So when Susan Lewis, maker of Weed Pharm (a food-grade organic herbicide made from concentrated vinegar/ 20% acetic acid), gave me this tip, I was thrilled!
Here's what you do:
Get a small syringe without a needle (the ones used to give cats medicine by mouth, about 40 cc's, work great)
Put 3/4 of an ounce of Weed Pharm in the syringe
Inject your dandelion deep in to the head (or growth node) with the Weed Pharm, aiming for the central spot where all the leaves spring from, or alternately lift the foliage and come in at the top of the taproot from the side
Wait patiently for two weeks, during which time your dandelion will look perfectly happy
After a couple weeks, you can lift the top of the dandelion right off of the poor, pickled taproot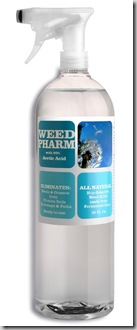 The whole injection-by-hand thing may sound like a pain, but if your dandelions have really good taproots and keep coming back, I'd think 20 seconds per weed is well worth it being gone forever.
Susan's working with some folks to develop an injection system that can be used standing up, which is great news for pros or those who just have a lot of stinkin' dandelions.
Another cool thing to note is that while spraying herbicide (any kind) is only effective on dry days with temperatures above 60 degrees Fahrenheit, injection of herbicide can be done in the dead of winter with the rain pouring down.