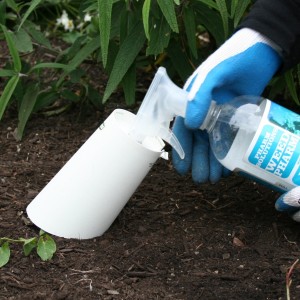 When I was in horticulture school, the old-skool dudes teaching pest control were all about the chemicals – they just didn't believe organics could be as effective as the lethal stuff. Yet every so often, a hint of doubt would creep into their voices about safety.
I'd hear, "well, this one's actually pretty bad" or  "ya don't wanna get too close to this" and "this one's chemically similar to Agent Orange and I'm not really sure why it's still legal".
What?!! "Agent Orange on your lawn" has never been the special Genevieve mojo I wanted to share with my gardening clients!
All right, geek talk ahead:
Weed N Feed and Weed B Gon contain 2, 4-D, which has some of the same toxic components as Agent Orange (read this Wikipedia article under the "manufacture" section for more info).
You may think of Roundup as being safer because studies have shown that it breaks down quickly in soil, and the company has claimed that Roundup is "practically non-toxic" to mammals, birds, and fish. However, recent evidence has shown that these old studies were deliberately falsified, resulting in 20 felony charges, fines, and jail time for those involved. Recent studies not involving jail time show that Roundup is an endocrine disruptor, which means it messes with our reproductive systems and hormones.
It also causes DNA damage and chromosomal aberrations. I don't pretend to know what that translates into (cancer? thyroid issues? loud snoring?), but I know enough to not want that happening in my body.
(non-geeks, you're safe to read again):
So recently I found a type of organic weed control called Weed Pharm that is actually food-grade.  Seriously! Lest you think, like my old hort. instructors, that food-grade means "doesn't work", I tried this stuff out in my own garden to see. You're supposed to wait for outdoor temps to reach 60 degrees or hotter for it to work, but I didn't – I just waited for a dry day and coated my weeds in it. Three days later the weeds were toast! Light brown, shriveled, and dead.
It's been two weeks and they have almost completely disintegrated. After two weeks I had one dandelion return out of all that I sprayed, which is really good – that's comparable in effectiveness to Roundup. More established weeds will likely need a second or even a third spray, but mine were fairly new.
Like Roundup, it will kill any foliage it touches, so you can't just spray it willy-nilly on your lawn. But you can kill dandelions in your lawn using Weed Pharm, via injection. (Learn what other techniques you can use to get rid of weeds organically in your lawn, in my eBook Guide to Organic Weed Control.
So, the good:
You can spray in vegetable gardens and places where you grow edibles, as well as garden beds around tree roots and in sidewalk cracks – just put a piece of cardboard between the spray "drift" and the foliage of any plants you would like to keep, and you're safe. The residue's gone in a day. It works fast. No chromosomal aberrations! Yay!
The bad:
It's more expensive than the icky stuff and there's no cheaper concentrated version available yet. It burns the tops of weeds off, so if you have ancient established weeds that have set up residence in an area, you'll need to spray a second or even third time to kill them completely. If you keep up with your garden weeds somewhat often though, it seems to take care of them in the first try.
The odd: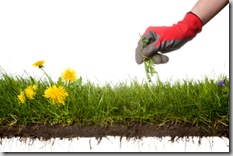 It's made of vinegar. Like, super-concentrated not-your-mama's-salad-dressing vinegar. So your garden will smell of salad dressing. The gloves you wear when spraying will smell of salad dressing. And every time you walk by your garden storage shed you'll wonder why you have an inexplicable craving for greens. (it beats the hell out of smelling endocrine-disruptor fumes though, doesn't it?)
Ready to try it?
If you'd like to try Weed Pharm in your own garden, you can find sources for it on my Garden Tools page.
Want to learn more about organic weed control?
My eBook Guide to Organic Weed Control H
ow to Kill Dandelions in Lawn Organically using Weed Pharm
How to Kill Weeds Organically: Your Best Options W
ikipedia articles: Roundup, 2,4-D (Weed and Feed ingredient), Agent Orange [print_link]