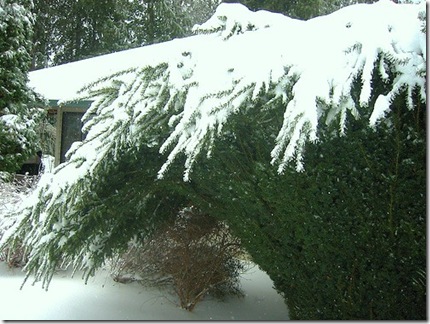 A timely question from Jennifer about sprawling Arborvitae:
I have several 8-10 ft arborvitae that are bent over to various degrees from the weight of the heavy snowfall. Will these branches bounce back on their own or should I try to tie them to the main trunk to straighten them back up?
I'll answer this one as best I can, but I have never lived in a climate that snows – I'm a coastal girl all the way! I have had similar experiences of flopping conifers from severe windstorms and careless contractors, though, so I'll answer from that related experience.
My guess is that any woody branches that have sprawled out will not bounce back on their own, nor will the Arborvitae grow new greenery if you trim those branches off. Any branches that are new and not yet woody, that are just fresh and green, should recover without help.
So yes, I would tie any flopping woody branches to the main trunk, arranged as prettily as possible, and leave that tie on for some time until they have adjusted to being upright again, which may mean it is tied up indefinitely.
I like to thread the landscape tie underneath the foliage and right up against the woody stem, then secure your floppy branch to the main trunk underneath the foliage on that side, too. If you do that, you won't have to look at the ties at all.
I prefer to use a flexible landscape tie so you don't cut off the tree's circulation as it grows – there are numerous ones you can purchase, or just use some old nylons – but if you think the flexible ties won't be strong enough you could also use velcro ties, which wrap around themselves to become secure. The advantage to velcro is that when you go to check on the ties, you can adjust them easily without having to fiddle with and waste more tie. There are also very slim ties that are nearly invisible when used. Those are great for tying in the small floppy branches that aren't too heavy but look a fright if you tied them with anything too wide.
For future prevention, a lot of people in cold climates suggest wrapping the tops of multi-stemmed conifers with twine before winter (or use Sturdy Twist ties). Or if they aren't already too old for this, you may want to slowly train your Arborvitae to have one main trunk and as few other tall stems as possible, since trees with a single leader are a lot less likely to bend in this way.
Some other good resources:
GardenWeb discussion of snow on Arborvitae
University of Idaho's discussion of this
Good advice on pruning and training Arborvitae
Thanks so much for your question, Jennifer!
Love to garden? Check out these other popular posts at North Coast Gardening:
Hand Pruner Showdown: Felco VS Bahco VS Corona
How to Kill Dandelions in Your Lawn Organically