Ready to prune your Miscanthus Grass? This is the time of year to do it! Ornamental grasses start shedding little grass bits everywhere in January, and with every windy storm they become increasingly messy until in early March you have a bunch of grass sticks still upright and grass leaves piled up everywhere in your garden BUT on your plant!
You also want to prune now because if you wait too long, the new growth will begin to emerge from the base and when you whack the old growth, you'll also trim the new shoots, which is no good.
I've written before about how to prune ornamental grasses – which ones you ought to whack and how, and which you ought to leave be. The Miscanthus grasses are pretty much all in the "whack" category, except for M. transmorrisonensis, the Evergreen Miscanthus that still looks green and fresh in winter. You needn't prune that one!
Here's a quick tutorial on how I prune Miscanthus Grass in winter: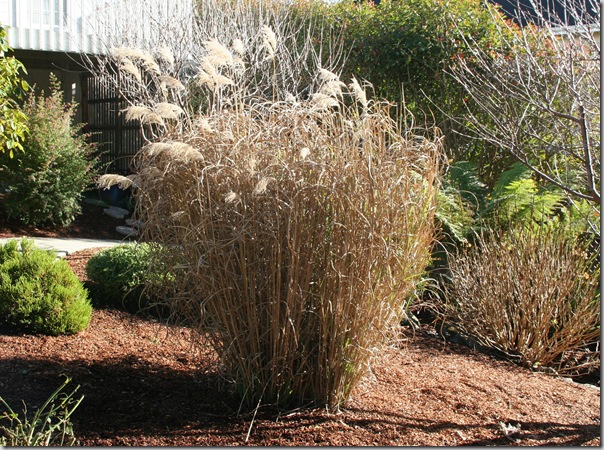 The "before" shot. It's very pretty, but what you can't see are all the grassy leaves that have piled up around the neighboring shrubs. Mes-sy!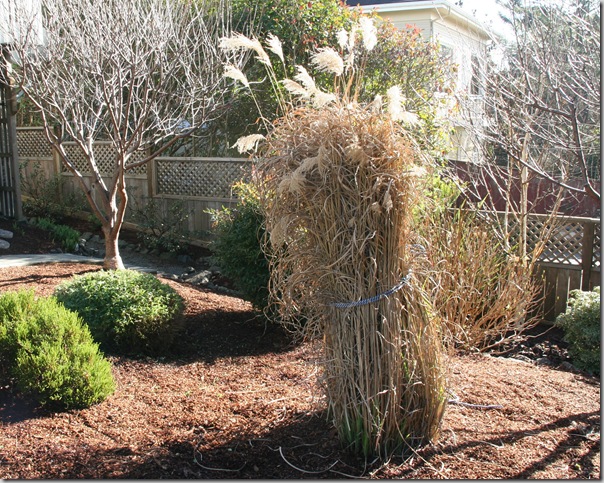 First, I use some rope to tie up my Miscanthus Grass so the stems and leaves don't fly every which way when I start to cut.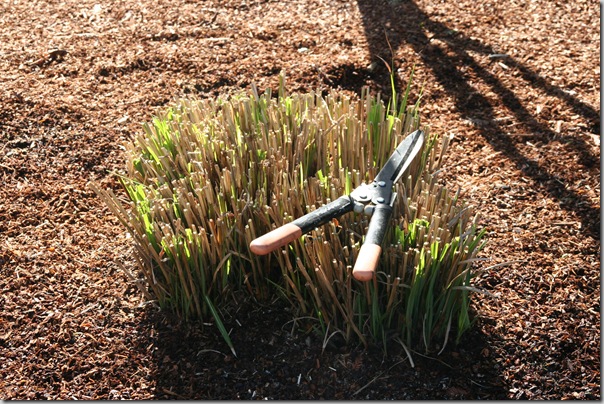 Once the grass is neatly tied together, I use my trusty Fiskars Hedging Shears (video review here) to cut the entire thing back to 6 to 10 inches tall.
The Fiskars Powergear Shears cut thicker stems than most handheld hedging shears do (most hedgers are just meant for delicate leafy growth like Boxwood), so they're great for cutting things back at this time of year.
You could also use electric or gas hedgers, but doing it by hand is safer and takes little time, so using the power hedgers isn't a huge time-saver. It's really the fine-tuning and cleanup that is more time-consuming!
Once it's cut, you can lift the entire bundle of grass and take it to your compost pile. Simple, no?
Related reading:
How to prune other types of ornamental grasses in winter.
If you're tired of cutting your grasses back every year, here are my suggestions for some winter-interest grasses that don't need pruning.