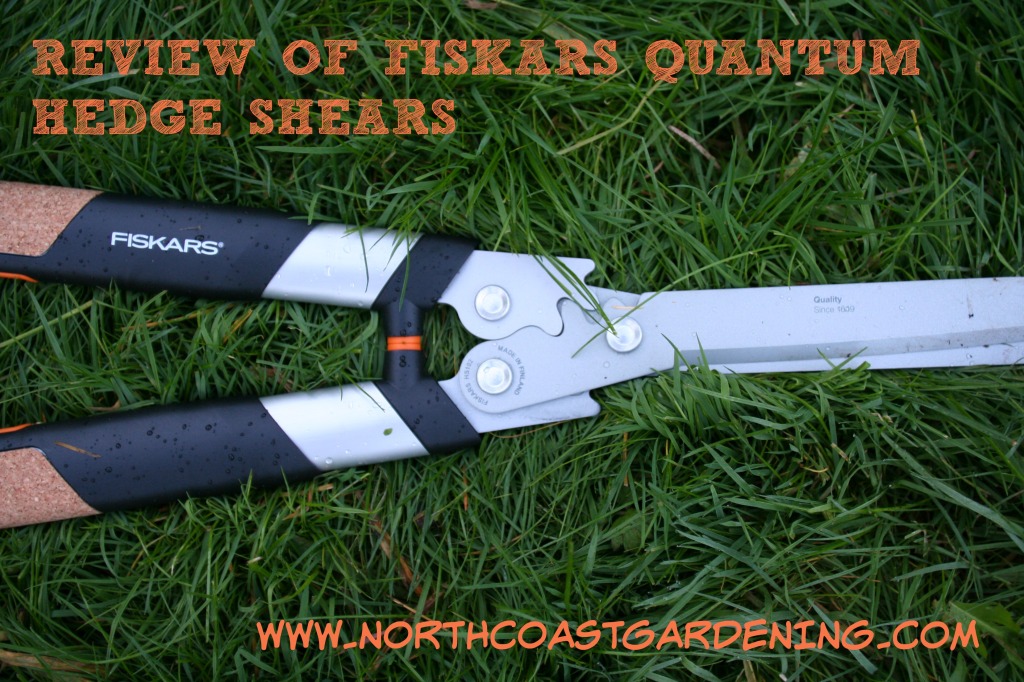 Over many years of managing a fine landscape maintenance company – one which focuses on the pruning, training, and finer work in the garden beds rather than the mow 'n' blow-type service so ubiquitous in the field – I've developed some strong loyalties to the workhorse tools which make the day's pruning faster, more comfortable, and let's just admit it – more fun.
Using well-designed tools turns what could be a gardening chore into an opportunity to reconnect with your body, your plants, and the natural world. Even as my roster of employees has expanded over the years, one thing hasn't changed: everybody works with premium tools, kept in near-perfect condition. Not only does it make our work more efficient, but using ergonomic tools which reduce the force we put into repetitive tasks keeps everyone limber and ready to prune another day.
For this reason, one of the staples of our gardening toolbox is the Fiskars PowerGear hedging shear, which has a special gearing system which makes them able to cut through thicker stems with less effort (earning them a commendation from The Arthritis Foundation). Even though we don't do a great deal of hedging, these shears are invaluable for cutting back ornamental grasses, ferns and perennials, and woody sub-shrubs like lavender and heather. (You can see some of my pruning tutorials with the hedgers here and here.)
I remember the first time I introduced these hedgers to one of my clients, who enjoyed the yearly task of cutting back her own ferns and small ornamental grasses. She'd been complaining about wrist and finger soreness after trimming only one small bank of ferns with her regular handheld pruners (one frond after another, after another, after another). I whipped out my PowerGear hedger and neatly zipped through one of her ferns in about 30 seconds, to her great surprise. After borrowing mine for a half hour and getting through what used to take her many afternoons of pruning, she went out the very next day and picked one up at our local nursery.
Given how much I love these hedgers, I didn't think there was much room for improvement, and I just hoped nobody in the Fiskars design studio would get any bright ideas about fixing something that wasn't broken. Yet when I saw the new Quantum line from Fiskars earlier this year, I was intrigued. The price point is double that of my trusty PowerGear hedgers, and I wondered what they had improved about the design or construction to justify that. Given how many pair of these I purchase yearly to give to new employees, or to replace ones damaged by loss or rough use, it seemed worthwhile to give them a test.
The Quantum hedger has the same powered gearing as our usual standbys, and is comparable in weight, size, and action to the PowerGear hedgers we use and love. Yet here is where the similarities end. Where the PowerGear hedgers feel like a trusty and effective tool, the Quantum line feels luxe. There's really no other way to put it. It's like comparing that perfectly serviceable Toyota you've been driving for 10 years with the latest model of Lexus. While the Lexus doesn't take you anywhere your Toyota can't, you feel a lot more comfortable during the drive.
True to the Fiskars roots, it's made in Finland, and it has beautiful cork handles which act as shock absorbers during pruning. The nonstick, anti-rust coating on the blades feels more buttery and smooth than the original, and the blades come together with more precision. It's everything I love about the PowerGear model, with its awesomeness amped up to the Nth degree.
Will I invest in these for every one of my employees? Nope, probably not. However, as a special recognition for crew leaders who have shown they can be trusted with a fine tool? Definitely yes.
If you are a home gardener and are reasonably good about not losing your tools in the compost heap or leaving them lying about in a rainstorm, I would absolutely say that the increase in comfort and precision makes these a worthwhile investment over the PowerGear hedgers. That indefinable something that takes a tool from serviceable to stellar is evident from the first cut, and the pleasure you'll take in cutting back perennials, ornamental grasses, ferns, heathers, lavender and more will make you eager to get out in the garden to take care of your seasonal pruning.
View the PowerGear Hedge Shear here
View the Quantum Hedge Shear here
In honor of Fiskars 365th anniversary (yes, really! They were established in 1649 as an ironworks in a small Finnish village), they are giving away 5, yes 5 pair of these premium Quantum hedgers to North Coast Gardening readers. Pretty generous, right?
All you have to do to win is to leave a comment. If you'd like an extra entry, share this giveaway on Facebook, Pinterest, or Twitter and leave a second comment letting me know you did so. I will draw the five winners using random.org on Saturday, December 6, 2014 at 9 pm Pacific. US only. Good luck!
Our five lucky winners are:
Debbie W.
Marissa
Jean Campbell
Terri
Cortney D.
Congrats to all – be on the lookout for an email from me!  🙂