Pruners are a sensitive topic among us gardeners. We all have our favorites and god help the person who champions a competing brand. But that's what this pruner showdown is about, so please don't throw tomatoes at me.
(I'm only discussing bypass pruners here. Anvil pruners often crush the stems when they make a cut, so they aren't a great choice for your primary pruner.)
Felco Pruners

The shiny red handles of Felco pruners are like a badge of honor to serious gardeners. You know you've taken the whole gardening thing past hobby and into obsession when you are willing to drop $50-60 on a pair of pruners.
There's no question Felco makes a quality pruner. But do they really have the best pruner, or just the best marketing department?
The good:
Totally replaceable parts. You can buy a new everything on your Felcos; springs, nuts, blades, handle grips… If you still have something left to your pruners, you can fix or replace them after any problem.
Sap groove. The sap groove, a little inlet along your pruner's lower blade, directs sap away from the cutting blade and keeps sticky stuff from gumming things up.
Wire-cutting notch. If you open your pruners all the way, you'll see a little round notch on the blade to allow you to cut wires without dulling the blade. This comes in handy surprisingly often.
Shock absorber. Felcos have a little rubber bumper to help reduce shock to your hands and wrists while cutting.
Many styles and sizes to choose from. They aren't totally customizable, but most styles come in left- and right-handed, for example. There are a few types recommended for larger or smaller hands, and one style that is  ergonomically designed to reduce hand stress, with an angled blade and curved handle (Felco 8 and 9).
They also have rolling-handled versions which are great for propagating or long days of pruning like during fruit tree season. The roll-handled version is harder to get positioned in your hand because the handle is fatter, which is why I don't like it on days when you are picking up and setting down your pruners.
The bad:
The spring. I don't know about you guys, but my Felco spring pops off constantly when I'm really getting into a shrub and pruning. I don't have that problem with other brands.
Poor ergonomics. I used to think Felco's ergonomic models were excellent. I went from a basic Felco 4 to a Felco 8 (ergonomic model), and I was in heaven, cutting much thicker branches with less wrist shock. Since then, I've worked with an even better pruner, which put Felcos' ergonomic features to utter shame.
Now I look back and remember the weeks of soreness during pruning season with my Felco 8's and I wish I'd tested other brands sooner.
The verdict on Felcos:
An excellent, functional pruner, but you can do better.
Corona pruners

Coronas are the nerdy little sister to the fancypants Felco. They are a  practical, functional choice, and are seen as a good middle ground between cheap-o off-brand pruners and the spendy Felcos.
The good:
Relatively inexpensive. You'll spend between $20 and $25 for a basic pruner.
Replaceable parts. You can get new blades, new springs, new nuts – anything you need to get your pruners up and running again.
Good spring, which stays put when pruning and never pops off.
Non-slip handle grips keep your pruners from slipping out of your hands.
Sap groove keeps you pruning without the blades gumming up.
Wire-cutting notch allows you to clip errant wires while gardening.
The bad:
There is nothing ergonomic about these pruners. The handles are not curved for a comfortable grip. The blades are not angled. There is no shock-absorption. I prune with these suckers for a half hour and I am feeling it.
Granted, I prune fast and hard, and I clip stems with my hand pruners that most people would reach for loppers to tackle. But even the average home gardener, deadheading for an hour a week, deserves ergonomic protection and better cutting capability than the normal Coronas offer.
They say you can prune branches up to 1" in diameter, but they must have softer branches in their neck of the woods, because I found that woody 1/2" stems were pushing it.
The verdict on Coronas:
Skip 'em. These are reasonably nice cheap pruners because they do have a few higher-end features and replaceable parts, but unfortunately the features they have are not the ones that make pruning fun. And I don't know why you'd wish to replace parts on a non-fun pair of pruners.
A note on Coronas: They've recently come out with a line of pruners that seem meant to imitate Felcos in every way – the shiny red handles, very similar styles and features. I haven't tried any of these Felco knockoffs, since I own the real thing and don't prefer them. If you've tried the Felco imitators, let us know how they compare to actual Felcos in the comments.
Bahco pruners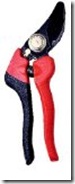 Let's get right to it – I love my Bahcos. I started with a Felco pruner because as a pro, I care about a clean cut and features that reduce hand and wrist strain, and everyone I trusted told me to choose them.
But a couple years back, my favorite landscape contractor let me test out his Bahco saw. He'd been swearing by the brand for years, telling me about the special coating on the blades, the way the metal is forged, and raving about the way they cut.
I knew, of course, that I was already using the best with my Felcos, so I didn't listen to him until I tested that saw. I cut through a hard 3" branch in about ten seconds, instead of sawing and sighing over it like I had been with my Felco saw.
I bought my first Bahco product the next day and soon was sawing away merrily at all my jobs. My contractor friend, encouraged, bought me a pair of Bahco pruners a couple months later, and even though I loved my Felcos with a passion usually reserved for items involving chocolate, I figured I'd better give those Bahcos a try.
I have not used my Felcos once since that day. I misplaced my Bahcos once, and pulled out my clean, sharp Felcos to revisit them, feeling happily nostalgic. I was able to prune with them for about fifteen minutes before deciding it wasn't worth it to go on. I could feel a ker-chunk in my wrists with every cut, and I was struggling to cut medium-sized branches that my Bahcos just breezed through.
The Bahcos have become like an extension of my body. They cut thick branches and stems with such ease, and make pruning into the joy that it should be.
I would never have tried Bahcos were it not for my friend, because of the amazing reputation Felcos enjoy. And while Felco makes a solid product, I'd really urge you to be open to trying other brands and types of tools, because they aren't necessarily the best choice for everyone.
On to the pros and cons!
The good:
Customizable. Are you a left-hander with large hands, or a right-hander with small hands and some big branches to prune? No problem. You can choose blade size, handle size, and left or right-handed models for the PG and PX lines. (Lefties can choose from small, medium, large, or medium rotating handles. Left-handed models only come with a medium blade, which is the blade I prefer anyway.)
Ergonomic design. The tilt and curve of the handle, the angle of the blade, and the composite handle material all combine to make it easy to prune any size branch that you can fit in the pruning head. Felcos say they can prune 1" thick stems, but I have not found that to be the case. Bahcos advertise a 3/4" cut, but they actually cut thicker stems than advertised, and easily.
Blade coating and metal used. The blades are coated with something that makes them non-sticky (Xylan), and they stay sharp and clean much longer than any other brand I have tried. I sharpen mine about once a week (that's after about 20 hours of pruning), while my Felcos I was needing to sharpen after 4-8 hours.
Has a sap groove, rubber shock absorber, and a good spring which stays on.
Prices reflect what features you get:
PG line is cheapest ($40 or so) because it does not have replaceable parts, but is otherwise similar to the higher-end PX line. I own a pair for employee use and they prune the same as my PX ones – they just might not last as long.
PX line is the standard high-quality ergonomic pruner. The parts are replaceable and the price runs between $45 and $60. I use the PX-M2, the replaceable-part kind (PX) with a medium handle (M) and the medium blade size (2) that most pruners have.
PX-R line is the type with rotating handles. I bought a pair of these as a gift for an excellent employee just before pruning season, and got to try them out. I hadn't liked the rotating-handle Felcos in the past because I couldn't grab them quickly and prune just one stem – it took some doing to arrange them in my hand – but the Bahco rotators have a smaller rotating handle which makes them easy to use as your primary pruning shears if you wish.
The bad:
The clasping mechanism which holds the blades closed when not in use seems to get clogged with grit or sap eventually, and makes them tough to close. I only find this mildly irritating since I wear a leather (Felco) holster on my jeans to put them into between cuts, and the holster keeps them closed for me. I can fix this temporarily with cleaning, but it's still annoying.
The wire-cutting notch is only found on the cheapest PG line of pruner.
The verdict on Bahcos:
Bahcos are my pruner of choice by a wide margin because of how easily and comfortably they make clean, smooth cuts.
From left: Felco 8, Bahco PG-M2, Bahco PX-M2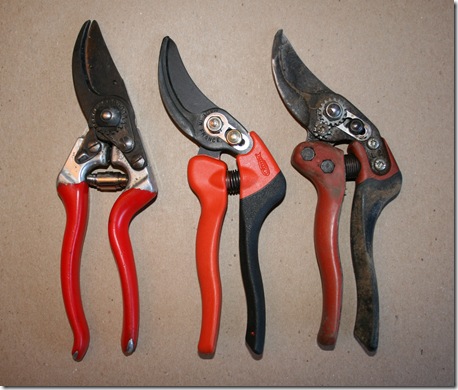 Felco 8's lack of ergonomic curve: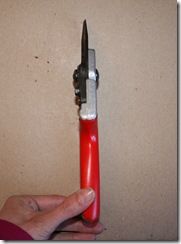 Bahco PG/ PX line's angled handle: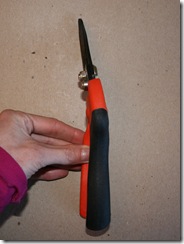 Conclusion
I hope my experiences with the three major pruning shear brands helps you in making a decision to invest in a pair of quality pruners. You don't have to take my word for it, though – ask your friends what pruners they use and see if you can try out the different brands and styles to get an idea of what features are best for you.
Everyone's going to have a strong opinion, so take it all into account when you are ready to upgrade, and don't be shy about exploring new brands – if you find something great, come back here and tell me in the comments!
Here are a couple videos to get you started in your research:
Bahco pruners – the difference between each style:
Fiskars pruners – Monica the Garden Faerie's pruner of choice:
What pruner do you prefer? Tell us in the comments below!