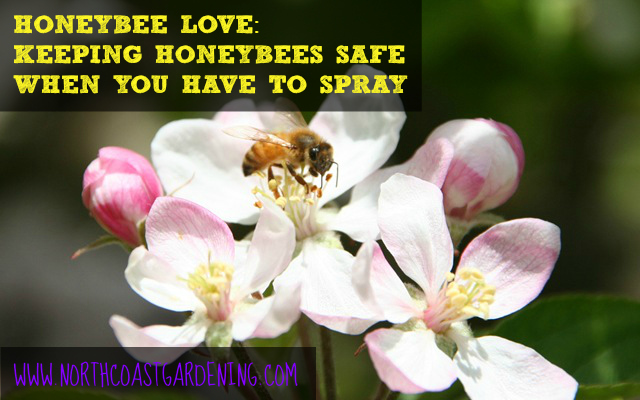 We've all heard about the plight of the honeybees by now – pesticides, hive infections, and other causes are combining to make it a very hard time to be a honeybee.
If you're thinking to yourself that it's not the worst thing in the world to have one less type of stinging insect around – remember – honeybees are extremely sweet little critters, completely unlike wasps. I've had to prune plants that they were happily buzzing and swarming for the nectar, and they took my activities with a cheerful spirit. In 14 years of gardening professionally, I have never once been stung by a honeybee, even though I've sheared, lopped, and pruned shrubs and flowers they were drinking from.
If that's not enough – keep in mind, our food supply still gets pollinated the old-fashioned way, with insects and lots and lots of honeybees. A drastic reduction in their numbers means terrible things for our plates. A Cornell University study estimated that every third bite of food in America is pollinated by honeybees.
What can you do? While we don't know all the causes of their problems, a couple of things are certain to help. We can be mindful of the pesticides we use, even the organic ones, and we can plant things in our gardens that provide nectar and pollen for them to eat. Today we'll talk about which pesticides you can use to kill the bad bugs while keeping honeybees alive and well.
Pesticides that harm honeybees
Some common pesticides you may have that are toxic to bees:
Orthene (Acephate)
Seven (Carbaryl)
Diazinon (Spectracide, others)
Bayer systemic (Imidacloprid), which gets into the pollen, causes disorientation and death in bees, and has been linked to colony collapse disorder
Ambush, Pounce (Permethrin)
Crossfire, Raid Flying Insect Killer (Resmethrin)
Safe only if sprayed at dawn or dusk, when bees aren't active
These pesticides can hurt bees when wet, but aren't harmful when dry, so if you use with care, can be bee-safe:
Spinosad (insecticide)
Pyrethrum (insecticide)
Neem oil (fungicide, insecticide)
Honeybee-safe pesticides
While it's not nice to spray while bees are around, these are fairly non-toxic to them:
Sulfur (fungicide)
Serenade (biological fungicide)
Insecticidal soap
Petroleum-based oils
B.T. or Bacillus thuringiensis (biological control for caterpillars)
Herbicides like Roundup and 2,4-D (though I much prefer organic herbicides)
Of course, prevention of pests and attraction of beneficials using plants can also help reduce the need for pesticides, as can the use of biological controls and beneficials, like hypoaspis miles mites for thrips or ladybugs or lacewings for aphids.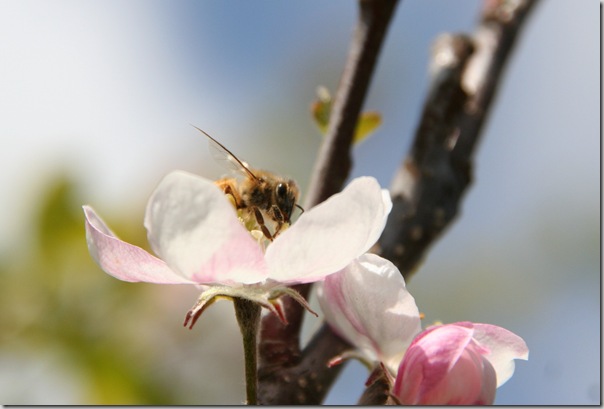 Other tips for keeping bees safe while using pesticides:
When in doubt, don't spray anything that's in full bloom. Bees aren't attracted to plants that are budded or are at the point where their blossoms have dropped their petals.
Spray anything you need to in the very early morning or right before dark so that bees are already safely home, and the pesticide can dry before bees come into contact with them.
Careful not to contaminate the water that bees drink! Don't dump out your leftover pesticide in a way that leaves a puddle that bees might drink from.
Use less-toxic formulations: Dusts are more hazardous to bees than liquids, and if you see any of the new micro-encapsulated formulas, just avoid them. These tiny capsules are the same size as pollen spheres, so are carried back to the colony and shared.
If you've got something that's particularly attractive to bees right next to your problem plant, consider not spraying or holding off till the other plant is no longer in bloom.
One last note – a big portion of the problem for honeybees also comes from agricultural uses, so eating organic really helps. In particular, the pesticides used on non-organic soy cause problems to honeybees.
Later this week, I'll talk about some of the flowering plants you can use to feed honeybees! Subscribe to get email or RSS updates.