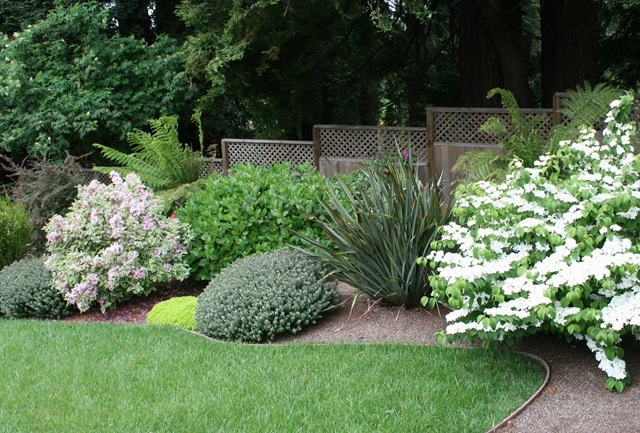 I'm no fan of landscape fabric, but I accept that it can be a useful tool in the garden in a few select circumstances. I go into how to decide whether landscape fabric is a good choice for you in this article, but if you've decided to use it, I wanted to provide you with some professional tips and pointers on how to install it professionally.
Add amendments to your soil.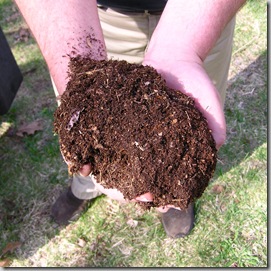 Once that fabric is down, no compost or organic matter is going to be able to get into your soil  until you take the fabric out again, and organic matter is much of what keeps your soil nutritious and hospitable for plants' roots. So take this opportunity to add as much compost and composted manure as seems reasonable for the types of plant you'll be planting and the quality of the soil you have currently. When in doubt, use more!
Smooth the soil surface carefully.
Once you've amended your soil or added your compost, break up all clods and use a rake (I like the GroundHog) to get a very smooth soil surface, with no steep cliffs or valleys, and no rough bumps. Mulch will slide right off of landscape fabric if it's too steep, so unless you want to look at the fabric itself (you don't!), take the time to smooth your soil before putting it down.
Select a high-quality woven fabric, not a sheet of plastic and not the thin stuff you can see through that so many hardware stores should be ashamed to sell.
I use Dewitt brand woven landscape fabric. You want it to be a woven fabric so that water and air  can penetrate. Plastic sheets and non-woven landscape cloth don't allow your plants to get the water and nutrients they need to thrive as they grow.
You also want to purchase a professional grade of landscape cloth, since the thickness of the fabric and tightness of the weave can affect how long it lasts.
Bring the edges of your soil at least 3" below the finished grade of pathways, edging or lawn.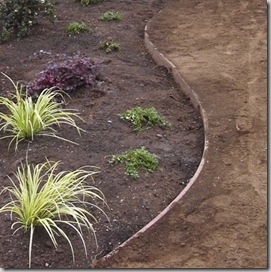 You're going to add at least 3" of wood chip mulch on top of your landscape fabric, so you want to have room to add that mulch without it spilling over the sides of your walkways, edging and patios. Create a smooth slope from at least 3" below where your finished grade will be, gradually sloping upwards to the middle of your beds.
This photo shows a bed during installation that is 3″ lower on the bed side than it is on the side that will be lawn.
It goes fuzzy side down.
Yep. Fuzzy side goes against the soil so that it can kind of adhere to the soil surface.
If you're on a severe slope, I've seen people use it fuzzy side up so that mulch adheres to the fabric better. I don't recommend that unless you really have to, because the weave on the fabric is designed to allow water to flow downward through the fabric. It still lets water through if you put it fuzzy side up, but not quite as effectively.
Sides of the fabric should be folded up 1" along the edging.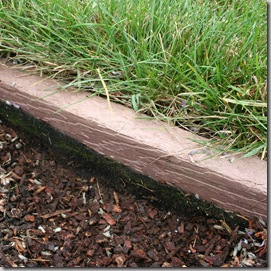 When you first start unrolling your fabric, place it so you have an extra inch or so to fold up on  the side of your edging or pathway. Remember, you'll have the level of your soil at least 3" below the grade of your finished edging and pathways, so if you have an additional inch of landscape fabric folding upwards on your edging or concrete, it will be totally hidden by wood chip mulch when you're through.
What this does is leave no place where weeds can crop up along the edges, because all the soil is covered thoroughly by fabric. Try to smooth the fabric so the fuzz wants to stick to the sides of your edging or concrete, so the fabric is adhering to a surface and not flipping backwards on itself.
Overlap fabric by one foot.
One of the most common issues I see with landscape fabric is when people have to use multiple sheets of fabric to get full coverage, and they don't overlap well enough. You get this stripe of weeds in the middle of the bed that is very hard to get rid of.
Any time you are using multiple pieces of fabric, you need to overlap it by one foot so that weeds can't just squeeze through the gaps and grow.
Use pins every one foot.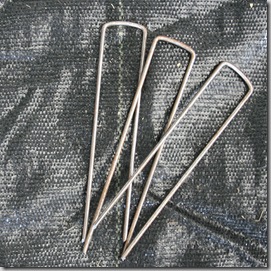 You're going to need a big box of landscape fabric pins/ staples. Newbies often buy a few bags of  10 pins to hold the landscape fabric down, but really – you're going to need a heck of a lot more pins than you think.
You need to pin the fabric down at every single edge, every 1'. So if you're doing a bed that is 5' wide and 20' long, and you're using 3' wide landscape fabric, you'll need 20 pins along one side, 20 pins along the center where you overlap your fabric, and 20 pins along the other side plus three pins on the last two sides, for a total of 66 pins at the very least.
It is smart to use pins on a number of other places as well, like after you cut planting holes, you may like to pin the fabric again in that area if it's looking baggy. You want the fabric to adhere totally to the soil surface and not be loose or flapping.
Cut holes for plants, not flaps or x's.
I've seen a number of landscape plants that never thrived or outright died because people cut out x's in the fabric instead of cutting away an actual planting hole.
Here's the deal: those flaps that happen when you cut an x in the fabric? They can end up wedged right along the side of the plant's rootball and keep its roots from being able to spread in that area. I've pulled out dead plants to find that fully half the rootball never made good contact with the soil because one of those flaps got tucked into the soil (gophers can sometimes do this, even if us humans are careful).
Even if the flaps are tucked neatly around the top of the plant's rootball, the flaps can cause rot by holding moisture against a plant's woody stem.
I have also seen landscapes where those flaps are waving in the wind, having worked their way out from under the mulch.
Do your plants a favor and cut them out a nice hole.
Be generous in cutting out holes for your plants to grow in, particularly perennials and grasses.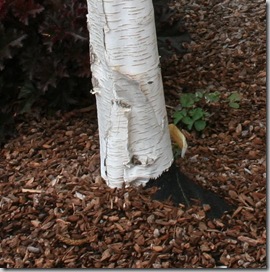 Perennial plants like to spread out a bit, and send new shoots out from their roots. I've seen  more than one garden where ornamental grasses or desired perennials were being choked from spreading in a polite and attractive way by the teensy holes cut in the landscape fabric for them to grow in. In ornamental grasses, this leads to a really odd effect where the grass's base is tiny and the top of the grass is ginormously wide and flopping over.
Perennial roots will choke out weeds once they are mature, so do cut out a generous hole for them when you plant, and check them every year when you cut them back to see if you need to cut more fabric away from their base for them to have room to breathe.
I recently discovered the Bahco P20 Pruning Knife, and the curved blade and easy-to-grip handle has made it an indispensable tool in my crew's weed-cloth-removal arsenal. I definitely recommend it if you want to cut clean planting holes in weed mat.
Cover with at least 3" of wood chip mulch, preferably more.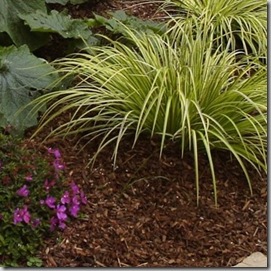 If light can get through to the soil, then even with a landscape barrier/ fabric, you'll get a lot of  weeds, and those weeds will be creating holes in the fabric with their roots.
To prevent this, use a minimum of 3" of wood chips to shade out weed seedlings from the soil. New weed seeds will still blow in on top of your mulch, and in order to keep your fabric effective, you must pull them out before their roots get big enough to penetrate the weed cloth.
It is a sad thing indeed to suffer the bad effects of using landscape fabric without getting any real benefit, but that's what happens if you neglect the weeds to the point where they're growing through the fabric. Even if you need to hire help, make sure your weeding gets done regularly if you're using fabric, at least monthly.
You can read more about it in this article, but when you install landscape fabric, remember that it isn't a permanent solution. Rather, it's a mindful choice that you'd prefer to do a really very big project in ten years to remove it and refresh your soil with compost, in order to save time on weeding in the first couple of years when the existing weed seeds in your garden's soil would otherwise have been sprouting.
Photo credit: Compost photo by normanack on Flickr