I always wanted to be a goth girl –  wearing all black, dying my hair purple, and listening to moody music while pondering the deeper mysteries in life.
Sadly, I had three strikes against me:
I'm a total wuss, so piercings were out,
I'm ridiculously cheerful,
and since I started my landscaping business when I was 17, I made certain concessions to fashion so that sweet old Mrs Jones would feel comfortable calling me to plant her Bright! Pink! and Red! Petunias!
No matter – once I really got into gardening, I realized I suddenly had an outlet for my subversive ways. The first garden I designed had these beauties – a 'Brunette' Snakeroot (seen below with an Oakleaf Hydrangea), 'Plum Pudding' Heuchera, and a number of bright purple flowers throughout. Who needs purple hair when you have the garden as your palette?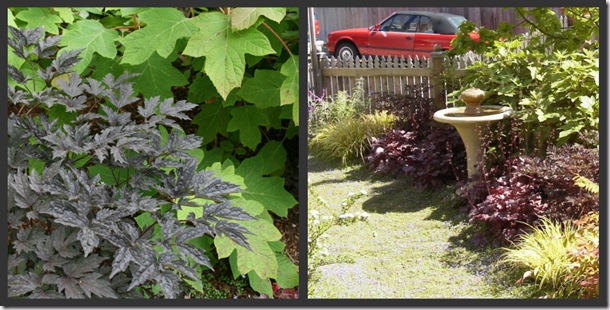 Since my first garden, I've seen a lot of dark foliage, and it's become quite the trend lately, between the new Black Plants book that Timber Press just published, and all the new black plants coming out (a black Ceanothus!! Whoa!).
You really notice a dark silhouette against a bright green, and many burgundy and purple-leaved plants make silvers and chartreuses look like they're glowing. To me, that means you shouldn't overdo it with the darks – use ones with a bold shape or form and either have them be the star, or set them just in front and to the side of an even stronger element with a lighter color – either a plant, an interesting wall with a fountain or statuary, or have them direct the eye along a meandering pathway.
Here are a few of my favorite Plants From the Dark Side:
Pennisetum setaceum 'Rubrum' – It's an annual in colder, wetter climates, but it grows fast each year and is well worth re-planting. This one's in a McKinleyville garden designed by Soil Seekers Landscape, on a well-draining mound so it actually lives over each year.
Loropetalum 'Razzleberri' is a lovely evergreen weeping shrub that gets about 5-6' tall in time. It's a bit frost-tender, so while it's great here on the coast where we get to about 25 degrees, it dies back further inland.  It's not one of those lumpy-looking weepers – the new sprays of foliage arch upward and then weep down after a few months.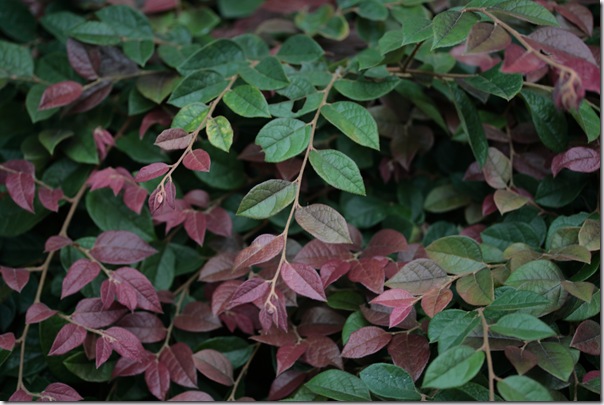 This 'Gold Lace Black' Primrose has such a lovely contrast in a part-shade container or garden bed. They look great in drifts in a woodland setting if you can afford a bunch. Just protect them from snails!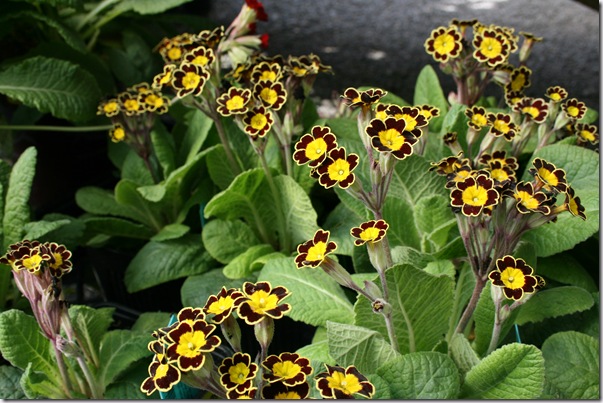 I confess I don't know the name of this succulent, which came unlabeled in a mass of other purple, bronze, and red-hued varieties. But there are so many hardy succulents with great foliage that you should really tuck a few in between rocks or at the base of statuary. This one's been doing great for three years despite getting overhead water from an overly enthusiastic lawn sprinkler – usually a death knell for drought-tolerant succulents!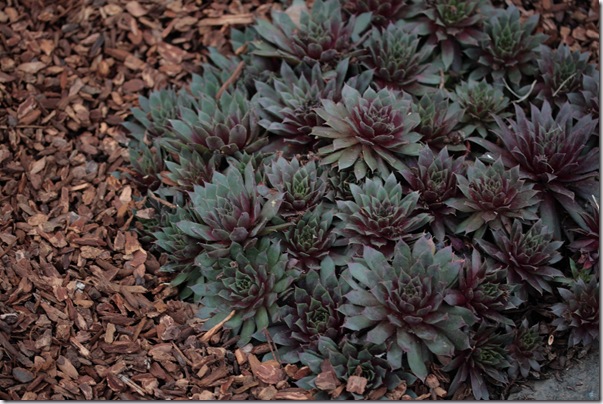 This Heuchera 'Crimson Curls' looks particularly cute with Phormium 'Tricolor', whose burgundy stripes harmonize nicely with Crimson Curls' color. This combo is in a windy seaside garden in about 5-6 hours of direct sun a day and as you can see, they're quite happy even with the salty wind.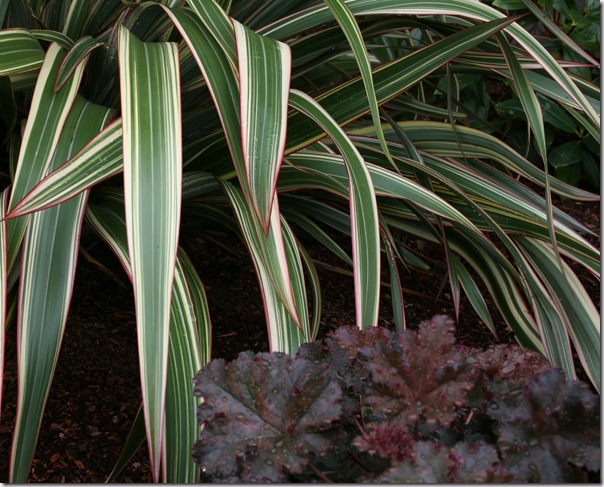 And lastly, this fragrant Acidanthera bulb will be coming to the stores at the same time as the other forms of Gladiolus, and they are well worth purchasing. They don't seem to care for my rainy climate, diminishing in numbers every year, but they made such a gorgeous show and scent for almost three months this summer!
I tried planting some black Glads next to them to pick up on the centers, but the Glads were mislabeled and came up a horrible clashing orange, which I promptly cut and gave to a friend who likes those kinds of colors. <shudders>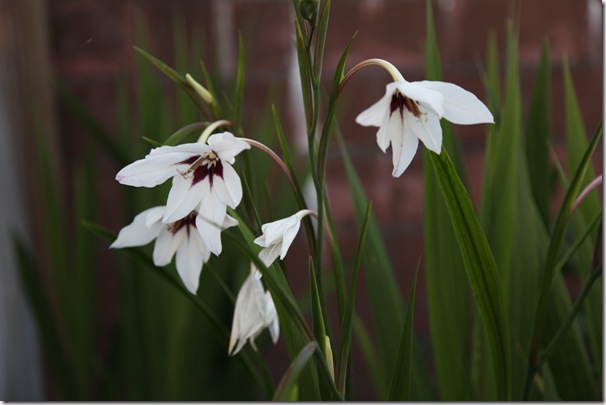 Anyway, if you're as much a fan of burgundies and blacks in the garden as I am, check out the new Black Plants book I mentioned. It's by Paul Bonine, who I have long admired for his writing on the Xera Plants Nursery website. His descriptions of the plants, and the photos that were selected definitely make me want to try some new chocolates in my gardens!
The book isn't exhaustive  – I'd love to see more discussion of great plant combinations and how to design with dark colors – but for what it is – a drool-inspiring look at 75 gorgeous black plants – it is excellent. Just in time for winter reading!
Readers – what are your favorite dark plants?
[print_link]