Wrapping up our series on the hand tools we use most in gardening, I want to show you my favorite sharpening tool, the Speedy Sharp, and how to use it to sharpen your pruning shears and your soil knife or hori-hori:
Now, if you prefer to use a file to sharpen your shears, Fine Gardening has a good article about it. They suggest using warm, soapy water and a scrubby to remove the sap and buildup on your pruners – I prefer to just use oil or WD-40 with my scrubby, but using soapy water should be fine as long as you are careful not to get water into the moving parts, and you make sure you oil your pruners thoroughly after cleaning and sharpening them.
If you want to know how to tackle your dirty, dull shovels, spading forks, etc, here's another good article from Fine Gardening magazine that will show you how. (Don't look at the photo of him using a stone to sharpen his pruning shears – his text is correct, but that one photo could be misleading. I think he's merely removing the burrs from the flat side of his pruner blade, not sharpening that side!)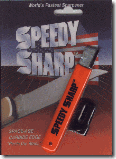 Lastly, Speedy Sharp has a diagram about how to sharpen using a Speedy  Sharp, including how to sharpen serrated blades (Hori-Hori owners, this one's useful for you!). If you read the different sharpening articles, you'll notice how many fewer strokes you need to make with a speedy sharp than with a file. I couldn't believe the difference myself.
Resources: