(Note – given how many people have emailed me in response to this post, I wrote an updated version which can be found here!)
Weeding is one of those perennial garden tasks – we all do it, all year long, and while there are sprays and tools we can use from a standing position, most weeding is done from the ground, with a trowel or trowel-like object.
You may have noticed that my years of doing garden maintenance have given me some strong opinions on the subject of tools, so it should come as no surprise that I have some favorites to share!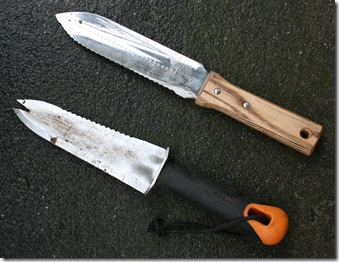 My criteria for trowels and soil knives:
Multi-purpose
I can't stand going back and forth to get a new tool to do a few minutes of work. My soil knife or trowel needs to be able to plant things, weed dandelions and grassy weeds, and preferably cut through landscape fabric and roots to help me keep moving.
Lightweight and ergonomic
If you are only weeding for an hour at a time, maybe it doesn't matter if your tool is heavy or has poor ergonomics, but as a pro, I sure prefer it. My wrists get tired after a long day of weeding and planting, and the extra weight of a heavier tool is easily noticed. Same with ergonomics; a fatter, rounder handle seems to allow a more natural grip.
Straight, sharp blade
I've found that the curve on trowels is nice for scooping, but poor for getting down into the soil to get the roots of weeds. If you have bark mulch or chips on top of your soil to keep weeds down, you don't want to be pulling soil up over the top of your chips every time you pull a weed. I find the curve of a trowel brings a lot more soil up with the weed's roots than does the flat blade of a soil knife.
So what tools do I prefer?
Hori-Horis/ Japanese Soil Knives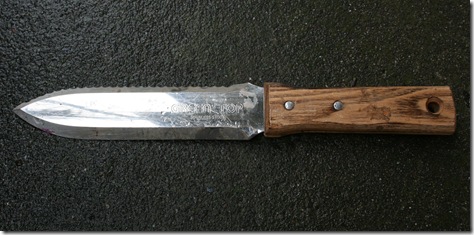 I love the stainless steel Hori-Hori (which means diggy-diggy in Japanese!)  for all-around work. The blade stays sharp, smooth, and rust-free, and it has a sharp side and a serrated side for cutting through landscape fabric or tough roots. The tip has a sharp point, so it goes into the soil smoothly and can get even weeds with long taproots out. It's great for planting annuals or six- packs, too.
Thing is, it's the most pricy option – but I think it is well worth it, and I even bought a backup one for when I occasionally misplace it. That's how much I love it.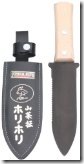 Many people like the carbon steel Hori-Hori, which is slightly less expensive,  but it is heavier and the porous surface of the wood and blade seem to collect muddy clay. After using the stainless version, I had trouble going back to my old carbon steel one.
Both hori-horis have the downside of a flat, non-ergonomic handle. I find the stainless one is so sharp and smooth that I like it best even without an ergonomic handle, but your mileage may vary.
Fiskars Big Grip Soil Knife
(I guess American tool manufacturers do not wish to call their manly orange knife a diggy-diggy, so we will humor them and call it a soil knife.)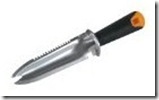 The budget soil knife option is the Fiskars Big Grip Knife, which has a  wonderfully comfortable ergonomic handle and orange detailing that makes it easy to find in the garden if you set it down. (Although, ugh – more orange on tools! Public service announcement to manufacturers: many gardeners are girls! We like purple. Please take close note of this fact and stop making everything orange.)
Just after I made this video, Karl, a "carpetbagging Yankee trying to grow things in South Central Texas", dropped me an email to rave about the tool:
My favorite garden tool by far where I am now (in south Texas… yeah, don't ask!) is the Fiskars Big Grip Knife – it's surprisingly versatile for someone who spends a lot of time pulling weeds (nothing else grows here…) and working with thick grasses.

I've even sharpened the 'straight' end to give myself more of a cutting edge, and I use a nylon knife sheath to hold it during the few times it's NOT in my hands. It's replaced my trowel (planting annuals from large nursery packs becomes a "stab, wiggle, pull, drop" even in thickly mulched landscaping), my weed pulling tool, the small pick mattock I used to remove some particular types of thick taproot weeds, and in some cases where I don't really care about what I'm cutting (like separating vine from tree), my need to carry pruners.

I've introduced it to a few people over at the IDigMyGarden forums, and everyone who's tried it loves it.
Karl went on to say:
Mine looks like it's been chewed on by a 80 pound dog and used daily for three years! Gardening's year round 'round here… our tools get a LOT of use…
That's a pretty glowing review! I personally find that the dandelion fork tip makes it harder for me to plunge the knife into the ground – particularly when weeding dandelions in the lawn. The dual tip catches on the blades of grass and takes some muscle to get in the ground. That said, Karl obviously doesn't find that an issue, and I know many gardeners who get on well with the Big Grip Knife.
I love that Karl broke the soil-knife-annual-planting technique down so well – "Stab, wiggle, pull, drop". That's exactly how I do it, too, Karl!
Anyway, in the video I mention the postage stamp serration on the blade, and here's a closeup of that blade edge: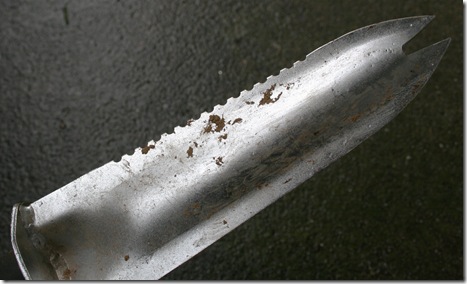 Check out some other models of hori-hori I have tested and love (or hate) here!
Trashing the traditional trowel in favor of the Soil Scoop
As you've probably guessed, I don't like the traditional trowel. They aren't sharp so they don't plunge into the ground as smoothly as hori-horis/ soil knives do, the curve of the blade pulls up soil when weeding, which is a problem if you have mulch, and you can't cut anything with it. They work poorly on dandelions and other taprooted plants.
Their one strong suit is that they scoop soil nicely for planting 4" pots, but when they're beat at their own game by newcomers like the Soil Scoop – well, what hope is there for them? The only reason trowels are so popular is that you can buy them everywhere, and they are cheap.
Down with trowels! Long live soil knives!
Ahem. Anyway, much as I value tools that can do everything, there are two specific-purpose hand tools that I actually quite like.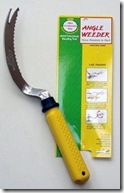 One is the Angle Weeder, which is great for getting the weeds in the cracks of concrete. It's ergonomically built with a great curve and a fat handle to make using it more comfy, and they come in left- and right-handed models. You are supposed to be able to use it for general-purpose weeding too, particularly in veggie beds where you can work the hook under the soil and get the weeds out from below. (I've only tested it once on sidewalk cracks, and it worked brilliantly for that.)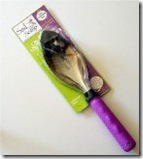 The other is the Soil Scoop, which as I mentioned, puts the digging ability of trowels to shame. It's got a great scooping portion, with serrated edges and a sharp tip so you can break up harder soil, enlarge planting holes, or get out weeds. If I did a lot of veggie gardening in raised beds or annual flowerbed planting, this is the tool I'd pick up. (And HURRAH! It comes in purple!)
Now it's your turn! Are you a fan of the old-school trowel, or have you found a new-fangled weeding tool to fall in love with? Let me know in the comments below.