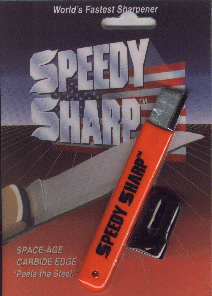 Now I've raved about my beloved Bahco hand pruners to all who will listen, there is a small secret I have to keeping them and my other tools good and sharp. No it's not an old-skool file like Grandpa used. I have a Speedy Sharp!
A client gave me this fancy little thing and my file's since gotten rusty from lack of use. It used to take me a few minutes to properly sharpen a tool with my file and make it look perfect again. It takes a lot of file strokes to get a fresh edge going! My Speedy Sharp lives up to its name. Pruners get sharp in about ten strokes, and even though it's tiny, it takes care of my soil knife, hedging shears, pole pruners, and loppers as well – fast. Sharpening used to be enough of a pain that I'd put it off – now I sharpen every few days to keep my tools as efficient and in good nick as possible.
Every so often it's a good idea to take your tools in for a professional cleaning, tightening, and sharpening – they put a straighter blade edge on it than we can with hand tools – but in between visits to my local power shop, the Speedy Sharp takes care of me. Get one before you tackle your fall and winter pruning tasks! It more than pays for itself in time and effort saved.
Resources:
Check out the Speedy Sharp at my gardening store.