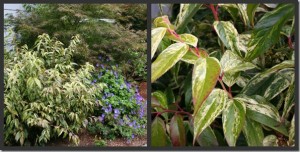 I know you're wondering, so let's get this out of the way: it's loo-kow-thow-ee. You only have to say the name once though, when you're looking for it at the nursery, and then you can call it anything you like. "That gorgeous variegated thing" is what most people call it.
Andrew of Garden Smackdown suggests "Lew"
. Whatever. It's low-maintenance, very deer-resistant, and seems to be happy in a wide range of light conditions from full sun to shade as long as it's given regular water, acid soil, and a thick layer of mulch to keep its roots cool.
[Read more...]