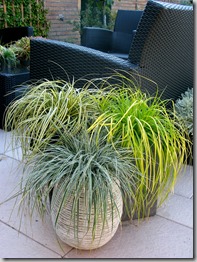 While I won't go so far as to recommend you take gardening advice from your cat, ornamental grasses comprise such a broadly useful array of plants for the landscape that it's almost impossible to avoid falling in love with at least a few of them. Some are wispy and rustle in the wind, some are bold and sculptural, while others have a flowing appearance which softens the look of shrubs.
New ornamental grasses are coming out every day, with exciting foliage colors, interesting forms, and improved vigor. I recently wrote to some of the growers involved in developing ornamental grasses to ask them what is new and fabulous in the world of grasses. And to make it a little simpler, I've compared and contrasted these newer varieties with some familiar favorites so you can get an idea of when to choose which.
Old fave: variegated Japanese forest grass, Hakonechloa 'Aureola':
New fave: All Gold Japanese forest grass, Hakonechloa 'All Gold':
We are all familiar with the uber-popular variegated Japanese forest grass, a slowly spreading grass with subtle creamy-gold stripes and a flowing habit which is perfect for flowing over a garden wall, softening the edges of hardscaping, or bringing contrast to a stiffly upright shrub.
All Gold Japanese forest grass is a newer introduction (recommended by Terra Nova Nurseries)which ditches the stripes in favor of brilliantly bold foliage. In my experience, it is ever so slightly less vigorous than the regular variegated Japanese forest grass, which can be nice in a smaller garden.
Variegated Japanese forest grass is perfect if you have a large hillside you want to cover, or don't want to see distinct spaces in between your plants. However, in smaller gardens it can overwhelm the space. The more sedately growing All Gold can be a better choice for urban gardens, or next to a small patio.
Here in the coastal Pacific Northwest, regular variegated Japanese forest grass can almost tolerate full sun, though it definitely looks best with a little midday screening. But I have found it looks a little scraggly and is slower to take off in gardens with deeper shade. All Gold by contrast is more prone to sunburn, but has a dense habit which looks more full when it's establishing then does the rangier variegated variety.
I also really love the added brightness of all gold in shadier spots – it's almost fluorescent. That vivid coloration is perfect against the deep greens of conifers, rhododendrons, and other evergreens. While both Japanese forest grass varieties go dormant in winter, it takes almost no time to use a pair of handheld hedging shears and cut them down to a couple inches from the ground.
Old fave: Evergold sedge, Carex 'Evergold':
New fave: Spark Plug sedge, Carex 'Spark Plug':
Evergold sedge, introduced by Pat Fitzgerald and recommended by both Skagit Gardens and Hoffman Nursery, is another that has taken off in popularity in recent years. It has a compact habit and makes cute little mounds in the landscape, and I love the way it has a distinct form, yet also looks great massed.
Because it's evergreen, it rarely needs any maintenance at all beyond occasionally removing a few individual brown strands. I love using Evergold sedge in the foreground of shrub or perennial plantings, where its tidy habit makes the rest of the garden look well-maintained by association.
Spark Plug sedge (from Terra Nova Nurseries), by contrast, should be used in a totally different way. While these two sedges are both a similar height and color, Spark Plug sedge has such a wild, twirling habit that it almost calls out to be a focal point in and of itself. This is pretty rare for a plant that doesn't top 18 inches.
Spark Plug sedge would be an awesome choice in all-foliage gardens where the emphasis is on form and foliage color. Imagine this wild firecracker of a plant next to the corkscrew branches of Harry Lauder's walking stick, or near the ropy golden twists of Cryptomeria 'Sekkan Sugi'. Of course, you can see by the photo above that Spark Plug is equally at home bringing that designer edge to a flower garden, where its curling spikes contrast against the softness of traditional border perennials.
Old fave: purple fountain grass, Pennisetum setaceum 'Rubrum':
New fave: Fireworks fountain grass, Pennisetum 'Fireworks':
In my damp climate, purple fountain grass is one of those where we cross our fingers and hope every winter that it will come back despite our soggy, sodden soils. Yet we keep planting it, because it is one of the most spectacular ornamental grasses around.
That purple-bronze foliage emerges by May and in midsummer puts up brilliantly fluffy purple flower poofs which age to a soft beige-y white. The way those showy floofs move gently in the late afternoon breeze makes us go a little crazy, and puts us into a state of zonal denial that makes us willing to purchase these plants year after year, if we aren't lucky enough for them to live over (you lucky ducks in SoCal get to enjoy them as evergreens, an unfairness of the universe that I shall never get over).
Anyway, if you lose your head over the regular purple fountain grass, you'll definitely want to check out Fireworks fountain grass, a hot new variegated version with stripes of white, green, burgundy and hot pink (recommended by ItSaul Plants).
Though one nursery's website touts it as a great plant for Asian or Zen gardens, I think those people are absolutely insane. This grass is bright and over-the-top, a flirtatious floozy of the ornamental grass world. Putting it in a restrained Japanese-style garden would be like having Carmen Miranda in a room full of stuffy suits. Give this grass the lush, tropical, heavily flowered setting it deserves, and watch it shine as the star of the garden.
Have you seen any cool new grasses kicking around the nursery lately? Which ones are on your must-buy list? Let me know in the comments below.
Photo credits:
Carex 'Evergold', 'Everillo', and 'Everest': Hoffman Nursery
Hakonechloa 'All Gold': Terra Nova
Carex 'Spark Plug': Terra Nova
Pennisetum 'Fireworks': ItSaul Plants