I have mixed feelings about the Perennial Plant Association's plant pick of 2012. I mean, I love it and all. Jack Frost Brunnera (Brunnera macrophylla 'Jack Frost') is one of those shade plants that seems to thrive wherever you stick it, looks elegant and classy in a variety of gardening themes, and is unusual enough that when I plant it, clients say marvelous things about my fine taste for having chosen such an aesthetically-pleasing plant.
That, of course, is all over now.
Remember Geranium 'Rozanne'? She was a lovely, exotic, unusual beauty too, in her time. But then she won 2008 Plant of the Year, and it changed her. Soon she was seen in parking lots, cavorting with the trashiest of Stella d' Oro daylily/ Crimson Pygmy barberry combinations.
And what about golden Japanese forest grass? Now that was a looker. Went in English perennial beds, modern minimalist combinations, and ran the gamut in between. Until its gracious good looks and amicable growth habits landed it the 2009 Plant of the Year award, and it too became common.
Don't get me wrong. These are some of my favorite plants! It's right they should receive such an honor. But the last time I wrote about my darling 'Rozanne', I received mocking – mocking – emails from pals in the trade, saying, "oh, Rozanne is sooo 2007".
So it was with sentimental feelings that I read about Jack Frost's latest accolades. Yes, he deserves it. A finer specimen of shade perennial-hood is hard to find. But for folks in the trade, this award signals a fall from grace of kinds.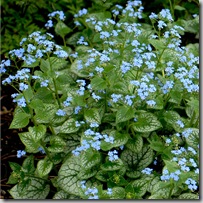 Oh, we'll still plan his curved spiderwebbed foliage into our shady garden corners. But after this year of promotion and popularity, it will be with a kind of ironic sadness. A feeling that we knew him way back when he was a rare little shade-lover, still needing a champion to urge him into the hands of uncertain homeowners. When we see him in the Target parking lot, we'll know he's really made it.
Will he still be our kind of plant? Only 2013 will tell.
If you invite him into your home, just don't let him hit the Miracle-Gro too hard. Excess fertilizer can get him into trouble with the snails and slugs, and you know how much fun that can be.
Photos courtesy the Perennial Plant Association.