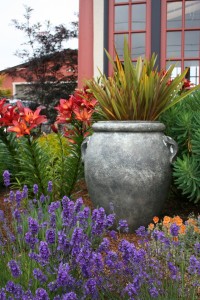 Recently, I was lucky enough to visit the Mediterranean garden of Lynda and Jack Pozel in Eureka, CA. Lynda's a writer and artist, and until five years ago, owned a gorgeous cottage-style garden that was on our local garden tour multiple times.
So when they moved and Lynda had a whole new garden to create, most people would have expected her to design a garden along the same lines. Just one problem – the architecture at her new home was totally different than her last one.
Plus, Lynda was ready to move on from the high-maintenance cottage style and towards a more minimalist, low-care garden. So she designed a Tuscan/ Mediterranean garden, with a few bold colors, iconic plants, and strong hardscape lines to define the theme.
Here's what makes her Mediterranean garden design work.
Boldness and Simplicity
Hot colors. Strong design elements. Large swathes of one plant meandering through the beds or marching along a wall. Under the hot Mediterranean sun, design elements need to be strong and intentional to keep from looking washed out.
The thing that's hard about creating boldness is it requires editing and willpower. Once you've chosen a theme, you can't just cram the latest impulse buy into whatever empty spot you have. Part of creating a successful anything is in the elements you leave out.
In Lynda's garden, she chose a simple color scheme, with shades of green, orange, and purple taking center stage.
Because so many Mediterranean plants have purply blue flowers (lavender, rosemary, thyme), choosing a hot color to contrast makes the traditional Tuscan garden plants look rich and vivid in the bright light of the sun. In addition, the greyish leaves on many Mediterranean plants can look faded or dull if not supported by a few lush, bright greens.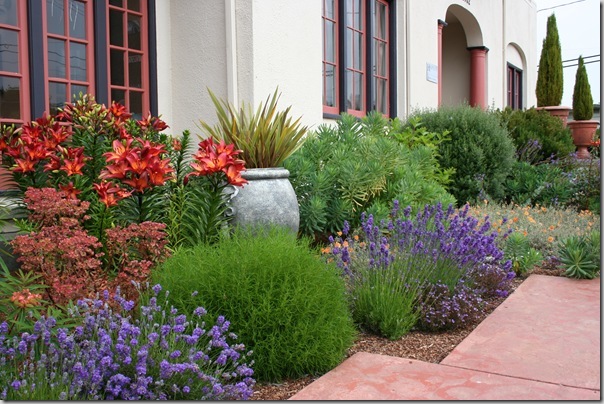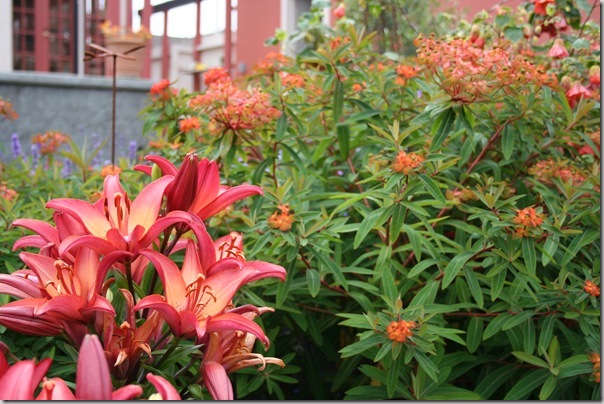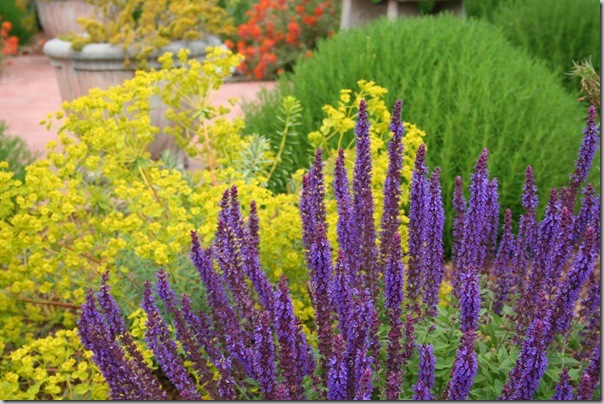 Even with such a simple color palette, you can see there's a ton of room for individuality here. Were I to design my own version, I would add a few more of our California natives, like mimulus, leopard lily (L. pardalinum), and California poppies. There are an infinite number of ways to personalize.
Paring down your color scheme, and even choosing a design style doesn't have to limit your plant choices, as you can see from the wide range of plants Lynda selected.
Hardscape
Tuscan gardens often incorporate strong hardscape elements, especially stone walkways and patios, colorful tiles, and large pieces of pottery that house boldly-hued plants.
Warm tans, reddish-browns, and terra cotta colors are the most common colors. Warm colors like this can soften the effect of a large area of stone or tile and make it feel inviting, rather than cold or formidable.
The vase-shaped pots so integral to a Tuscan garden can be used to create a mini focal point in the garden, to draw attention to seating areas or direct the eye down a path.
And under the heat of the summer sun, the sound and look of water can add a cooling feeling to the garden. They're also valuable in urban settings for distracting from traffic noise. Water features can take a bit more maintenance in the garden, so aren't for everyone, but if you're willing to care for a small fountain or formal pool they can add a wonderful extra touch.
If you'd like to personalize your hardscape even more, go on out to your local ceramics place and paint a few tiles with swirls of cobalt blue, orange, or deep brown to incorporate into stepping stones, a table, or the patio.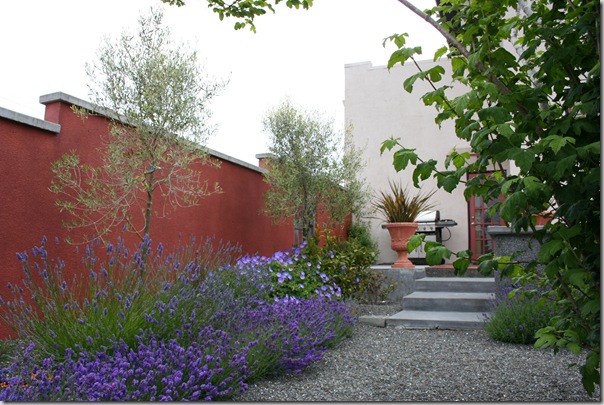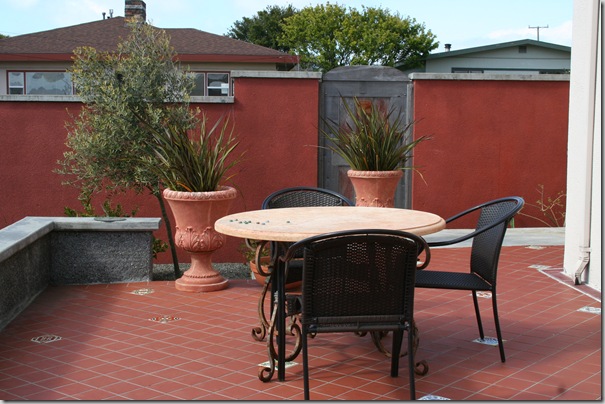 Traditional plants
When you think of a Tuscan or Mediterranean garden, what's the first thing that comes to mind? Lavender! The fragrance of Mediterranean herbs like rosemary, sage, lavender, thyme, lavender cotton (Santolina), and others are an iconic part of Tuscan garden design.
In particular, lavender makes a bold design statement when used to frame a low wall or pathway. It leads the eye to the focal point (a door or patio) while providing fragrance every time you brush against it.
The shape and colors of olive and citrus trees are another element that bring visions of Tuscany. They can be trimmed formally and set in pots, or used within garden beds to screen unpleasant views or define a pathway or wall.
The spires of Italian cypress are another traditional plant used in this style. Because they're tall and slim, they make a great exclamation point and guide the eye to doors, seating areas, and pools. They work well when used formally to frame a view.
The one problem with Italian cypress is they are short-lived in my cool, rainy climate (they prefer some summer heat), so in this type of climate I'd choose another plant with an upright, slim appearance (we say they have a "fastigiate" shape), even if I had to occasionally shear it to keep it slender.
A few options are:
Juniperus scopulorum 'Skyrocket'
Thuja occidentalis 'Emerald'
Ilex crenata 'Sky Pencil'
Podocarpus gracilior (can be kept sheared and small in a pot)
If you love the look of a Tuscan garden but already have some plants that don't suit, you might be surprised at how easily just a little bit of editing and a few bold touches can give you the feeling of a Mediterranean garden. You can see from the creativity that Linda used in designing her garden that you can personalize this type of design in a number of ways to make it fit with your own style and home.
Want more planting inspiration? Tuscan garden planting ideas here.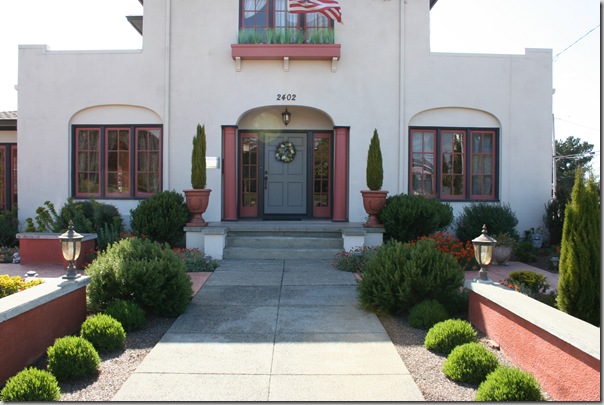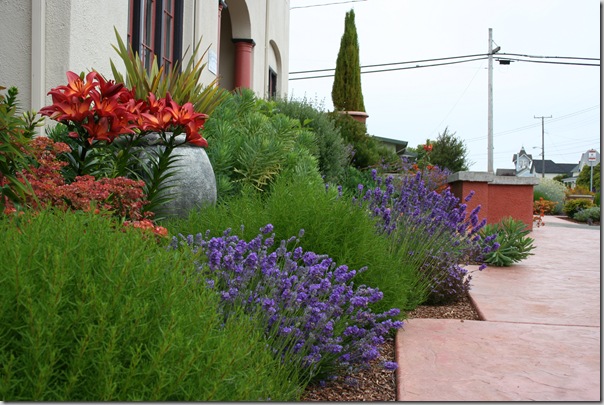 For more inspiration, check out these two books:
Gardening the Mediterranean Way