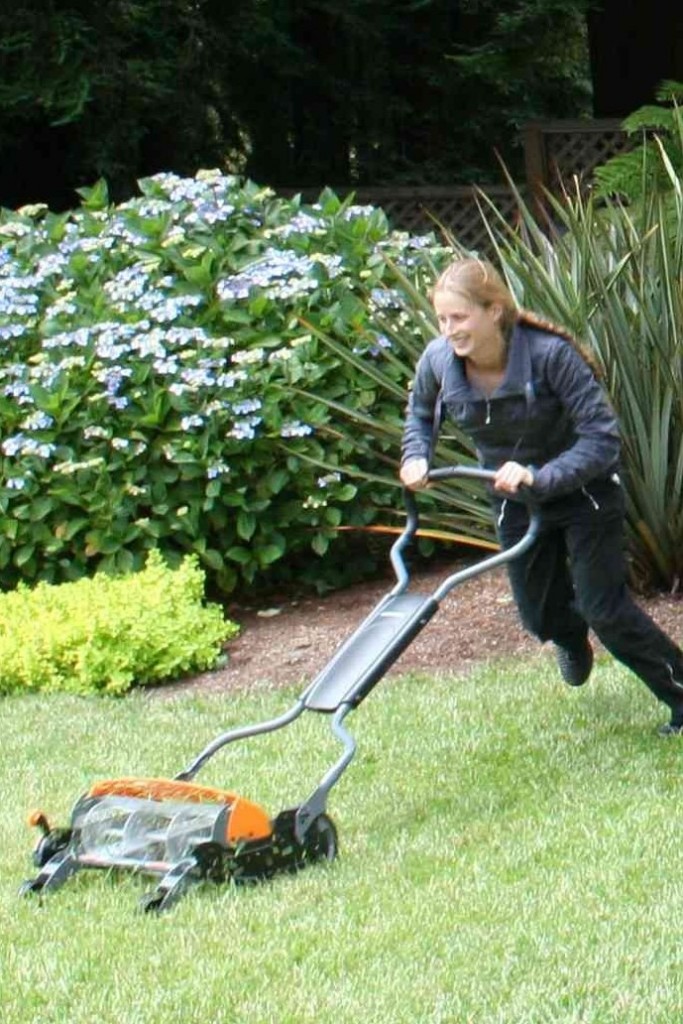 This review is of the premium StaySharp Max reel mower. There are also two budget models available that have different features. Read a comparison of the three mowers in the Fiskars StaySharp line here.
Lately, I've been realizing just how much I hate mowing my lawn with my old gas mower. It's stinky, it's noisy, and the vibrations from the mower make my arms feel weird for some time afterwards. And you know how I feel about garden tools that disturb the neighbors.
It was obviously time for a new approach, but when I borrowed a friend's push mower, it was insultingly hard to use. I mean, mowing should be fun, what with the smell of freshly-cut grass, the birds chirping, and the beautiful surroundings. Yet the traditional mowers make it anything but.
That's why I was so excited to see that Fiskars had created an updated version of the old-skool push mower, to bring it into the new millennium. If you've been reading awhile, you'll know Fiskars makes a ton of my favorite tools, like this pole pruner, geared hedger, and dandelion weeder. So I was keen to see their take on a push mower, especially once I saw the crazy-good reviews on Amazon
.
The best part? When I mowed my lawn, my cats and chickens barely woke from their naps. Usually it's a four-alarm sprint to hide from the mower monster!
Here are the geeky details:
It's lightweight and easy to push, with an adjustable ergonomic handle
A simple adjustable knob changes mowing height from 1″ to a generous 4″ (the highest mowing option of all the mowers that I researched)
Has a "floating" blade design so the blades don't scrape the metal casing, like with other push mowers. This means with good care, the blades need sharpening very, very rarely (every 5-10 years)
Reel mowers with their scissor action get a much cleaner cut than rotary mowers, which cut by tearing. No more brown grass tips!
Grass clippings were smaller and disbursed into the lawn rather than staying in unattractive clumps on my lawn.
Throws cut grass forward, rather than backward onto your shoes or sideways into your garden beds and sidewalk.
Optional grass-catcher bag available.
Besides the fact that it's actually enjoyable to use, my favorite thing about the Fiskars StaySharp Max Mower is that it makes those organic and low-water lawn techniques actually do-able.
For one, mowing your grass high helps reduce weeds and keep the lawn from drying out in summer, because the grass blades shade out weed seedlings and keep lawn roots shaded and cool. Yet the vast majority of mowers top out at a shameful 2.5 inches. It's no wonder we're all addicted to Weed 'N' Feed. We wouldn't have nearly the weed problems we do if all mowers had the Max's 4″ capability.
Then, it's best to leave the lawn clippings on the lawn, so they can break down and enrich the soil, keeping the lawn roots moist and adding nutrition to the soil. But rotary gas mowers spit out these yucky clumps that don't seem to break down very gracefully. The way the Max mower sends an airy stream of teeny clippings in front of the mower means that I can hardly see the clippings on the lawn once I finish mowing. Score!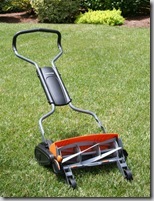 Update: Fiskars has revamped their mower line with two additional mowers. The StaySharp Max is the top of the line version, and they've introduced two "economy" models of mower for budget-minded people.
Read up on the differences between the three mowers here (the premium Max, which I reviewed here, the Plus and the regular version), and check out the reviews on Amazon below to figure out which is the best one for you.
Read reviews and buy here:
Fiskars StaySharp Mower: Amazon.com

Fiskars StaySharp Plus Mower: Amazon.com

Fiskars StaySharp Max Mower: Amazon.com