Drumroll please! As we jump into a new year, it's a North Coast Gardening tradition to take a wild and sometimes partially-accurate stab at guessing the hottest trends in the upcoming year, if only so that we can all look back at the end of said year and have a laugh. Fun, right? Let's jump right in!
Cocktail gardening without the buzz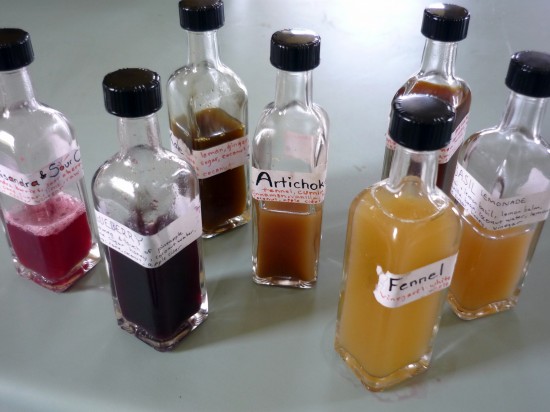 Maybe it's just the crowd I run in, but I think I honestly spend more time looking at cute cocktail recipes and planning to grow cocktail garnishes than I do actually drinking cocktails, and unfortunately my friends are similarly boring. We all work hard, and the last thing we need at the end of the day is anything that gives us less energy, rather than more. That doesn't mean we don't want to have fun with exotic mixers and new flavors, though!
That's where shrubs come in. Shrubs are a fizzy, soda-like drink made from high-quality vinegars infused with fresh herbs, vegetables, fruits, with a small addition of sweetener. You make them by adding smashed fruit or vegetables, herbs and spices, and some raw honey or cane sugar to a mild vinegar (like raw coconut nectar vinegar), letting it sit for about a week, and then straining out the fruity smash to get a rich flavored liquid. You can add it to sparkling water, lemonade, or coconut water (I even add it to ice cold filtered water) in whatever quantity you like.
If you want to ditch the soda and drink more sophisticated beverages to stay hydrated this year, shrubs are an awesome place to start because you can use as much or as little sugar as you want, and mix-and-match flavors to keep your daily water consumption interesting. To get started, check out Amy Stewart's post on Garden Rant or pick up that awesome new book about shrubs on Amazon.
On a similar note, homemade fermented sodas and beverages are also low in sugar, and pack a healthful punch due to the antioxidants and nutrients in the fruits and veggies you add to them. The benefit of fermenting is that the beneficial bacteria eat most of the sugar in the fermentation process, so not only is the beverage lower in calories, but it also is great for your digestive and overall health. A few more books on my wish list for the year include Delicious Probiotic Drinks, Drink the Harvest, Artisan Drinks, and Kombucha Revolution, all of which can use some measure of the fresh herbs and produce from your garden.
Get potted: Ornamental varieties of marijuana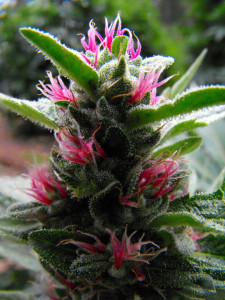 While you can probably tell from the previous paragraphs that I'm not much of a partier, the fact remains that the rest of the world parties on without me, as evidenced by the legalization measures passed in so many states. And what better for your sophisticated smoker than attractive ornamental versions to grow indoors or out?
Just like us herb and vegetable gardeners love all of the new variegated versions of rosemary, lavender, tomatoes, etc. (whether or not we actually grow them to eat), I can imagine that purple leaved and variegated versions of sensimilla would be a big hit for those passionate about growing their own.
The one problem I can see is that, as someone pointed out on a private forum I belong to, you can't patent something that is illegal under federal law. So any beautifully variegated versions of marijuana would have limited value to breeders, and are unlikely to become a huge mainstream offering for that reason – there's little financial benefit for the large breeders to develop a plant that can't be patented.
That said, there are many boutique growers and breeders who take pride and pleasure in having unique varieties, so even if the plant can't be patented, I still predict that 2015 will be the year we first see some variegated and colorful versions of pot starting to make their way to the market.
More hardscape as a way of saving water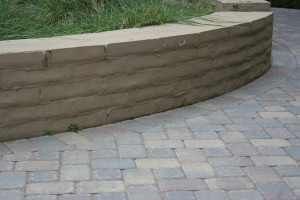 I've heard it over and over again this year, with talk of California's drought – the perception that hardscape elements such as concrete and gravel are more eco-friendly in the landscape than are planted areas, because they don't take any water to maintain.
Setting aside the fact that there are many native and drought tolerant types of plants that require less water to establish and little to no water once established, and actually provide numerous benefits to wildlife, air quality, and water quality/ storm water management – AND that concrete, brick, stone and gravel take a great deal more energy to produce and transport than do plants – the fact remains that during a time of drought, people micro-focus on preserving one resource at the expense of others.
While there is absolutely nothing wrong with hardscape when it is beautifully designed to fit the needs of the people and the site, I think that it is a little shortsighted to add more concrete patio or expansive gravel than you will actually use and enjoy just because you think it will save on water. However, this reasoning has been widespread among books and websites this year, so I'm regretfully calling it a trend.
Gabion walls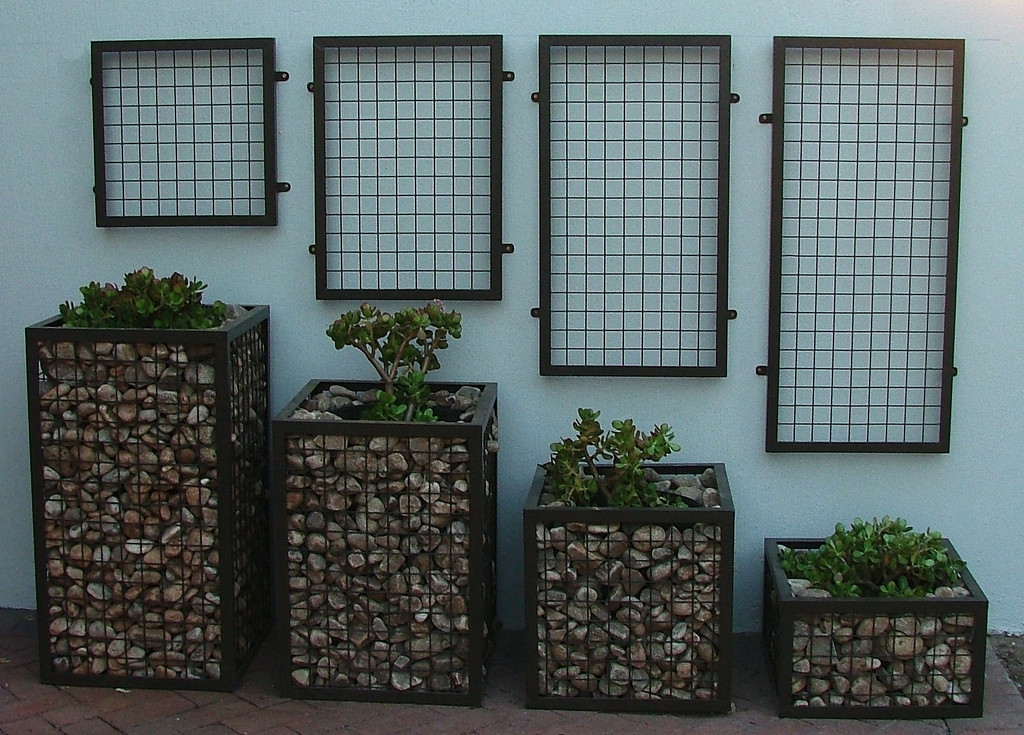 Overall I've been seeing a real return to what I call lavish minimalism – eliminating the unnecessary so that you can spend money on the best (see the popularity of books such as The Life-Changing Magic of Tidying up and At Home with Madame Chic) – and radical personalization is a big part of that. While it's kind of a new perspective for many to be thinking about how to make humble and functional things in the landscape such as retainment or a garden wall more personally meaningful and suited to your own style, I think people have been doing just that.
Gabion walls, and their relatives, beautifully made metal screens, have so much potential for personalization, yet they are also friendlier on the budget than a stone or brick wall. Gabion walls can be made to most any shape or size, and can be filled with a variety of materials from the quirky and upcycled (think recycled bottles, old CDs, and pipes) to wildlife friendly (logs, twigs, and pinecones, all of which can double as nesting material for peaceful mason bees and other wildlife) to choices that are just aesthetically pleasing (crushed rock, smooth stones, or leftover building materials that echo the hard materials used in another area of your landscape or home).
The metal screens that hold it all in can range from having a simple and somewhat industrial look, to being crafted of high-end steel or other materials. The edges can be painted, wrought iron details can be incorporated into the design, and the screening can even be used to create hollow sculptures to fill. Gabion cubes can even be used as planters by inserting flexible fabric grow bags to house the soil. Studio G has a great blog post showing some of what you can do with gabions.
More meaning, less stuff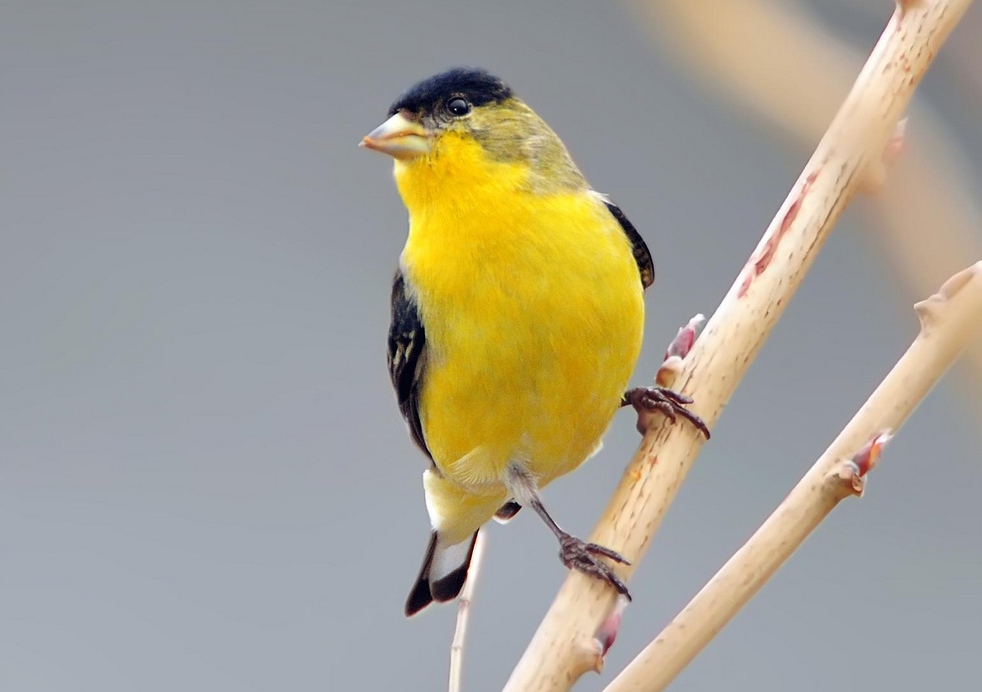 Going along with this idea of people gravitating towards things that feel high-end and perfectly personalized, I think people are seeking more meaning in their gardening and less clutter. I see fairy gardening, with its unnecessary array of "stuff", and vertical container gardening, with the tremendous amount of maintenance it requires, both continuing to decline in popularity this year as both seem to lead people in the direction of having a more cluttered and exhausting life.
By contrast, the popularity of books like The Living Landscape by Rick Darke and Douglas Tallamy, as well as those on attracting beneficial bugs, reinventing the look of the food garden, and attracting birds to the landscape show that gardeners are interested in more than just decorating their outdoor space when thinking about how they want to design and interact with their garden.
The Living Landscape, for those who haven't seen the book in person, is about how to think about the landscape as a living ecosystem, and it shares how to support all of the layers of life in that ecosystem in our gardening choices. Yet even while sharing some of the higher purposes your garden can have, this book and others place a high priority on the aesthetic component as well. This is such a welcome change for me, because beauty satisfies our souls and is deeply important to human beings, and I don't think that such worthy gardening endeavors as supporting wildlife or growing food need to be at the expense of our own artful interaction with the spaces we care for.
Hopefully this trend of combining truly beautiful design ideas with practical environmental choices is one that will only grow stronger in 2015 and beyond.
Marsala – the color of the year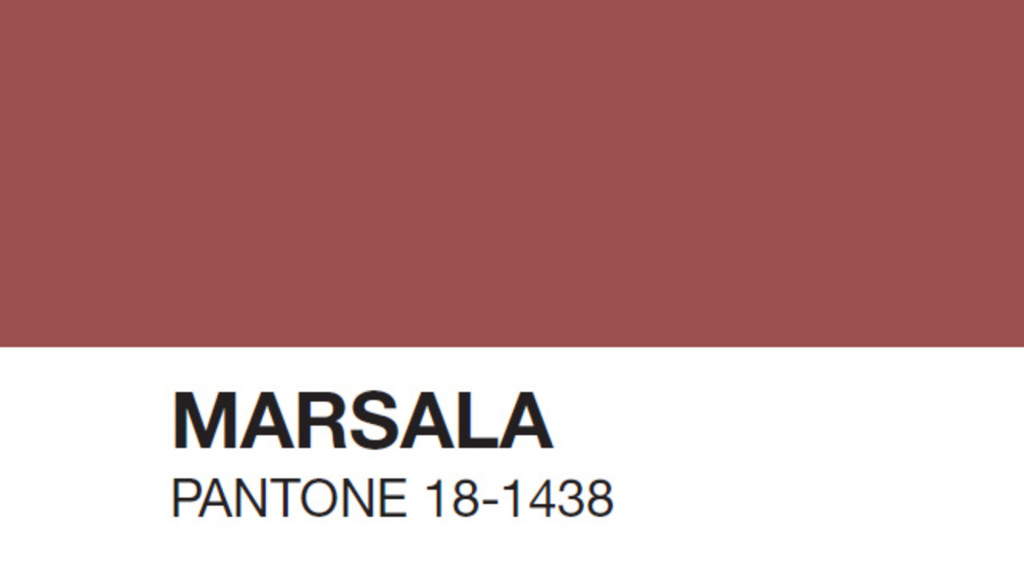 Notice something I haven't mentioned yet? Yeah, it's that color of the year again. Every year Pantone takes a stab at guiding and predicting color trends, and in the last couple of years, their color has had little relevance to gardeners.
Take this year's Marsala. It looks like old, dried-up lipstick, and I can't imagine anybody wanting to incorporate a color into their landscape that already looks faded by the sun and old. While there are some shrubs and perennials with flowers in this color, most of them aren't very popular and with good reason. The flowers just look bleached out and sad.
Here's predicting yet another color of the year that bombs in the garden.
That's it for my predictions, folks! Want to play along? Leave your own trend prediction in the comments below!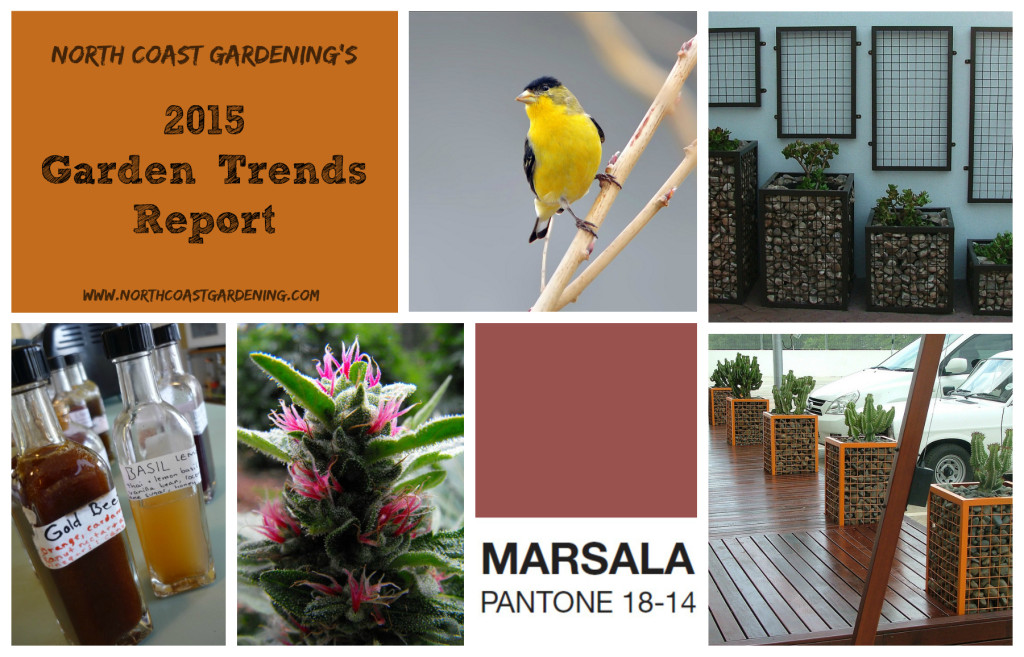 Past years here at North Coast Gardening:
Other people's 2015  garden trend predictions:
Garden Media Group (download their 2015 trends report and view past years' to see if you agree in hindsight!)
The Pinterest 100 (not just gardening but also DIY)
HGTV – Gardener's 2015 Resolutions
(Let me know if I am missing any in the comments below!)