I have a weakness for all the trend reports that come out at the start of each new year. While I have my own ideas about what's going to be hot, I love to pore over these reports and alternately nod my head or think (hope!) the writer is crazy.
Trend reports are a fun way of getting encouragement to try something new, because if something's coming into style, you can bet you'll find the resources and instructions you need at local garden shops or in the glossies.
So what are my predictions for 2012? Here goes. . .
Eco goes in-depth
Designers keep on predicting a resurgence in regionalism – that is, a sense of pride in the place that you live and a desire to use regional materials like native plants and local stone to give your garden a sense of place. I don't know if that prediction is just us being hopeful or if this movement is really taking off. But I'm going to go ahead and predict it again this year, regardless. I think we'll see this general trend showing up as an interest in. . .
Birds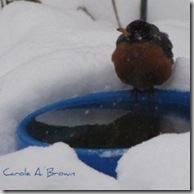 Birds bring such a sense of life to the garden, and seeing them scratch about in the soil for some bugs or leftover seeds has a restorative effect on the soul. As people plant more treats for the birds in their gardens and start to mindfully notice how it feels to see these little guys enjoying our gardens, I think we'll start seeing more people learning about how to attract them (hint: it's not about the bird feeders – native plants and water sources are where it's at!). (Bird photo from Carole Brown at Ecosystem Gardening.)
Native plants used in "designer" ways
Native plants are boring, right? Actually, um, no. In the end, it's really the designer who makes the plant exciting, not the other way around. Local author Peter Haggard likes to show people that you can prune, espalier, twist stems into interesting shapes, and generally treat natives like any other plant when it comes to doing artful training.
And when it comes to design, I think we're going to see a lot of designers turning to natives and using them in wild, avant-garde combinations and settings. Clean rows of natives used in a stark modern setting, loosely-woven knot gardens of native grasses and shrubs, and of course the simple-yet-beautiful combinations from flower gardeners who are starting to appreciate that nod to regional beauty and the wildlife benefits that native plants bring.
Edible native plants
This one won't fully take off this year, but it should be on our radar. The edible trend of years past has morphed from simple vegetables, to heirloom varieties, to unusual fruits and berries that nobody knows what to do with but make an awesome cocktail garnish, and now we've moved to native plants with edible parts.
A little reading about the indigenous people of your region will turn up lots of information about how they used to subsist on the plants native to the area. I predict that plants like Oregon grape, service berry, and miner's lettuce will make a resurgence.
Do people actually want to eat this stuff? Well, about as much as they want to eat a medlar. But the great thing about planting natives that are edible or useful in some way is that if you don't get around to actually eating them, you get to feel the satisfaction of watching birds chow down all fall and winter and know you did something great for wildlife.
Colors
Newly popular
Bright! Brilliant! Orange!
That Tangerine Tango shade that Pantone chose as color of the year is seriously on-trend. But I wouldn't limit the bright! Orange! trend to that exact shade. I'm thinking a variety of cheery oranges will be on display as people look for ways of using color as a mood brightener. Plus, orange goes with my next color prediction, which is. . .
Grey
I'm usually annoyed when people say that something is the new black. No, people, BLACK is the new black. End of story. But the people saying grey is the new black are sounding slightly less bone-headed than usual, because grey does actually perform some of the same functions as black. In the garden, it's completely unexpected and gives a modern twist. New introductions like Dead Spider columbine, with its drooping grey flowers, will turn heads and be noticed.
And in décor, grey contrasted with bright colors will be hot. Check out this set of chairs used by the designer at Elevations NYC to get the idea: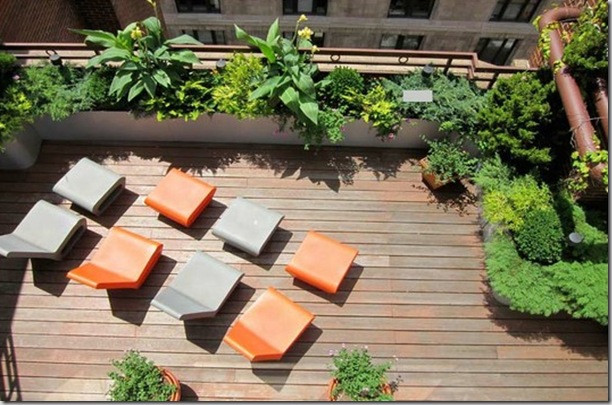 Still going strong
Amber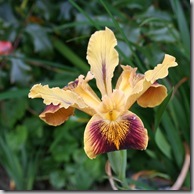 Amber's been growing in popularity for the last few years, primarily because of a few new plant varieties, most notably the Amber Flower Carpet roses. Most people swoon when I show them amber blooms, but feel some trepidation when it comes to actually using amber in the garden – what do you combine it with?
I predict this is the year when amber will really take off as a trend, because I think a number of bloggers and gardening magazines will be featuring articles on how to design with amber. Once we all see those drool-worthy photos in the glossies, amber's going to really take off.
Black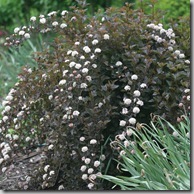 Black's been big for a couple years and is only getting hotter. I tend to think trends involving flower and foliage colors take a while to flourish because it takes time for growers to start carrying new plants. I've been seeing black plants everywhere in the media, but in my local nurseries it's been tough to get some of the unusual new varieties – growers are only just starting to have a great selection for nurseries to choose from in this shade.
In any case, black looks sleek, modern and unexpectedly fresh, especially against grasses and foliage combinations. I think it's going to be another good year for black. (Photo of Summer Wine ninebark courtesy Proven Winners.)
Other assorted trends
Metal and stone in the landscape
While lightweight resin pieces have been on an upswing in the last few years (it's inexpensive, versatile, and can fit into any scheme), I think metal and stone are coming back.
The grey trend is speaking right to metal, and I've also seen a huge number of interestingly crumpled metal sculptures in the garden lately. Whether rusted or sleek, softly rounded or dangerous-looking, metal décor and sculpture are coming back into style. There's something wabi-sabi and REAL about metal, and I think people are craving real.
Same with stone. The heaviness means it's expensive and takes some commitment and vision to buy and place into the garden, but this is part of what makes it so satisfying. I'm tired of the easy button. Our lives are cluttered with easy. I want something that feels permanent and solid, something that grows lovelier with a bit of weather and moss. And I want to sweat when I install it and kick back with a well-deserved margarita after.
In particular, I think stone fountains are going to take off this year, because they offer a pause point in the garden that invites reflection, and they're less expensive than creating an entire patio or pathway out of stone.
Lavish minimalism
Who else is exhausted by too much stuff? Every garden I go to, I see too many pots, too many impulse-buy plants, too many types of materials and just too much – and people keep asking what to get rid of, because clearly something's gotta go.
I think we're all feeling that urge to downsize and simplify. And the economy has made us think about where we spend money (even if we have plenty of it) and has given rise to a kind of mindful, intentional minimalism. Less waste, more appreciation.
The trend is toward using fewer types of plants, but choosing mature or hard-to-find specimens that really make a statement. Fewer décor pieces in the garden, but those that do make the cut are custom-made or handcrafted by a local artisan. Patios may be smaller, but they're made with the best materials available.
I'm calling this lavish minimalism. While there's some scaling back involved, there's also an appreciation of the finest things, and a willingness to forego the "lots" in favor of the meaningful.
Photo-based social media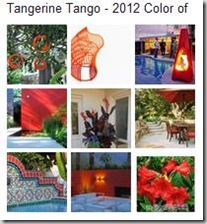 I can just hear you groaning right now. ANOTHER social media account to keep track of?
Hold off on throwing tomatoes and hear me out. Pinterest is a new social sharing site where you "pin" photos from around the internet onto your very own inspiration boards. Read foodie blogs, but have trouble finding that special recipe when you're ready to actually make it? Just "pin" it to your Pinterest board on recipes and you'll have a photo complete with a link to the original recipe right there for reference.
This has huge potential for gardening types. You can create boards for a color scheme, a design style, or a type of project you'll be tackling soon, and just "pin" photos from around the web onto one inspiration board.
What say you?
Here's what others have to say about gardening trends for 2012:
Thomas Rainer of Grounded Design has the most design-oriented list of predictions, with the new Romanticism coming out on top and creative hedges, moody and expressive plantings, and heirloom ornamentals filling out the list.
Kym Pokorny of the Oregonian thinks clean and modern's the way to go, plus unusual fruits, miniature conifers, gardening for the elderly, and smaller water features.
Jim Hole of the Edmonton Journal predicts black and Tangerine Tango will be hot, plus vertical, edible, and water-wise plants.
Yahoo News has printed predictions from Tesselaar Plants, including some quotes from yours truly. Mediterranean plants, smaller water features, and gardens that change dramatically with the seasons are some highlights.
Want to predict the hottest-selling plants at Plant Delights Nursery for '12? You can win a hefty $250 gift certificate if you're right! See some current and old best-seller lists here.
What do you think is going to be big in 2012? Let me know by leaving a comment.