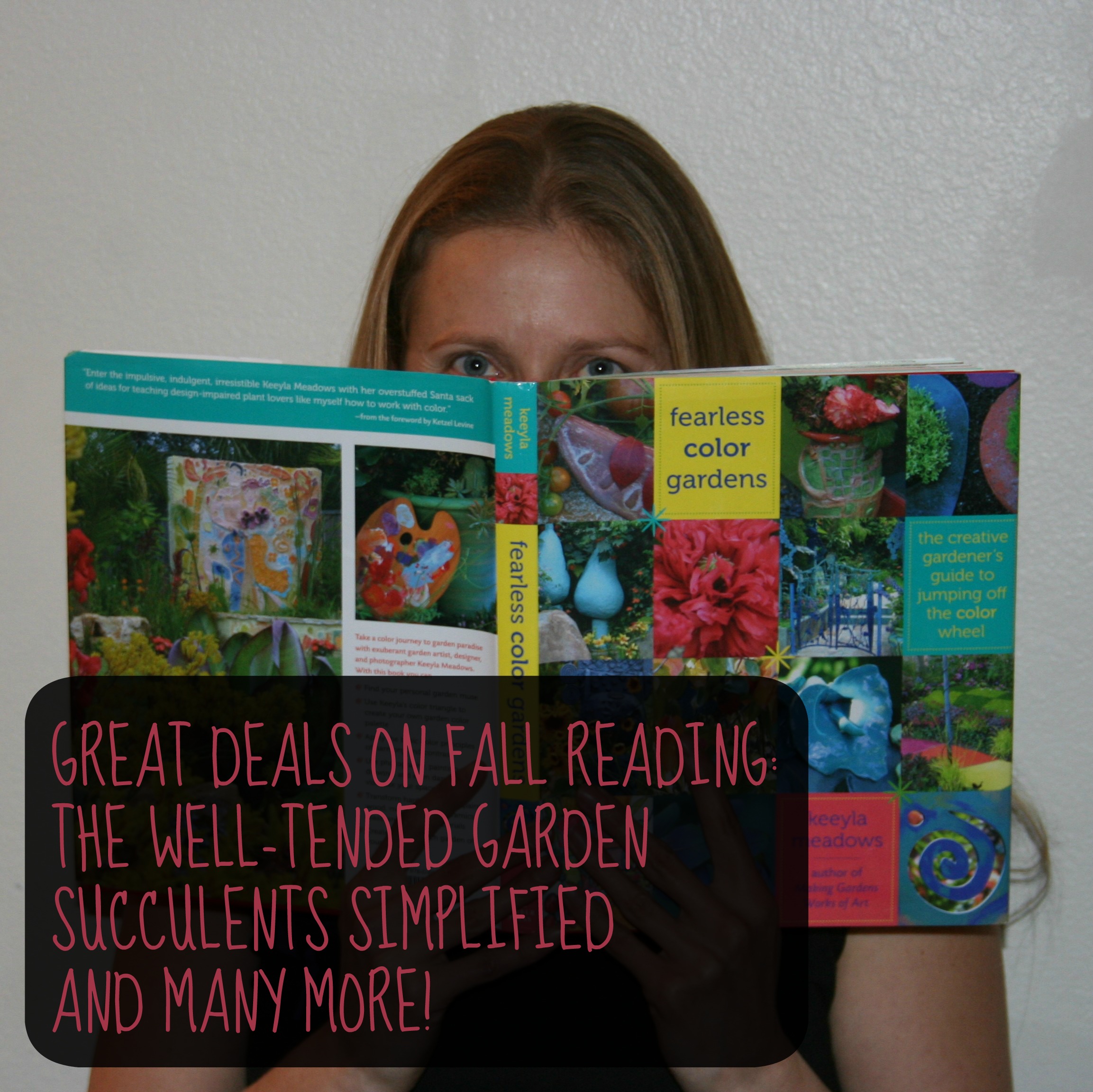 Every so often Amazon has some wonderful things at a price that I can only describe as "WTF". I think it has something to do with their algorithm and how their computers search for the best deals online, and then automatically match them.
Sometimes these deals last a while, and sometimes they're gone in a few hours, so if you see something you like, jump on it. Their insanity is our gain.
And for the Kindle books, remember you can read them on a computer, laptop, phone or tablet with the free Kindle program/ app.
Here are the books on sale now:
Succulents Simplified by Debra Lee Baldwin, $3.03 on Kindle
I adore this book. If you are only going to buy one book on succulents, this is definitely the one I'd choose. It has fabulously helpful lists of maintenance instructions, plants for different situations, and loads of step-by-step projects and crafts to do with succulents. If you like succulents at all, you're going to want to own this book. The photos are absolutely stunning and give wonderful inspiration for artistic projects you'd actually want to do with the plants, and Debra tells you everything you need to know about caring for them in every setting.
Plant By Numbers by Steve Asbell, $2.65 in paperback
Steve Asbell is known around the blogosphere for having impeccable taste in design, and here he tackles houseplants and planting combinations with them. He has some of the most helpful plant lists I've ever seen in any book. While I am usually partial to DG Hessayon's old houseplant book for simple reference, I have to say that the sheer beauty and helpfulness of Steve's book has me reaching for it just for the fun factor. Steve shares numerous planting combinations with houseplants and encourages you to design with them indoors just as you would landscaping plants outdoors. The photos are lovely, and the plant lists are so good I want to tear them out and tape them to my wall. For this price, I'm seriously thinking about all of the people I can get this for as gifts. Rare to see paperbacks this cheap!
Gardening in Miniature by Janit Calvo, $3.49 on Kindle
I haven't read this book, but keep hearing from my friends in the nursery business that fairy gardening and miniature gardening are really popular for helping kids get interested and involved in plants and gardening. Calvo, of course, is the leading expert and author on the topic, so if this is something you're interested in, this would be the most definitive book to get.
Handmade Garden Projects by Lorene Forkner, $3.49 on Kindle
I loved this fun book of garden projects. Tons of afternoon or weekend ideas to spruce up and personalize your space.
The Well-Tended Perennial Garden by Tracy DiSabato-Aust, $3.99 on Kindle
This is one of the books I purchase in bulk to hand out to new employees in my landscape maintenance business and to give as gifts to friends who have become newly interested in gardening. If you like perennial flowers and want to know how to grow them to best effect, how to prune them at differing times of the season to get a second round of blooms, to get larger blooms and fewer of them, and keep them from flopping, this is the book for you. The book goes over all of the different kinds of maintenance you should expect if you're growing a garden full of flowering plants, and it is indispensable to pros as well as passionate home gardeners.
The Layered Garden by David Culp, $3.09 on Kindle
I just picked up this gem this morning when it went on sale, so can't speak to it personally, but I know of David Culp as an expert on Hellebores and other perennials, and the book has a ton of strong reviews, so I have high hopes that I will love it. It looks like a great one for changing the way you think about perennial garden design.
Newly added on November 15, 2014:
The Year-Round Vegetable Gardener by Niki Jabbour, $1.99 on Kindle
Country Wisdom and Know-How: a Practical Guide to Living off the Land by Storey Publishing (known for those handy little booklets sold at country living and garden stores on all manner of useful topics) 488 pages, $1.99 on Kindle
Carrots Love Tomatoes: Secrets of Companion Planting for Successful Gardening by Louise Riotte, $1.99 on Kindle (the classic handbook for companion planting and vegetable gardens)
Botany for Gardeners by Brian Capon, $3.03 on Kindle
Real Food Fermentation: Preserving Whole Fresh Food with Live Cultures in Your Home Kitchen by Alex Lewin, $2.99 on Kindle
The Unexpected Houseplant by Tovah Martin: 220 Extraordinary Choices for Every Spot in Your Home, $3.03 on Kindle
Bringing Nature Home by Douglas Tallamy, (this is the classic book which explains the importance of native plants by sharing examples of the relationships that specific types of wildlife have with specific types of plants; essential reading for gardeners who care about wildlife) $3.03 on Kindle
These are just some of the deals I found on Amazon today. If you've found a good deal, let me know in the comments below!