While I'm usually kind of a minimalist when it comes to new tools, I have to admit that my previous strategy for harvesting eggs, berries, squash, and apples wasn't really working. For eggs, I would stick as many as I could into my pockets and my hands and try very hard not to smash or drop them on the way to the kitchen. This worked great if I was wearing a loose skirt with pockets and a hoodie with additional pockets. However, the day that I smashed two eggs on the inside of my skirt pocket and smashed an additional egg on my doorknob (oh woe!) was the day I realized I needed to make a change.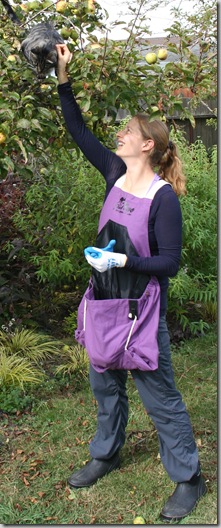 Harvesting apples wasn't going all that great either. When harvesting, you want to use both of your hands, so it's tough to hold a bucket at the same time. What I usually ended up doing was picking apples with both hands and chucking them into the bucket, which I set on the ground. This works fine if you're going to use the apples right away. But sometimes I got tired of making applesauce halfway through and left some apples for the next day. The bruises these poor apples sustained, being tossed from hand to bucket, didn't make for long-lasting fruit.
That's why when Pantry Paratus offered to send me their Roo gardening apron, I took it as a sign (I mean, they come in purple!), and accepted with great relief. While I don't usually bother with aprons to keep myself clean, the Roo gardening apron is more about gaining yourself some extra hands then it is about staying tidy. It's like having a giant kangaroo pocket in front of you, and just like a kangaroo pocket it stays flat and out of the way when not in use, but expands to giant size as soon as you start filling it with stuff.
My first test with the Roo was a simple one: collect enough apples to fill a bucket so I could make some fresh juice. As you can see from the photos, it went just fine. In fact if I'd wanted to, I probably could've collected a few oversized spiders and a slightly plump kitten as well.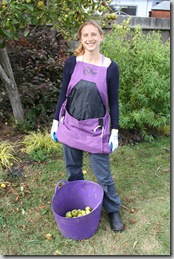 But you know me, I get extremely antsy having single-use tools around the house. This is why I love things like my hori hori, or my TubTrugs gardening bucket – I can use them for everything. Where the Roo gardening apron really shines is in its multi use potential.
Tired of weeding into a bucket? Just pull on the Roo and weed directly into it. Once you have a full load, just empty the Roo right into your compost bin or trash bag. It's a lot more efficient than the weed and toss, weed and toss maneuver that you usually have to do.
The Roo is made of washable canvas and comes in three colors: charcoal (gray is the new black, right?), a pleasant aqua green, and of course purple. There's room for your cell phone in the top pocket, and if you're harvesting delicate things like berries (or eggs), you can slip a little round bucket into the Roo to make sure these things don't get crushed.
It's also highly adjustable for people of different sizes. The strap adjusts up to an XL size, and there's an additional strap available for purchase if you suspect you might be larger than an XL. I've got mine tightened down to where there's about two extra feet of strap available, so I think this would fit most people.
The only thing I would change about the Roo is that the clip and knot fastener that holds the pocket closed is a little awkward to maneuver. I would prefer a different way of holding the apron pocket closed – something that I could unclip with one hand. Beyond that, I'm really impressed with how well-designed it is. The longer I've had it, the more I've gravitated towards using it. And, you know, it comes in purple. That makes pretty much anything perfect.