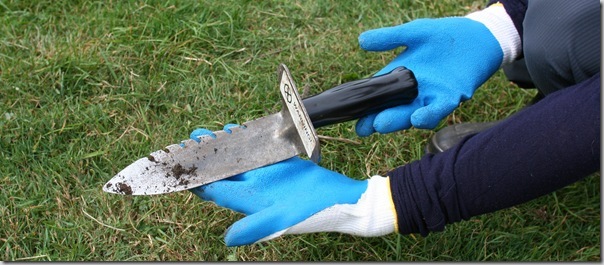 I've written a lot in the past about soil knives, because, well, they're awesome. If you're still gardening with a trowel or a dandelion fork, for goodness' sake stop reading this post right now and go buy a soil knife. (Oh, wait – don't stop reading yet, this is actually kind of relevant.)
Soil knives are great because they're this lethal trowel-knife hybrid that makes weeding, digging and dividing so much easier. The thick edges and gentle curve of your trowel? Pah! I like my tools to have a hint of danger to them. I want to get things done! While I've tested quite a few brands over the years, none have been good enough to take the crown from my previous favorite until now. I had been using the Joshua Roth Hori Hori
because I liked the stainless steel surface and the sharp, serrated edge on the blade.
However, as much as I loved that tool, there were some things about it that weren't rocking my world. For starters, if one of my employees got it into their head to use the soil knife as a pry bar, the rivets on the handle came loose fairly easily, and while the stainless steel blade is strong, it would sometimes bend with abuse.
Then, the handle is comfortable-ish, but certainly not ergonomic enough to be a good choice for professionals and other passionate gardeners.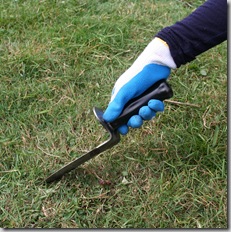 So when Garrett Wade offered to send me their Professional Gardener's Digging Tool, I was intrigued. There was room for improvement over my existing tool, but I was suspicious looking at the product photo that I wouldn't like that shield-like hand guard between the handle and the blade. I'm also a big fan of the smooth, rust-free surface of stainless steel. Would I like the steel alloy of the Garret Wade version?
Sometimes the transition from old tool to new can be a rocky one, especially with a staple like this, so I steeled myself to give the Pro Gardener's Digging Tool a fair shake. I needn't have worried.
From the moment I gripped the round, smooth handle and felt the difference in leverage with the offset blade, I had no desire to pick up my old hori hori. I feel disloyal saying that, but it's true!
What I love about the Professional Gardener's Digging Tool:

Offset blade. With most soil knives the blade extends straight out from the handle. That's a straightforward design, yet it misses the opportunity to help you in your digging by giving you leverage. This is one of the primary ways in which the Garrett Wade digging tool beats the competition. That offset blade feels like it's doing some of the work for me, and after testing the two soil knives side-by-side I found that the Pro Gardener's Digging Tool caused less wrist fatigue than weeding than my old one.
Tough alloy steel. While I prefer smooth, rust-free stainless steel for most of my tools, I have to admit that many of my stainless tools have bent or broken over time. Yet the tough alloy steel of this digging knife has proven resistant to even the worst types of misuse. I have used the Pro Gardener's Digging Tool to pry up rocks, hammer in stakes, and to do all kinds of rough work that I would usually consider improper for a soil knife. I even left it out for two weeks, and no rust developed on the surface. Compare that to some of the cheaper brands of hori hori out there which rust as soon as you look at them funny, and the Pro Gardener's Digging Tool starts to seem like one of the few tools that's really up to the task of professional work.
Rounded handle. The handle is another area where this digging knife blows the competition away. It has a smooth, rounded grip that's comfortable and makes it easy to control the knife. It's perfectly formed to the natural grip of your hand and is comfortable even for long days of weeding. Plus, the entire handle is made of metal (with a plastic coating for comfort and visibility). Most soil knives have a wooden handle with just a small bar of metal running halfway up, and that handle area is usually the first spot to fail. So seeing that this tool doesn't have the usual weak spot makes me think it's going to stick around for the long haul, no matter how many times I use it as a pry bar.
Hand guard. If you look at the photos, you'll see that between the handle and the blade is a large area of metal that looks like a flat shield. Before trying out the tool, I thought the shield would get in my way and be an irritation. Boy was I wrong. The shield provides an excellent balance point, so I can move my grip upward and rest my fingers against the shield to give me extra stability. It's also great when I'm digging around rock or concrete because it keeps me from knocking my knuckles.
Serrated blade really means it. You may have seen the cute little serrations on other hori horis and tittered to yourself about how sharp they looked. But you haven't seen sharp yet. The teeth on this Pro Gardener's Digging Tool are downright lethal to even the most congested root systems, making it great for digging, dividing, planting, or cutting sod. Between the teeth and the offset blade, it makes even tough jobs feel easy.
Of course, the true test of a tool comes when I let my employees at it. There are two main criteria here:
Do my employees break it?
And are they willing to give it back when I ask?
If the answer is no on both counts I consider a tool a resounding success, and the Pro Gardener's Digging Tool passed with flying colors.
It took me two weeks from initially asking for the tool back before it was produced, and when it was finally handed back to me it was with the anxious question, "when do you think I can have it back?".
Even our clients are impressed. In just a few weeks, two clients saw us using the tool, tested it out themselves, and bought their own even after being shown the lower budget models of soil knife. I think they feel as I do: once you've compared a good tool with a great tool and seen how much more work you can get done with a great one, spending a little more for a high quality product is absolutely worth it.
The Pro Gardener's Digging Tool from Garrett Wade is $59 and is available from their website.