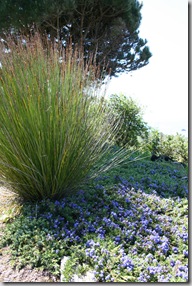 When talking with another designer recently, she said something that stuck in my head: "Lawn? We call that "green concrete". Sure, sometimes you need a bit of it here or there, but it brings so little to the table that we try to avoid it!"
And it's true!
I love sunning myself and playing with the cats on my small lawn, but I'm pretty cognizant of the fact that every inch of lawn is taking up space that could be used for something more productive.
Even an organic, no water, manually-mowed, unfertilized lawn like my own, is simply doing no harm. But it's missing an opportunity to do good. Lawn:
Takes time and resources to care for
Doesn't feed either people or wildlife
Isn't all that exciting to look at (we're past the point as a society where we admired people for their green Chemlawns, right?)
Is often a choice we make by omission, by not taking the initiative to do something more intentional with our space
However, I'm not a huge advocate for getting rid of lawn entirely, because I think our human interaction with our gardens is important. If you actually go out and enjoy your lawn like I do, then it's not a waste. It's just good to periodically remember that the things in our gardens are either making a positive difference in the world (to us, or to wildlife), or they're taking up space that could have been used for something better.
So if you've got a dead zone that's neither making you happy nor improving your life, whether it's lawn or something else, why not rip it up and do something useful with it?
Here are some ways you can make a difference:
Take the slow route to beautification. Slowly chip away at the edges of your lawn, and plant tumbling masses of low native groundcovers, caterpillar host plants, or native perennials which feed pollinators. This can provide habitat for frogs and salamanders, breeding grounds for butterflies, and food to keep the butterflies coming.
Add a water feature. Carve out a section of boring old lawn and put in a pond instead. Dragonflies are forever scanning the ground for a hint of something shiny that may indicate water, as they need water to reproduce. My humble little 2′ by 4′ pond attracts frogs, dragonflies, and other wildlife, and I can tell you that no matter how many times I see a dragonfly hovering over the garden or hear a frog chirruping to its pals, it never fails to give me a moment of sheer joy.
Decide whether a patio might be more useful. A lot of us keep lawns because they're an easy space to set up a couple chairs and relax. But because a patio is so user-friendly, I find people are much happier spending time on a small patio (set within the garden) rather than trying to entertain on a large area of lawn. That means more space can be set aside for the plantings, ponds, compost pile and other elements which benefit you and bring the wildlife flocking. (Get tips for choosing the shape of a patio here.)
Get inspired. Books such as Reimagining the California Lawn
, Beautiful No-Mow Yards
, and the yet-to-be-released Lawn Gone!
all show some great ideas, many of which are either wildlife-friendly already, or have the potential to be so with plant choices appropriate to your area (more about picking wildlife-friendly plants here).
Check out these photos of no-lawn or less-lawn garden spaces:
Native perennials and grasses plus some trees creates a more compelling front yard design than just a postage stamp of green with a foundation planting.
This sloping front yard gets a wildlife-friendly makeover with a rich planting of natives.
This contemporary and Asian-inspired space has color, interest, and doesn't rely on lawn. Choose native grasses instead of the Mexican feather grass for a garden as attractive to birds as it is to people.
A rustic-style garden lends itself well to a more natural, flowing look.
Inspired by the waves of the ocean, this designer created curling pathways within the landscaping so visitors can enjoy the plantings and happy butterflies and bees.
Not a fan of ornamental grasses? This coastal landscape bursts into vivid summer bloom. While there's still some lawn, the owners have obviously taken care to pack plantings into the garden beds. Lean more heavily on native plants to attract wildlife, if you go with this style.
The backdrop of shrubs and trees in this cozy patio setting provides ample places for wildlife to shelter.
Pathways, plantings, and a water feature? Sounds good to me. Fill up your water feature all the way and add a small "beach" of pebbles on one side so butterflies and birds have a place to land.
Are you feeling as inspired as I am? Lawn contributes so little to the landscape that we want to make sure we're only using it in the places where it's appreciated and wanted. Check out some of the book ideas above to get new ideas about creating a no-lawn garden rich in the beauty of wildlife.