Though recent polls show that using native plants and attracting wildlife are big priorities for gardeners, these types of landscapes have a terrible reputation for being messy and poorly-designed.
It's gotten to the point that many landscape designers I've spoken with shy away from mentioning native plants to their clients, even if they plan on including native plants in their design. Worse, some short-sighted neighborhoods have taken the extreme step of banning native plants (which attract wildlife) even as they mandate front yard lawns.
It doesn't have to be this way. There is nothing inherently messy about either native plants or gardening for wildlife – we just get that idea because many of the proponents of wildlife gardening focus more on the wildlife aspect than the gardening aspect. Gardening enthusiasts compound the problem when we give in to negative stereotypes of what a wildlife-friendly garden looks like.
We've set up a false choice in our minds between gardening for wildlife or gardening for beauty, when we can absolutely have both.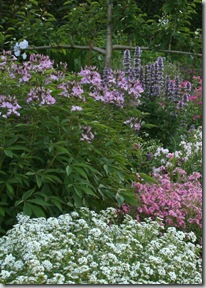 Wildlife gardeners – if we use good design principles to create a space that is as beautiful to people as it is to wildlife, we'll find neighbors, friends and relatives lining up to hear more about how we did it. What better way of helping the cause of wildlife than to make others want to follow our lead?
Designers and plant geeks – Hey it's cool, nobody's telling us to back away from the plant catalogs. But we've gotta remember, wildlife brings beauty of its own to our gardens.  Nothing enhances the look of our high-end perennials like a few butterflies and hummingbirds, and that fancypants Brunnera looks way cuter when a salamander's helping us keep it slug-free.
Can you have beauty and beasts in the same garden?
Yes, yes, yes! Over the coming weeks I'll be talking about some of the ways you can support wildlife and the environment through good design and having a gorgeous garden. In the meantime, check out these articles to get amped up about some of the ways we can begin inviting wildlife into our gardens:
Gardening for Wildlife: a Compendium of Tips
In this series:
Wildlife Design Tip: Plant in Masses
Wildlife Design Tip: Choose a Simple Color Palette
Wildlife Design Tip: Focus on Shape
Wildlife Design Tip: Use Less Lawn
How to Design With Native Plants