Pantone's just released their top pick for 2012 color of the year – Tangerine Tango – so given the Garden Designers Roundtable topic for the month is deer – it seemed a perfect excuse to talk about Bright! Orange! Plants! for the deer-resistant garden.
While selecting a color of the year is an obvious marketing ploy, and not a terrifically effective one at getting me to rush out and buy things (I mean, are you going to go out and buy a Tangerine Tango-colored appliance as their press release suggests? I'm not even sold on the nail polish color!), it's still kind of fun to think outside our usual color favorites and try something new. Especially in the garden!
A know a lot of deer-resistant gardeners feel like they can't really "play" in the garden as much as they'd like. So many new introductions and planting trends seem like they'd be food for the deer. But I truly believe that in gardening as in life, an obstacle is just a challenge. If you look out for the shapes, textures, and colors you'd like to use and try to find unusual varieties of tried-and-true deer-resistant plants that fit those themes, you can enjoy pretty much any planting style in your deer garden.
So without further ado, here are some Tangerine Tango-inspired plants that can rock your deer-resistant garden – twenty brightly-hued varieties of those great garden standbys that you know you can count on in a deer garden.
From left to right: Helianthemum 'Henfield Brilliant', Rhododendron 'Honey Butter' (photo from Singing Tree Gardens), Kniphofia 'Papaya Popsicle' (photo from Terra Nova Nursery), Achillea 'Paprika'
From left to right: Salvia splendens 'Lighthouse Red' (photo from Proven Winners), Hakonechloa 'Nicholas' (photo from Singing Tree Gardens), Echinacea 'Coral Reef' (photo from Terra Nova), Leucadendron 'Winter Red'
From left to right: Erysimum 'Apricot Twist', Crocosmia 'Twilight Fairy Crimson' (photo from Terra Nova), Chaenomeles 'Pink Storm' (photo from Proven Winners), Euphorbia 'Fire Glow'
From left to right: Leonotis leonuris, Echinacea 'Hot Lava' (photo from Terra Nova), Cornus 'Midwinter Fire', Acer palmatum 'Beni Otake' (photo from Buchholz and Buchholz)
From left to right: Azalea 'Mandarin Lights' (photo from Singing Tree Gardens), Coreopsis 'Cherry Lemonade' (photo from Terra Nova), Calluna vulgaris 'Firefly', Uncinia uncinata 'Red'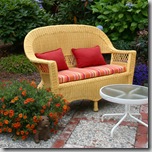 I hope these twenty Tangerine Tango-inspired picks inspire you to play with color in your deer garden for the coming year.
And if you're unsure about using fiery orange plants, you can always experiment with paint colors or décor. These Tangerine Tango-colored cushions add a splash of color, and there's no danger of the deer eating them!
See what my fellow members of the Garden Designers Roundtable have to say about gardening with deer:
Rebecca Sweet : Gossip in the Garden : Bay Area, CA
Lesley Hegarty & Robert Webber : Hegarty Webber Partnership : Bristol, UK
Pam Penick : Digging : Austin, TX
Douglas Owens-Pike : Energyscapes : Minneapolis, MN
Christina Salwitz : Personal Garden Coach : Renton, WA
Susan Morrison : Blue Planet Garden Blog : East Bay, CA
Debbie Roberts : A Garden of Possibilities : Stamford, CT
Want to read more?
Deer on a Diet: Tips for Gardening with Deer
Deer-Resistant Plantings You Can't F*** Up