Photo at left: Mackerel showing his love of Phormium 'Black Adder'
October always makes me want to curl up with my gardening books and highlight the deliciously wicked black plants found within. But you don't need to limit black and dark plants to Halloween. They can fit into pretty much any garden scheme, from English cottage, Japanese, tropical, woodland, or any style of gardening you've got going on.
Looking for some goth gardening inspiration?
My latest column over at Landscaping Network brings exactly that, in Deep Dark Plants for the Halloween Garden. In it, I share tips for how to harmonize dark-foliaged plants with the rest of your garden, as well as some top picks for container gardeners and in-the-ground gardeners.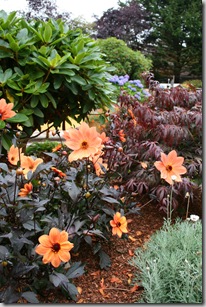 Last year, I was similarly smitten, and went back to my goth-girl roots for an article about my favorite Gothy Black Plants for the Garden.
This year, I tackled the design end of things with my post for the Garden Designers Roundtable, Dark Designs.
Introducing dark plants into the garden can definitely take some cojones. They're such an unexpected addition that they always attract attention, and while it's easy to combine black with other colors when we're getting dressed, it can take a bit more nerve to create long-lasting combinations with black in the garden. Read the article for some quick tips on getting started.
Then, two of my pals have also caught the black plants bug. Rebecca Sweet shows off photos of her ten favorite black plants, and Fern Richardson has a very helpful list of black plants for container gardeners. Go on over and check them out!