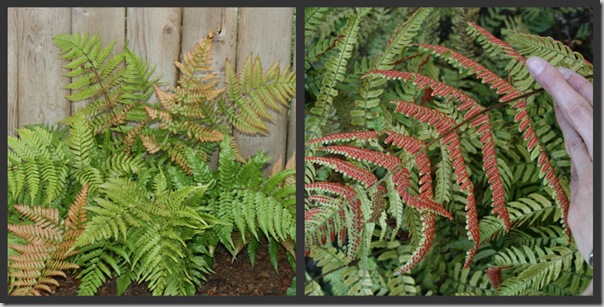 I LOVE the Autumn Fern. Orangey foliage in spring and summer? Cinnamon-colored spores on the underside of the plant? A neat habit and a plant that's simple to prune down in winter? It's got it all.
It's deer-resistant, takes part shade (2-3 hours  of direct sun, or bright indirect light on the coast), and looks great with any number of plants. I love it with 'Senator Jackson' and 'Madame Cochet' Rhododendrons, Sarcococca ruscifolia/ Sweet Box, and anything with a deeper green foliage to highlight the bright green and cheery orange of this fern.
It gets cut back entirely in early spring. As soon as the fronds start looking poorly, I just remove all the old leaves an inch from the ground and allow room for the new, fresh ones to come up. (If you're trying to grow your fern bigger, hold off pruning off the old leaves until they go brown or look really ratty, to allow the plant to get every bit of photosynthesizing action out of those old fronds!) Good for USDA Zones 5-9.
[print_link]