If you're a plant geek, you've probably fallen prey to the "one of this, one of that" style of gardening. You know how it is – you walk out into your garden one day and realize that your beloved plant friends are all clamoring for individual attention (Look at me! No, look at ME!), with not a team player among them.
But if your idea of a fun day is going to the nursery and finding some new plants to bring home, then the usual garden designer suggestion of using drifts and multiples might be hard to stomach – much as you know it'd be gorgeous. The problem is, you love all of your plants and would have trouble choosing just a few plants or themes to replicate.
Even if it seems like your plants and garden elements don't have much in common, I bet there's more continuity in your garden than you think, and moving a few plants around or buying a select few new ones can help create some combinations that draw the eye and bring harmony to your cacophony.
Here's the trick: Look, really look at each of your plants and find those tiny splashes of color that may have slipped by your notice. Then scoot your plants around so that they're close to something that highlights those subtler elements. Instant continuity. High-fives all around.
Take a look at this Rhododendron 'Madame Cochet'. You might initially think it's purple, or maybe purple with white. But really look, and you'll see the rusty, golden speckles on each bloom.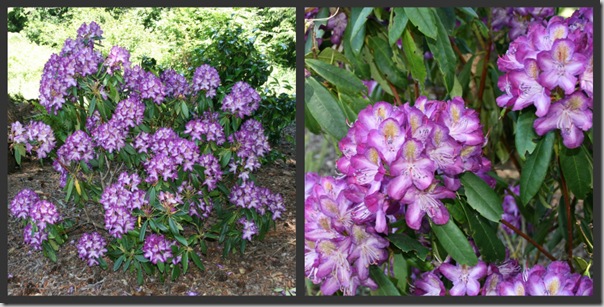 Can you find that unusual color elsewhere in your garden? Well, how about that lonely little Autumn Fern (Dryopteris erythrosora) off in the corner?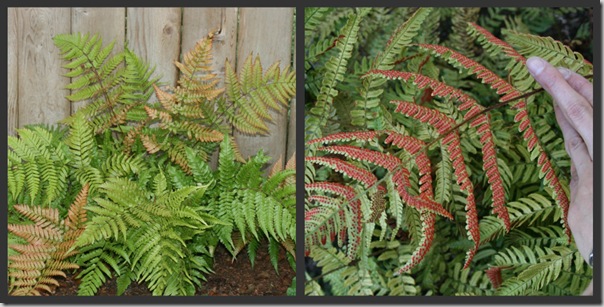 Uh-huh – put those two together and suddenly you have a little focal area! Gather a few more friends around and you're off to the races.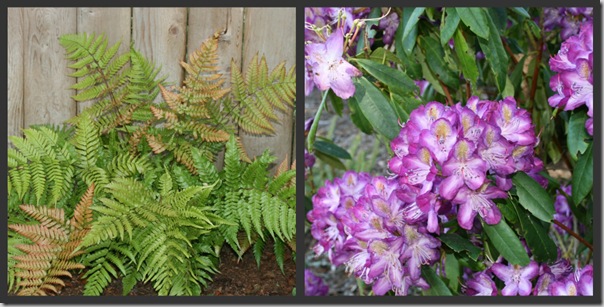 In order to make spectacular combos this way, you have to keep an eye open throughout the seasons, and don't just look at the obvious. Leaves, new growth, leaf undersides, stems, bark, flowers and seedpods… even rock, painted walls, statuary and pots! They're all waiting for you to uncover some interesting element and match them up with some new companions.
Check out the orange-y stamens on this Rhododendron 'Senator Jackson'  – there's that unexpected color echo from the Autumn Fern's spring foliage.

As a brainstorming exercise, here are some other places you can find that cinnamon color:
Stone, statuary, paint
Colored garden pots (yeah, you can totally put them in your garden beds – why not?)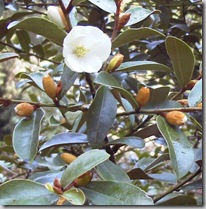 Undersides of Evergreen Magnolia leaves (Magnolia grandiflora – I love 'Little Gem') and Rhododendron 'Teddy Bear' (new growth, too, on 'Teddy Bear')
Flower buds of Michelia yunnanensis (see photo at right)
Peeling bark of Pacific Madrone (Arbutus menziesii)
Some Heucheras ('Southern Comfort', 'Marmalade')
Flowers of Wild Ginger (Asarum caudatum)
Chamaecyparis obtusa 'Kosteri's winter bronze foliage
Many heathers and ornamental grasses
I could go on… But I think you see how fun it would be to go through your garden looking for some of those little-noticed accents, and move a few things around to create some exciting focal point combinations.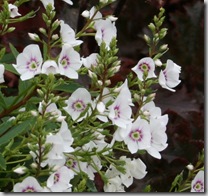 I'll give you one more example of this concept in action… This White Parahebe (Parahebe linifolia) is a lovely little evergreen plant that blooms for eight solid months every year. You look at it and think white flowers with olive foliage – but if you look closer, you see the adorable little burgundy rings around each flower's center.
Surely you have some rich burgundy foliage or flowers in your garden that can highlight this gorgeous accent!
Heuchera ('Crimson Curls' above), Loropetalum 'Sizzling Pink', "black" Gladiolus – they all bring out that burgundy tone.
You can accent the same way with Acidanthera, a fragrant bulb with white flowers and burgundy markings, or Philadelphus 'Belle Etoile', another white flower with burgundy accents.
If you just can't bear to create continuity with drifts of the same plant, when there are so many cool plants in the world to grow, then seek out the small details in your plants and combine them creatively to bring harmony to seemingly disparate elements.
Want to know what other designers have to say about color? Check out the rest of the Garden Designers Roundtable on Color:
Andrew Keys : Garden Smackdown : Boston, MA »
Christina Salwitz : Personal Garden Coach : Renton, WA »
Douglas Owens-Pike : Energyscapes : Minneapolis, MN »
Ivette Soler : The Germinatrix : Los Angeles, CA »
Jocelyn Chilvers : The Art Garden : Denver, CO »
Rebecca Sweet : Gossip in the Garden : Los Altos, CA »
Rochelle Greayer : Studio "G" : Boston, MA »
Scott Hokunson : Blue Heron Landscapes : Granby, CT »
Susan Cohan : Miss Rumphius' Rules : Chatham, NJ »