As I
pointed out last year
, garden shows are a place for designers to do all the crazy shiznit that's over-the-top stunning, but also completely impractical, hard to maintain or otherwise unsuitable for life in the real world. But the wonderful thing about the hardscape and stonework at garden shows is that it's full of great ideas that you can steal and put to work in your own home garden, like, tomorrow. Think about it. These gardens are put together in a matter of days, and since most of the material is borrowed from local suppliers, the designers really don't want to mortar, cut, or do anything too permanent to the stone. This means that as a DIY-er, you can buy materials and mess around with them until either your back gives out or you perfect the look. (Hopefully the latter happens first.) So without further ado, here are some of my favorite inspirations from the 2012 San Francisco Garden Show. Love these artful stacked stone walls from
Mariposa Gardening and Design
: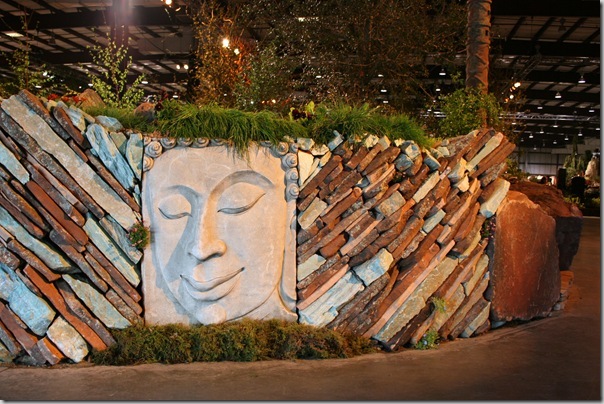 This stone ledge makes a great garden seat:
The way this vase or urn was incorporated into the wall is so beautiful to me. It creates a theme in the garden which they continue elsewhere, as you'll see. This simple stacked stone bench is also a win. Easy to build, yet would fit well in a number of styles of garden.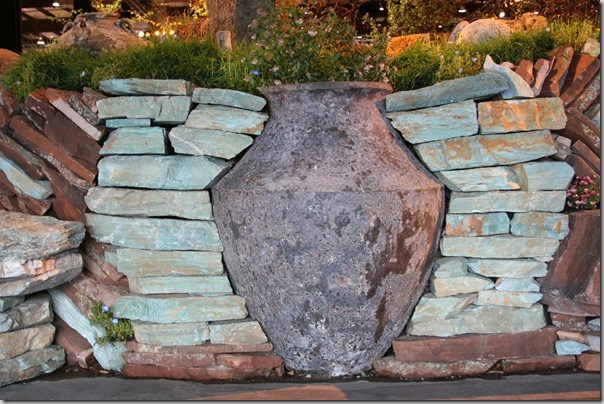 The designer carried the vase theme through the landscape by using more vases in the walls, vases as planters, and vases scattered throughout the garden as though they were ancient artifacts: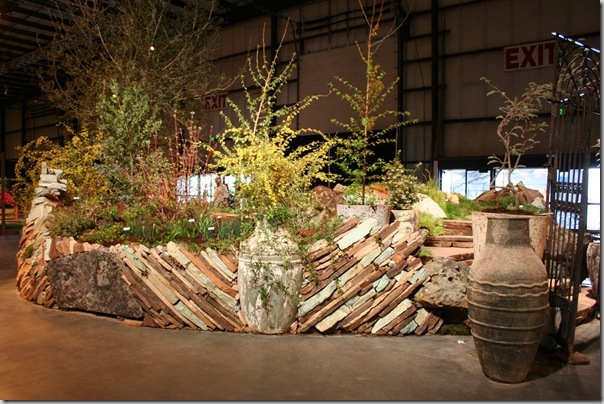 This style of stacked stone wall got rave reviews from everyone I spoke with at the show. Landscape contractors, take note: This is an easy way of showing your creativity and artistry to clients. There is so much room to personalize this type of wall and make something that reflects your client's tastes as well as reflecting something special about the site's history or your region. No two walls need ever be the same.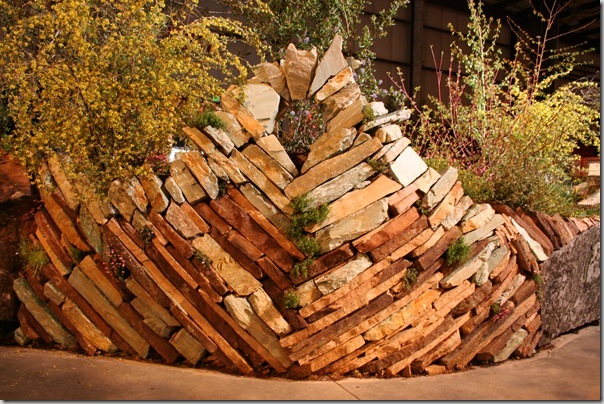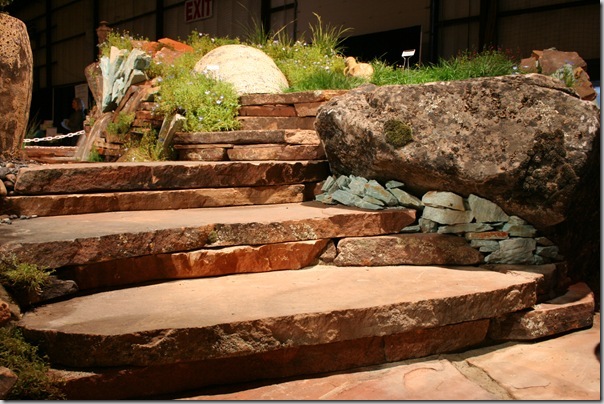 A simple stone stairway. It looks comfortable to walk and easy to construct: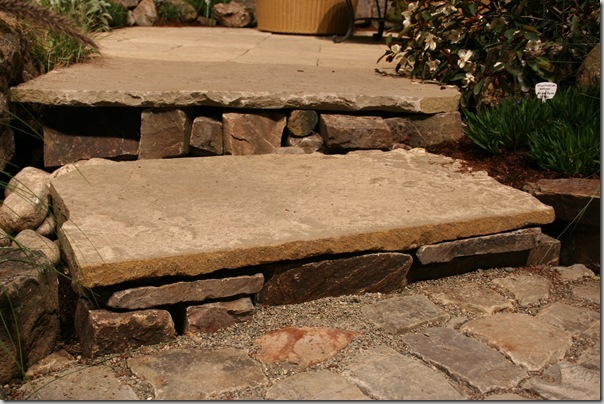 Another stone stairway below. I'm not sure the mixture of materials is 100% working for me, but there's potential. I like the angular pieces at the bottom and think they might fit will with a Craftsman-style home or an Asian theme. They also remind me a bit of the angular lines on those
old millstones
.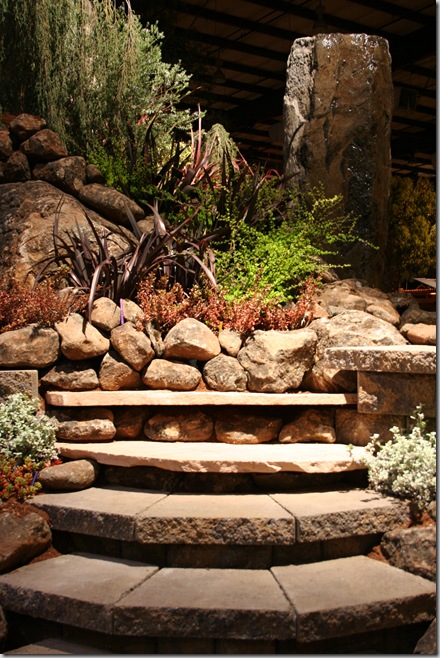 I have such mixed feelings about gabion walls like this one below (from the
Outdoor Environments
display). I mean, they're appealing in a contemporary, industrial-chic way, but would I want them to come home with me? I don't
think
so. But I love their clean lines and the way they're used to provide structure in this garden. Here, they frame a carnivorous plant display: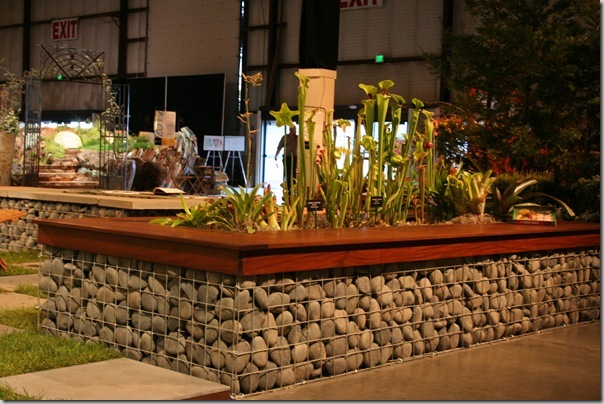 And below is a terrible photograph of a very cool idea from
McKenna Landscape
's display. They had rebar bent into circles to provide the look of stepping stones in this crushed stone pathway without the shifting or messiness that can occur when you set stones into gravel. What an innovative use of an ordinary material!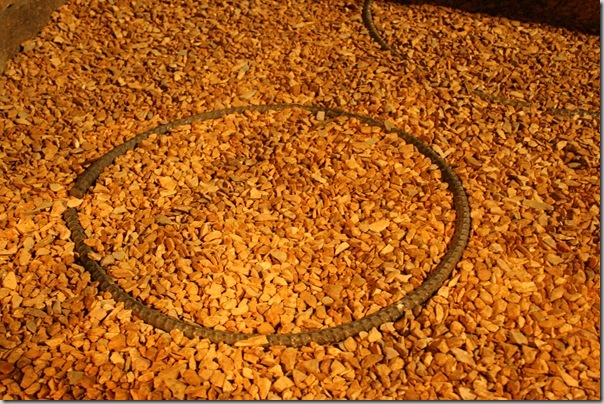 Want some more garden inspiration from the 2012 show? Check out these blog posts and articles:
Bamboo and More doesn't hold back the snark
(and I love him for it!)
The Potted Store's take on the best of the show
SF Gate profiles one of my fave displays
A Growing Obsession features beautiful photos from MB Maher
. . .and some highlights from last year's show:
Rockin' It: Innovative Use of Stone at the 2011 San Francisco Garden Show
Highlights and Lowlights from the 2011 San Francisco Garden Show
Edible Landscaping Ideas at the 2011 San Francisco Garden Show
Contained: Planter Ideas for Balcony Gardens from the 2011 San Francisco Garden Show