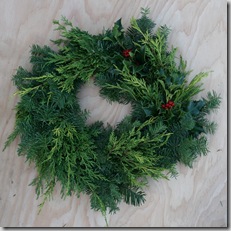 Now that Thanksgiving is properly over, we can start thinking about Christmas without everybody groaning. This is especially good news to me, since I love whistling Christmas carols year-round. Finally! The one month of the year I can whistle my rousing rendition of Jingle Bells without causing raised eyebrows.
There is so much that I love about this time of year – baking Christmas cookies and doing top-secret present-related things among them. But one of my favorite traditions is making my own Christmas wreath. They're pretty, they smell fresh, and every time you walk up to the door it gives you a bit of a smile.
I made my first wreath after a particularly long pruning day in which the colored conifer and red-twig dogwood trimmings were so beautiful that I just couldn't bear to throw them in the compost pile. I thought to myself, if Martha can make her own Christmas wreath, then so can I.
Actually, that might not have been my exact thought, but I figured I could make something cheerful enough that I wouldn't mind looking at it for a few weeks. It turned out to be so easy and fun, that it became an every-year tradition. There's something fun and meditative about going out and doing some pruning, then coming home and sorting it all into neat little bundles and then into a wreath.
If you have some beautiful colored conifers, red twig dogwoods, eucalyptus, or even a selection of herbs you can prune, you're halfway there. All you need now is about three hours and some unfussy space where you can spread out and get clippings all over – like, not on the carpet (I learned this through tough experience – who knew conifers had so much darn sap?). Oh, and you'll probably want a wreath frame and some wire. Here's the list.
Stuff you'll need:

A wreath frame of some kind (mine was about $3 at Michael's and can be re-used every year)
Some green, thin wire for tying the foliage onto the frame ($3, lasts for years of wreaths)
Pruners
Thin nitrile gloves so you don't get your hands all sappy
A bow, if you're so inclined (I like mine au naturel, but everyone I have given a wreath to has been like, "but where's the bow? You need to put a bow on there." Whatevs. I'm a gardener, I like foliage.)
A shopping bag or two of pretty clippings
And while the type of clippings definitely matters, there's room here for you to get creative.  If you're going to go offroad and get crazy with it, try to pick things that have waxy leaves and look unlikely to wilt right away, or go for things that look just as good dried as they do fresh, like herbs.
What type of clippings to score:

Conifers of any and every kind – pines, spruce, juniper, Doug fir, noble fir, cypress, colored conifers of every description, and plenty of green stuff for filler (go to the Christmas tree place and you can usually sweet-talk them into giving up some foliage)
Red- and yellow-twig dogwood stems are the bomb
Holly, or variegated false holly (Osmanthus 'Goshiki' or 'Variegatus')
Silver dollar Eucalyptus
Herbs like rosemary, sage, lavender and bay
Pinecones
Rose hips
(Learn from my mistake and avoid Cotoneaster – yes, the berries look very appealing and seasonal, but they fall off right away and get tracked into the house, which is WAY uncool.)
If you have great restraint, you can choose a color theme, like silver dollar eucalyptus with blue spruce and cream-variegated holly, or yellow-twig dogwood with some golden-splashed cypress and a little green as a backdrop.
Or you can be like me and jumble together whatever colors look good to you in the moment. I mean, its primary purpose as a holiday decoration is to look cheerful, and gaudy still brings cheer. Right? That's what I tell myself.
Once you've decided on a theme, clean up your trimmings by cutting them to 6-10" long. The tips of the stems look best; discard the woodier sections of each branch. Pick a few stems and bundle them together with the cut ends facing the same direction. Attach your floral wire to the wreath frame (anywhere) and tie in your bundle of trimmings securely, wrapping the wire around the bundle once in the center of the bundle and once at the bottom near the cut stems.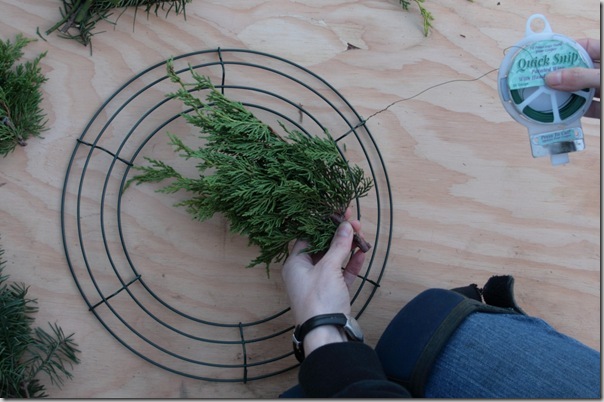 Leaving the wire attached and holding it taut, grab a second bunch of foliage and set it over the first bundle with the cut ends facing the same direction. Cover the cut stems of the first bundle and wrap the wire around your second bundle, moving diagonally downwards with the wire.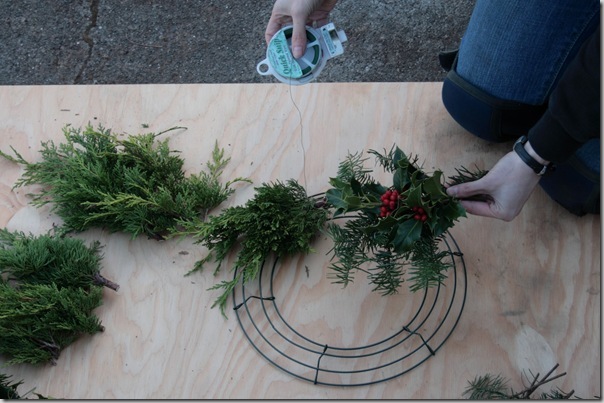 Use more foliage than you think you need – you don't want to see the wreath frame beneath your greenery!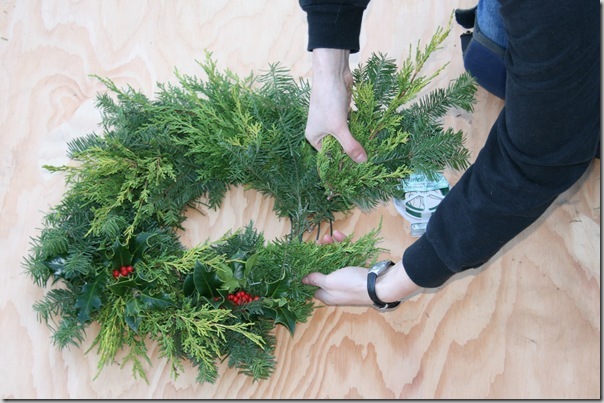 Keep wiring foliage in around your frame until you reach the end. When you get to the last bundle, tuck the stems under the leafy top of the first bunch of foliage so that no cut stems are visible. Securely attach the wire to the frame and cut the wire.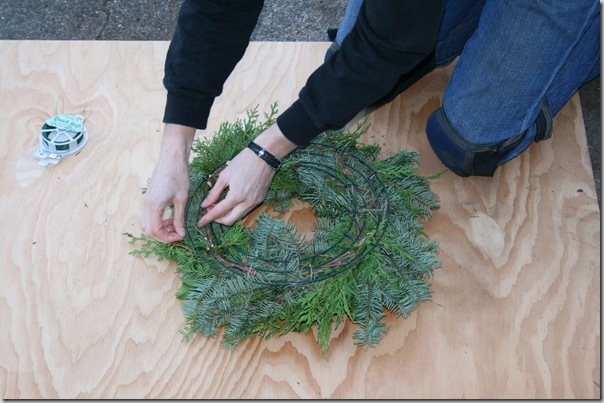 Now's the time to add accents like ribbons or pinecones, if you're so inclined. To add a pinecone, wrap the cone with wire around the base, tucking the wire inside the cone so you can't see it, and wire it to the frame. You can wire on a finished bow or just tie a bow around your wreath.
If you want to do something ridiculous like use spray snow or spray glitter all over your nice wreath, go right ahead. Just don't tell me about it afterwards.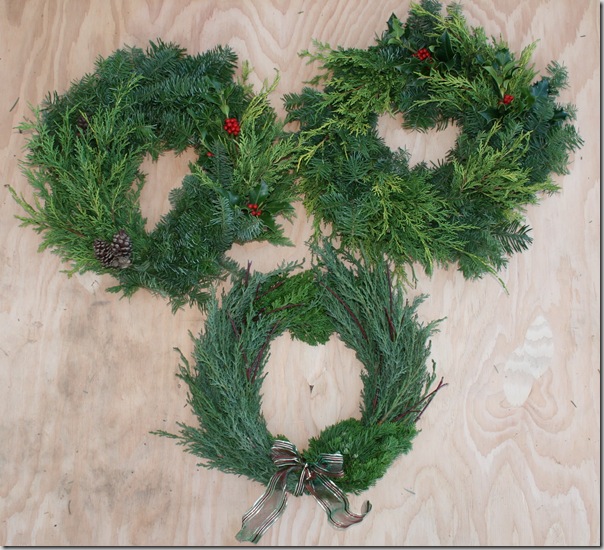 The care and feeding of wreaths
Thank goodness, this is a short section. Stick it outside where it can get some moisture from the air, and spritz it with water every so often. That's it! At the end of the season, compost the dried foliage and save your wreath form for next year.