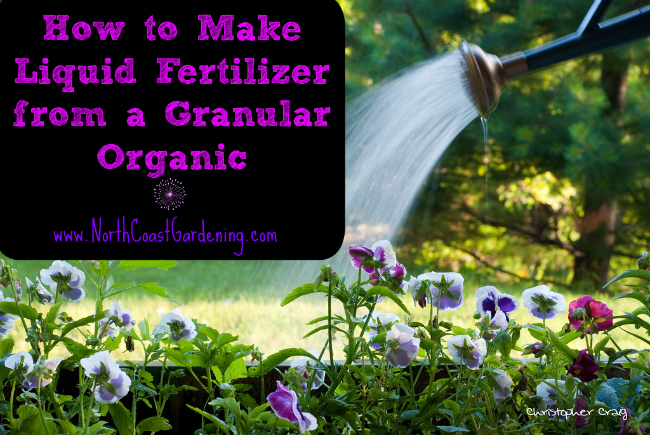 After sharing recipes for making your own granular organic fertilizer from inexpensive bulk ingredients, I've gotten a number of questions from readers asking how to convert a dry organic fertilizer into a liquid. Why would you want to?
Liquid fertilizer is fast-acting. A liquid fertilizer can be faster acting than a dry or granular fertilizer, because the fertilizer has already dissolved into the liquid and thus plants will take it up quickly in larger quantities. This isn't appropriate for all landscape settings, such as when you are fertilizing shrubs, but when you are fertilizing brand-new plants or seedlings, or those plants with an obvious nutrient deficiency such as all over yellowing or yellowing in between the veins, a liquid organic fertilizer can act as an "energy drink" for your plants to give an immediate boost in health.
It works in cold weather. If you are growing cold tolerant crops and the soil is still below 50°F, a dry or powdered fertilizer will break down very slowly, as the microbial activity in the soil slows during times of cool weather. This is appropriate most of the time, as plants should not be encouraged to grow too quickly when the weather is still chilly, yet when you are establishing vegetable starts or flowering annuals, a little nutrient boost can go a long way towards helping them get going.
Dogs can't eat it. Fido and friends think that blood meal, bonemeal, kelp meal, fish meal, and other organic fertilizing agents smell and taste delicious. If you create a liquid organic fertilizer from a granular, your plants will get the nutrients and Fido will be less attracted to dig and snuffle in the garden bed. By contrast, sprinkling out 2 cups of delicious dog-attracting bonemeal can be a recipe for digging, rolling, and eating with some dogs. (More tips for keeping Fido out of the organic fertilizer here.)
How to turn a dry organic fertilizer blend into a liquid
The method is simple. You simply soak your granular organic fertilizer in water, let it sit for 24 hours, and strain out the liquids. This works equally as well for store-bought granular organic fertilizers (like my favorite, Gardner and Bloome!)  as it does for homemade fertilizer recipes. Here's what to do.
Use 1 cup of fertilizer for each gallon of water.
Soak the fertilizer in the water, and let it sit for 24 hours. Stir periodically.
Strain out the solids, and use the liquid as a fertilizer at a rate of 1 to 2 cups per perennial, 2 to 4 cups per shrub, or 6 to 8 cups for trees.
The liquid can be used full strength for foliar feeding/ spraying on leaves, or can be diluted with a small amount of water to make sure the entire root zone of the plant is evenly covered. For container plantings for example, I would use 1 to 2 cups per gallon and simply soak the entire pot.
There is no need to waste the solids, which still have nutrient value. Use them as a low powered fertilizer on established landscape plantings which only need a mild boost.
Other liquid fertilizer recipes
Liquid kelp
Kelp contains a number of healthful growth hormones that are especially useful when growing high-yield plants such as tomatoes, roses, or Humboldt County's favorite crop, marijuana.
Take ¼ cup of kelp meal and pour ½ cup of water over it to soak and rehydrate the kelp meal. After a few hours, pour off the excess water (though it's only a tiny bit, feel free to use it on your plants).
If you have an old blender, take the hydrated kelp meal and purée it into a kelp meal paste. If not, simply muddle and smash it around with a fork to help release all that kelpy goodness. Then divide it into small portions in an old ice cube tray or Ziploc baggies, preferably in 2 teaspoon increments, and place it in the coldest part of your refrigerator. Label it well so nobody thinks it's pesto!
To make a liquid foliar feed, apply 2 teaspoons of kelp meal paste to 1 gallon of water and mix or shake thoroughly. You can then sprinkle or spray on leaves.
To make a liquid fertilizer to water plants with, use 4 teaspoons of kelp meal paste to 1 gallon of water.
Liquid kelp from seaweed
If you live by the beach, many permaculturists and old-school organic gardeners recommend making your own liquid kelp fertilizer out of fresh sea kelp.
Add two big handfuls of thoroughly rinsed, chopped sea kelp to a 5 gallon bucket of water and stir a few times a day for three days.
At the end of the three days, strain and dilute the liquid at a rate of two parts water to one part kelp water.
The diluted mixture can be applied via a spray bottle, or used to water new seedlings or other plants that may need a boost.
Though making your own liquid fertilizer takes a little more effort than simply sprinkling a dry granular around the soil surface, the immediate benefits from a liquid fertilizer can make it worthwhile in certain circumstances when establishing new plants, caring for high-yield flowers or crops, or even just in keeping Fido from showing so much interest in your newly fertilized plants.
Photo credit: Christopher Craig on Flickr via Creative Commons license