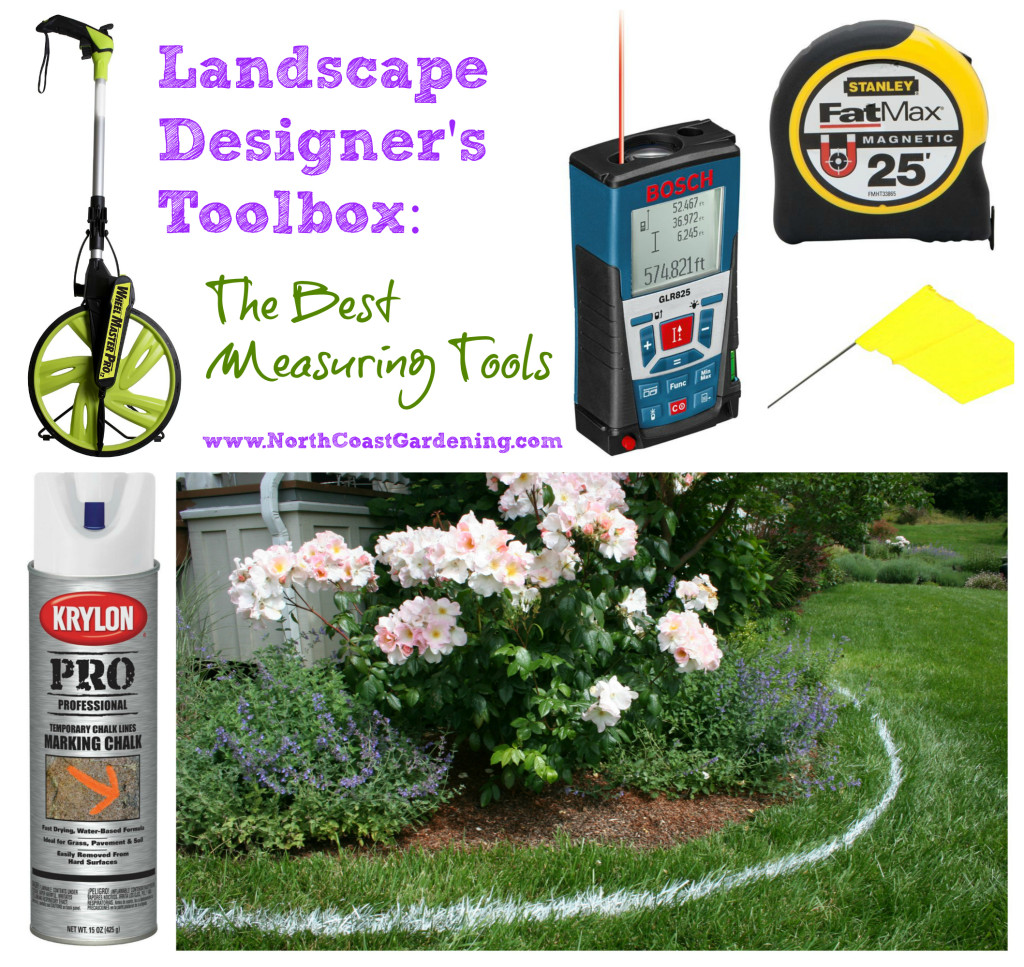 We're coming up on that time of the year when most of us are doing more armchair gardening and garden planning than actual outside, in-the-dirt gardening, and one of the biggest challenges people encounter when they start measuring or plotting out their garden to create an overall plan is that their tools are woefully inadequate and make the job feel much more intimidating than it has to be. When your rusty measuring tape only goes to 25 feet, but your yard extends out quite a ways, it can be tough to even know where to begin. Today, I want to share a few of the professional tools of the trade I use in measuring and creating landscaping plans, so if you run into any roadblocks in plotting your own landscape on paper, you'll know what the pros use.
To start, if you don't have any idea how to measure and draw out a scaled plan on graph paper so that you can sketch out your ideas and plot out exactly how everything will work together, check out this book, which will answer all of your questions.
She also provides planting design advice as well as advice on how to proportion the different areas of the garden. It's a great basic design primer.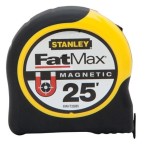 This measuring tape is about half an inch wider than the norm, which makes it a lot less floppy. If you have ever tried to shoot your measuring tape 8 feet out over a shrub or another difficult surface, you know how annoying it is to carefully feed your measuring tape straight out and have it snap and collapse to the ground, messing up your measurement.
The Stanley FatMax can be fed out 11 feet without support, making it invaluable for sites that have a lot of existing shrubbery or other small elements that are challenging to measure over or around.

These handy little wheels on a stick are great for measuring bumpy surfaces such as weedy lawns or mulchy woodland areas. The bumpier the surface, the larger the wheel should be, so if you are primarily measuring large stretches of smooth concrete, a 3 inch wheel would work well, while I find the 12-14 inch wheel ideal for most outdoor surfaces.
Over the years, I've tried six different wheels before coming upon my favorite one, which has absolutely no flaws – the handle is fully adjustable and collapses at the end of the day to stay compact, the measurements are accurate, and the wheel goes in both directions, so if you overshoot your measurement by a foot, you can just walk backwards and correct it.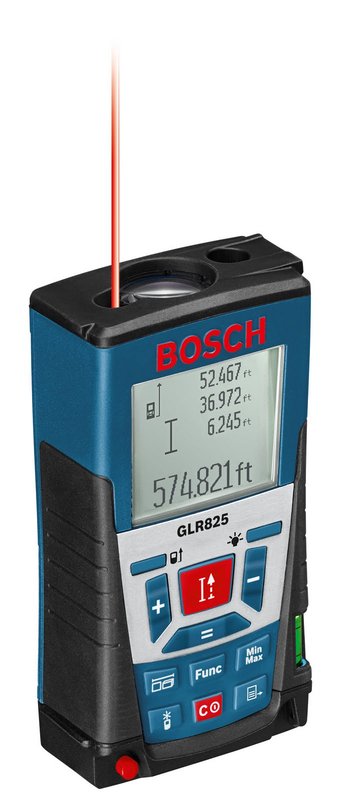 After years of carefully measuring everything by hand, I was absolutely floored to discover that they make digital laser measurers. What you can do with one of these is stand at the very far end of your property, and as long as you have a clear line of sight to a solid surface, you can shoot the laser over and get an accurate measurement of the distance (they make models that go up to 820' – this is the one I have). This is incredible for properties that have an oddly -shaped property line, a long driveway with open land on either side, or places with a lot of trees. While the laser works best when it hits a solid surface (as opposed to a craggy tree trunk) you can always lean a small board against any surface that you'd like to measure so you can see the laser hitting it.
Though this is primarily a tool for pros, if you're a serious DIY warrior and have a lot of home improvement projects coming down the pipeline, it could be worth picking one up. While I normally buy small tools from Amazon, if you're going to make a bigger investment like this where you might need customer support, consider checking out Build.com, which is an online building supply store differentiated by the fact that it has a huge number of home improvement experts on staff who can answer your questions via phone, chat, or email (they are known for having Zappos-like customer service for the building realm). Though Build.com sent me my laser measurer for free because I'm a blogger, I went out of my way to pester them with questions and pleas for help as I was setting up and learning to use my measurer, and even though I consider myself good with tech, having somebody to talk to who was familiar with using a digital measurer made all the difference in getting up and running with it.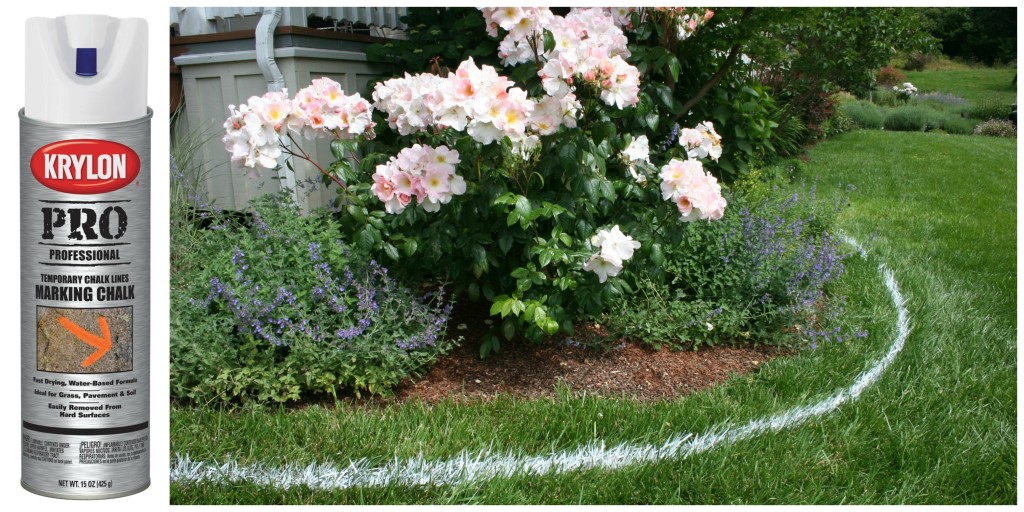 Though drafting out your ideas on paper is invaluable for figuring out how patios, pathways, planting beds and lawn will interact and connect with one another, at a certain point the rubber needs to hit the road, and that is where marking chalk spray comes in handy. It works just like spray paint; you use it to spray out the potential new lines of your patio, garden bed, or lawn to imagine how those dimensions feel in real life. If you have trouble envisioning plantings, you can also spray out the dimensions of each proposed plant and see how they all fit together to fill the space. The thing that makes spray chalk AWESOME is the fact that you can scrub it off of lawns easily with a damp foot, so as you adjust your possible bed lines, you can make the old ones disappear. I use this brand. Be warned though, that the stuff goes quickly. I can easily run through an entire can in a small suburban yard if I mark both beds and plant locations, so I use the flags (below) to mark plants in most cases, unless people need help visualizing how the plant sizes interact.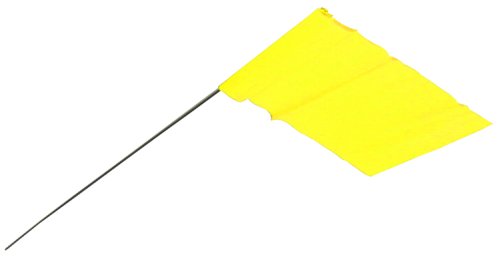 These little flags have a wire stake and a plastic flag part, and I use them to mark out where each plant will go. You can write the name of each plant on the flag with a sharpie. This makes it easier to visualize your planting ideas in the real, 3-D world.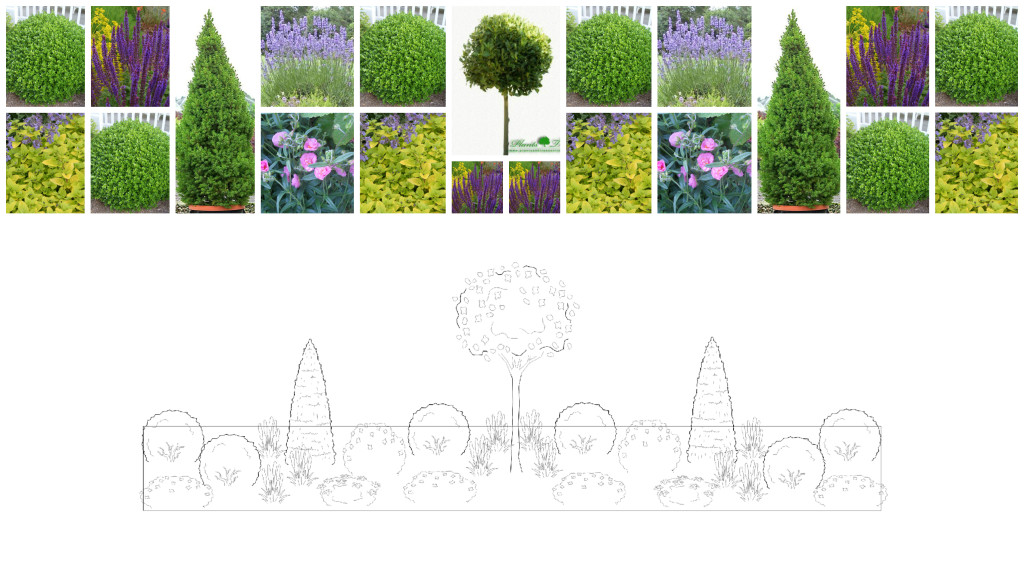 When I'm considering which plant will go where, and how all the colors and textures will work with one another, a visual goes a long way. That's where photo editing software comes in, and particularly the easy-to-use ones like Canva and PicMonkey. I like to combine my planting ideas into collages so I can see how they interact and get an idea about what might be missing or which plants are coming on too strong. You can even lay them out together in the photo collage in approximately the way they might go out in the landscape. I've shared an example above of how you might lay out a simple sketch with a plant photo collage to bring the colors to life and help you know whether it's the look you were going for.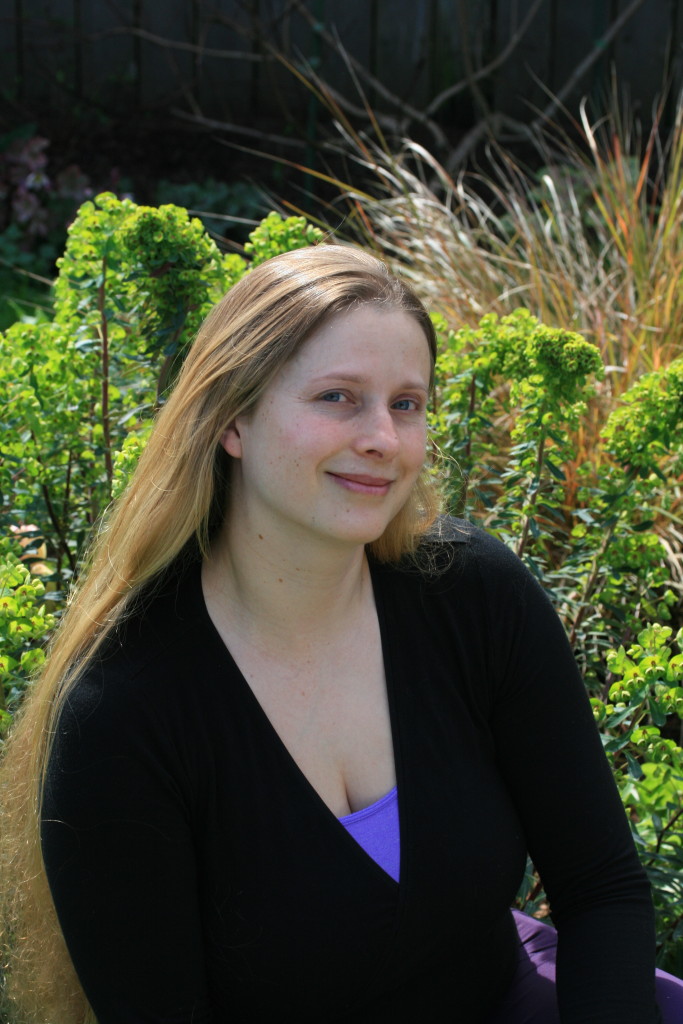 Lastly, if you need a helping hand in creating your own plan, don't hesitate to call in a pro. In my design practice, I often visit with gardeners who want to be involved in the design process, but simply don't have the plant knowledge or expertise to create their very own plan from scratch.
Designers are often happy to consult with you for an hourly fee and give advice on what you are working on, or provide new ideas to consider – and most designers are thrilled to collaborate with an enthusiastic client who has some ideas but isn't sure how to bring it all together.